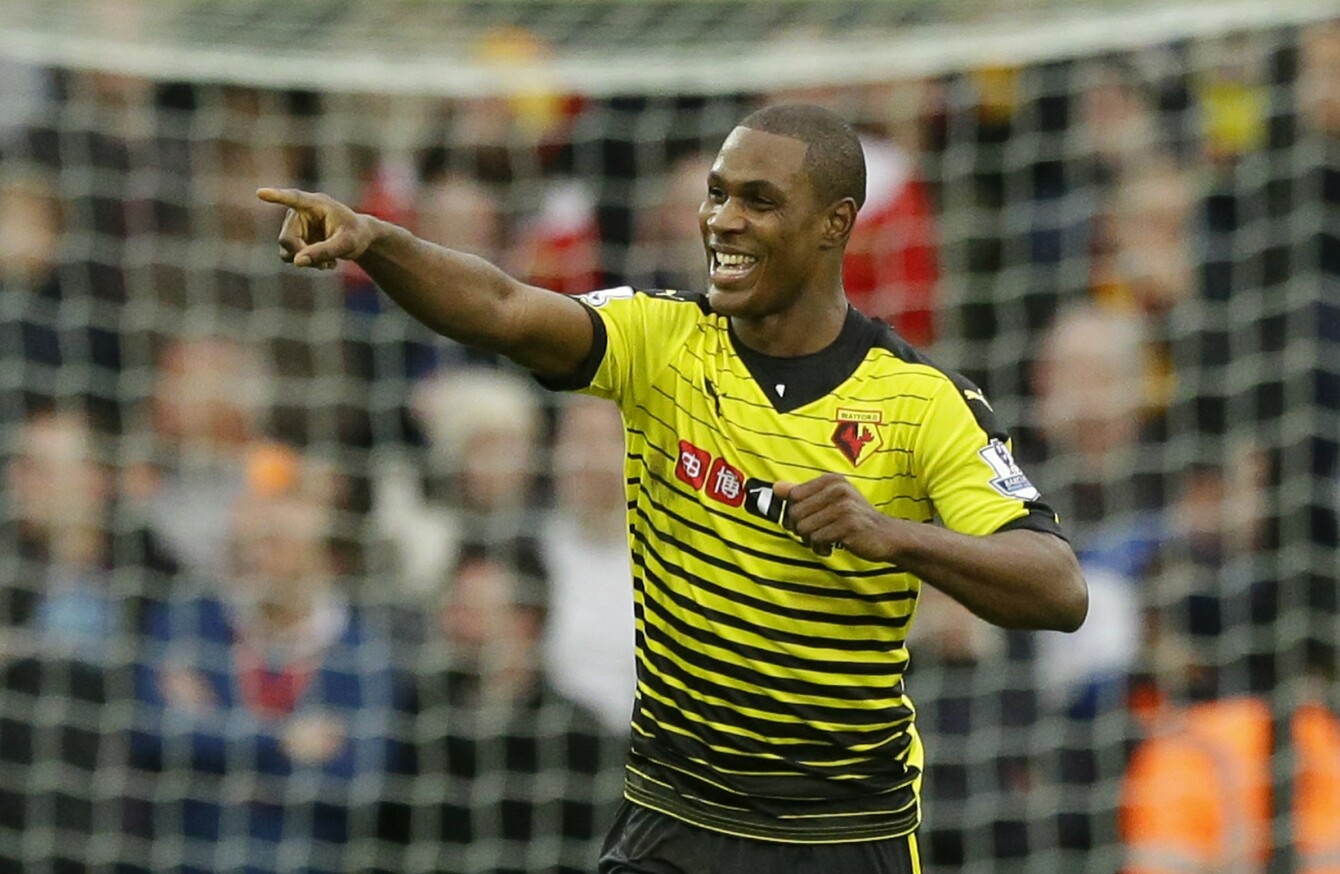 Image: Associated Press
Image: Associated Press
IT CAN PROBABLY be traced to Everton digging in their heels last August when Chelsea desperately wanted to sign John Stones.
"Ambition is not just about who you buy, it is also about who you don't sell", former boss Roberto Martinez said at the time.
The minnows now have the power to say no and the financial clout to attract high-profile names.
As odd as it was to see Leicester win a Premier League title, there was also a certain degree of strangeness witnessing the likes of Dimitri Payet curling in sumptuous free-kicks wearing West Ham colours.
Or Yohan Cabaye playing for Crystal Palace. Or Xherdan Shaqiri swapping the San Siro for Stoke-on-Trent.
Many will argue that the Premier League has always had the ability to make those kinds of deals. But context is everything.
Paolo di Canio was high-risk and subsequently ignored by the bigger top-flight sides. He came through the back-door at Sheffield Wednesday before moving to Upton Park.
And as good as he was, he failed to gain even one senior Italian cap. Beloved in the UK, his wider influence on the game was minimal.
Lower-level Premier League teams specialised in short-term deals for fading stars who were past their peak.
Youri Djorkaeff was at Bolton for two years alongside Jay-Jay Okocha, Fernando Hierro and Ivan Campo. The club, under Sam Allardyce's management, had it down to a fine art.
But now, owing to the relentless and obscene television money, the also-rans are in the market for marquee players who are at their peak.
There is something unsettling to it all, though. Like we're all stepping into some kind of parallel universe.
Before Chelsea jumped to the top of the queue, Belgian youngster Michy Batshuayi seemed set to move to Crystal Palace.
For €38 million.
Meanwhile, Watford have also had a pretty busy boardroom in recent days too.
Firstly, they knocked back Leicester's interest in Troy Deeney – but the Foxes could bid as high as €36 million for the 28-year-old.
Have a think about that for a second.
And this morning, word filtered through that the club – who gained promotion to the top-flight in 2015 – have turned down a bid of €45m for Odion Ighalo from Chinese Super League side Shanghai SIPG.
Be part
of the team
Access exclusive podcasts, interviews and analysis with a monthly or annual membership.
Become a Member
Have a think about that for a second.
€80 million potentially earned by selling two players.
But with the 2016/2017 season set to be the most lucrative ever for clubs – the oft-quoted 'TV deal' that comes into effect from August is 65% higher than the previous one – clubs know their worth.
Jamie Vardy's decision to remain at Leicester instead of signing for Arsenal was another reminder of what the Premier League has morphed into.
The likelihood, of course, is that Watford will be relegated within the next year or two and lose out on the big bucks.
But there's also the parachute payments that ease the pain. Last year, the rules were tweaked slightly to punish teams who immediately return to the Championship after a single term in the Premier League.
So, the aim is simple: stay up for one season and then rake in around €95 million over three years as punishment for being unsuccessful.
To put it in context, Aston Villa – so pitifully poor last term, so badly run, so limp and lifeless for so long – will earn about €48m this season in parachute payments from the Premier League.
The money is designed to protect clubs from crashing through the floor.
But it would appear teams are all-too comfortable now and that they fear absolutely nothing.
Bad practice, error-strewn strategy and misguided decision-making essentially count for very little.
There are those that refer to the Championship as a wasteland but the financial recourse available to clubs now means it's a playground, really.
Yes, there's something to admire when the little guy gets to stick up two fingers to the age-old bullying tactics of someone bigger and more powerful.
But to the detriment of what?
It's hardly a coincidence that the English game finds itself, once again, ridiculed, humiliated and with no answers to the multitude of questions.
The42 is on Snapchat! Tap the button below on your phone to add!