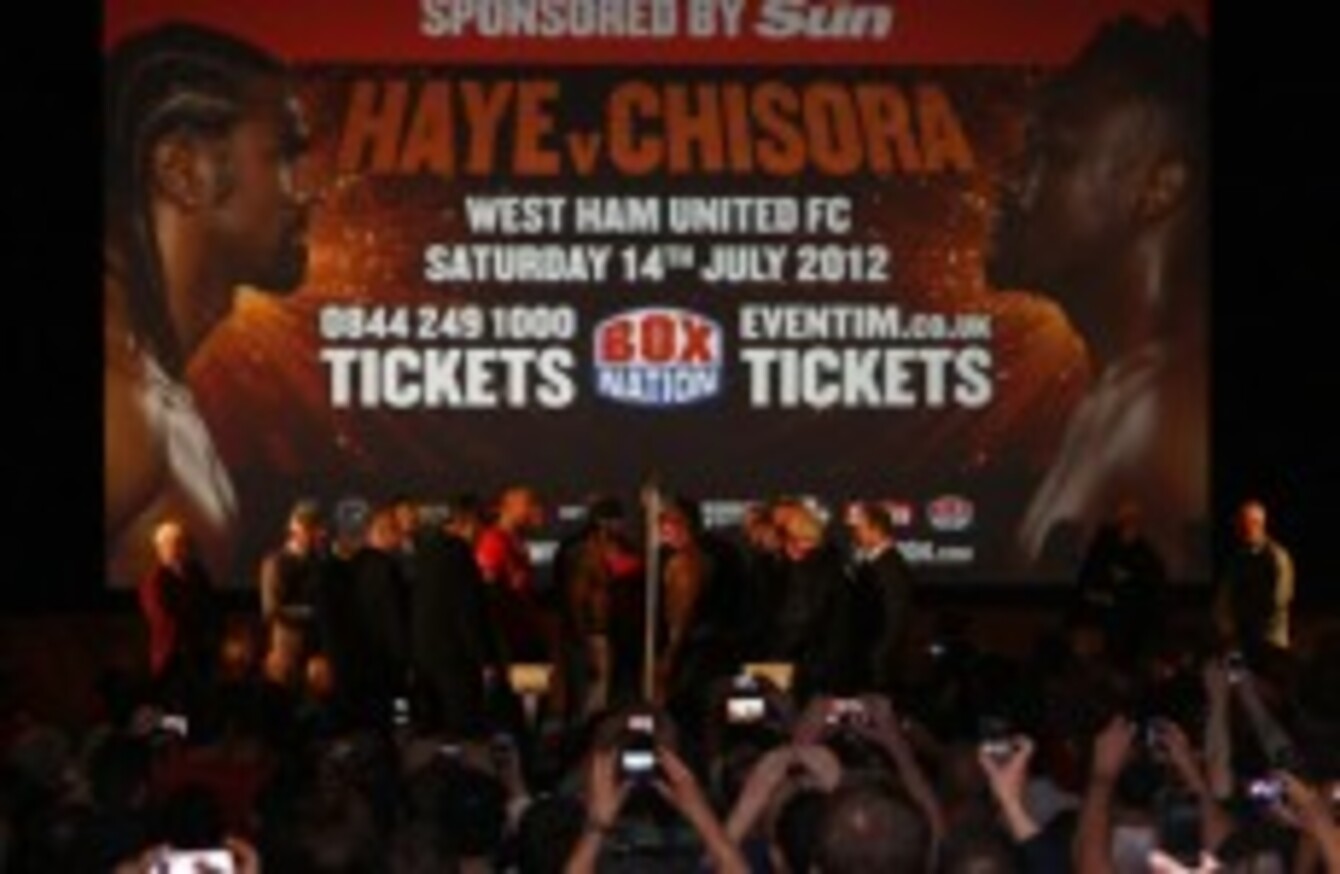 Image: Nick Potts/PA Wire/Press Association Images
Image: Nick Potts/PA Wire/Press Association Images
DAVID HAYE AND DERECK CHISORA'S heavyweight bout has fed off its own controversy and, like it or not, will have a large global audience on Saturday.
No world titles are at stake, but as grudge matches go it could not be any nastier, and therein lies the appeal.
The British rivals have remained impervious to the criticism and opposition of their clash since it was announced in May.
Instead, they have continued with their trash talk, whipping up publicity and boosting pay-per-view television sales.
They are driven not only by money but a desire to settle a bitter feud that began when they brawled at a press conference in Munich in February, following Chisora's world heavyweight title defeat on points by Vitali Klitschko.
The incident, which was investigated by German police, was widely condemned throughout the British boxing community and the governing British Boxing Board of Control (BBB of C) indefinitely suspended the 28-year-old Chisora (15 wins, three defeats).
Meanwhile the 31-year-old Haye (25-2) no longer held a boxing licence after declaring his retirement following a points defeat by Wladimir Klitschko in a world title unification fight a year ago.
But in a huge blow to the authority of the BBB of C, the fight will be staged under the jurisdiction of the Luxembourg Boxing Federation.
For all the criticism, a crowd of 30,000 is still expected at Upton Park, the east London home of West Ham United Football Club.
Former world heavyweight and cruiserweight champion Haye's reputation has been tarnished since blaming his defeat by Klitschko on a toe injury and then brawling with Chisora, but he insists he is not concerned about his popularity.
"I have a love-hate relationship with the fans bit I'm not here to make friends, I'm here to make a living and promote a fight," Haye told AFP.
"I'm here to hype a fight and get the people excited so they subscribe to the fight. If that means people hate me, it doesn't bother me."
"I definitely believe he (Chisora) has got a screw loose, is unhinged, and I don't like him…This fight is about two guys who hate each other."
"He's got criminal convictions but has never done hard time. I'm going to give him hard time and punish him for all of his past indiscretions.
"It's the best preparation I've ever had and there have been no injuries this time. I haven't felt this good since I beat Enzo Maccarinelli for the world cruiserweight titles (2008), and I stopped him in two rounds.
"You are going to get something similar on Saturday."
While Haye promises his best, Chisora promises to be at his "craziest" — and that from a man who slapped Vitali Klitschko in the face at the weigh-in of February's world title fight and then spat water into the face of Wladimir in the ring before the bout itself.
But Chisora, who moved to London from Zimbabwe aged 16, told AFP: "I don't care what people think about me, who cares?
"People like freak shows. The only recognition I need is from my parents.
"I'm glad he (Haye) is going to be at his best because I'm going to be the craziest I have ever been.
"I'm going to be all over him like a rash and I've got more heart than his whole camp."
Fewer than six months ago there were calls for Haye and Chisora to be banned for life, but promoter Frank Warren expects Saturday's winner to face one of the Klitschko brothers, who hold all the versions of the heavyweight world title.