IT'S CHRISTMAAAAAS! AS Slade mercilessly remind us, but more importantly, we're exactly half way through the season RaboDirect Pro12 regular season.
Yes, it's been a hard 11-game slog in the league for our provinces so far – 15 including the European ties – and we've had some good displays and some not-so-good displays.
Before we let the boys out for Christmas we'll have to have a stern word with their parents. So, in the way I was taught to remember the provinces (reverse alphabetical order)…
Ulster
Overall record: Won 14, lost one.
League position: First.
Heineken Cup: Top of Pool 4.
With a new coach at the helm, all eyes were on Ulster at the start of this season to examine how they could follow up their first run to the Heineken Cup final in 13 years. The scrutiny came, because it was expected that Mark Anscombe would struggle.
Instead, he has pushed the province on. They no longer rely on the magic of Ravenhill; they have a hard-edged game plan to put into action no matter what the venue.
Their 13th win of the season was also their best, travelling to Northampton and clinically picking off the Saints with a controlled defensive effort. The only pity was that they couldn't take win number 14 eight days later.
YouTube credit: The UAFC
Ulster have also had their fair share of injuries. Though not as extensive as Leinster or Munster's, losing Stephen Ferris, Johann Muller and now Tommy Bowe and Dan Tuohy are cruel blows to a team hoping to keep up their upward spiral.
It hasn't all been plain sailing. More often than not, they persevered through showing the kind of style, grace and refuse-to-lose attitude that will surely stand to them at the tail end of the season.
Player of the season so far:

Jared Payne. While Nick Williams was a wrecking ball in the opening quarter of the campaign, his countryman, the terrific creative fullback, was the architect.

Breakthrough talent: Paddy Jackson. After Ian Humphreys' departure, he was expected to step up to the plate and you can't ask much more than delivering a baker's dozen of wins.

He has delivered a couple of shaky displays in recent weeks, but consistency rarely comes easily to a 20-year-old. Anscombe has attempted to build his confidence by entrusting him with kicking duty and the early-season win away to Ospreys seemed to galvanize him along with the entire team.

Marks out of 10… Nine. Always best to leave room for improvement. Narrow loss to Northampton is the only blot on their copybook.
Munster
Overall record: Won nine, Lost six.
League position: Third.
Heineken Cup: Third in Pool 1.
Like Ulster, the reds welcomed a new Kiwi coach with fresh new ideas. Rob Penney's problem has been the incessant calls for Munster to return to the 'old way'.
In many ways, it's an impossible job. Munster survived for years on an underdog mentality. That lends itself much more readily to a fire-and-brimstone game of pack warfare.
The odd thing about the southern province is that Penney has appeared to retreat from his principle to some degree. When Munster need a win, they shelve the 'new' game and revert to the habits they know off by heart.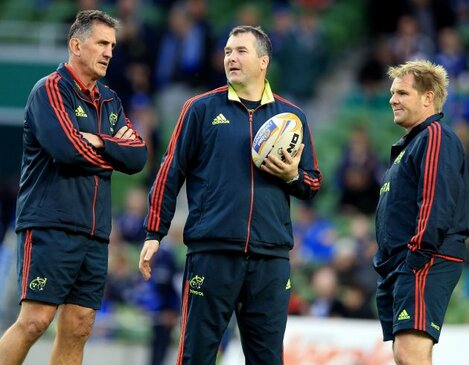 ©INPHO/Dan Sheridan
That would be quite impressive if it came off – a Munster all-terrain vehicle with two distinct setting depending on the circumstance – but it hasn't. Defeat has arrived for both incarnations of the reds.
Penney was right to get annoyed at the suggestion that he should tear up his ideals and do what Munster have always done. But he has given all those ditch-top hurlers credence by doing just that.
Perhaps this was the plan all along, to use the opening weeks of the season to force players to use their handling skill so that it's locked in the memory bank for this mucky time of year.
YouTube credit: maxdollar13
In any case, Penney has done a decent job in the Pro12, seeing off Connacht on Saturday to overtake Leinster and nestle just a bonus point win behind Scarlets.
The first port of call in the second half of the season will be to inflict Ulster with their second defeat of the season on a ground they have happy recent memories of. After that, nine points from two Heineken Cup fixtures should be enough for a quarter final berth.
Player of the season so far

: Simon Zebo. The winger has turned from tyro to talisman in 2012. Whether he's asked to attack with the ball, or by chasing it, he's central to everything Munster do well.

Breakthrough talent:

Dave Kilcoyne. The loose-head has proved himself a treasured work-horse and, as an added bonus, his scrummaging has been up to scratch too.

Marks out of 10… Seven. The results are there despite a hefty injury list, but we need to see consistent patterns from Penney's side.
Leinster
Overall record: Won nine, Lost six.
Pro12 position: Fifth.
Heineken Cup: Second in Pool 5.
It has not been an easy couple of months for Joe Schmidt. In fact, it's been by far the most difficult spell of his tenure in Ireland so far. A wave of injuries has swept through the side and just when it looks like receding, another two or three players pull up.
Leinster do possess the strongest squad in the land, but it was still a fine achievement to keep the show on the road and keep themselves in and around the play-off places while scraping European wins from Exeter and Llanelli.
In the past three weeks, however, it has all caught up with them.
Away to Clermont they impressed and took a point from a venue where that is the maximum available to visitors. The return leg exposed their lack of firepower and Clermont once-bitten cut them off at almost every pass.
What are they
really like?
Rare insights on sport's biggest names from the writers who know them best. Listen to Behind the Lines podcast.
Become a Member
Against Ulster on Friday, they lost a third consecutive game for the first time in Schmidt's tenure. The last time such an occurrence happened was during 11 bad days in 2010 – away to Connacht, Glasgow and Toulouse.
YouTube credit: Tap Tackle
Their first task for the second half of the season is to beat Connacht. And the western province will have no shortage of aggression saved up for their trip to the RDS.
After that, is a mission impossible to escape the Heineken Cup pool and if they fail that then Schmidt will be hell-bent on finally winning the Pro12. A fourth final defeat in a row might just be too much to take.
Player of the season so far:

Jonathan Sexton. Between lack of form or fitness, precious few Leinster players have been consistent enough to put up their hand for this gong.

Sexton has been a pillar of strength. From the last-minute drop goal to take a win in Treviso to the ultimately doomed task of rallying his team from a losing position at home to Clermont.

Breakthrough talent: Jordi Murphy. The young back-row has provided much needed energy from the bench in squad which is stretched to its limits.

Marks out of 10… Five. Must do better.
Connacht
Overall record: Won 5, Lost 10.
League position: 10th.
Heineken Cup: Third in Pool 3.
All in all, it's been a good season from Connacht. This time last year they had three Pro12 wins under their belt, compared to… well, three this term.
The difference in the feelgood factor is not just those two magical Heineken Cup wins, it's the way they have won.
Eric Elwood has thrown a young side together who are intent on playing attractive running rugby. They have trebled their tally of wins in the big cup and hammered Leinster at the Sportsground. It was after that highlight, that the uncertainty grew.
Elwood announced he would step down and uncertainty now paints a question mark over every game. Joe Schmidt wasn't long suggesting the maybe Mike McCarthy left because Elwood would no longer be around. In any case, both departures have taken the wind out of the westerners' sails.
YouTube credit: Ballbol81
On the pitch, though, they still showing no sign of letting it perturb them. Munster would and should have been beaten had George Naoupu been able to force the ball downward a fraction sooner and (withstanding two big fat zeros on the road) at home they have been consistently potent.
The second half of the season promises much as they can bring their impressive brand of rugby onto harder ground and they should thrive while the Six Nations are ongoing. With or without McCarthy.
Player of the season so far:

Mike McCarthy. Ahead of every dangerous backline, there is a pack working like dogs.

McCarthy has once again shown his ability at the top level and was rewarded with a run in the Ireland second row before succumbing to temptation and agreeing to cross the Shannon next season.

Breakthrough talent: Robbie Henshaw. A little over six months ago, the fullback was sitting his leaving.

With Gavin Duffy consigned to the sidelines for two lengthy spells, the 19-year-old has found himself thrust into a role where he is no relied upon. A fresh new two-year contract signed a fortnight ago was richly deserved.

Marks out of 10… Eight. Most improved province.