AUSTRALIA'S QUADE COOPER was disappointed with himself following remarks made on Twitter after his side's 34-9 Rugby Championship victory over Argentina on Saturday.
Cooper – who started the 24-20 win against South Africa a week earlier – watched from the bench in Mendoza until Matt Toomua's first-half concussion as Bernard Foley was initially preferred by coach Michael Cheika.
Following the win, Cooper posted an expletive-laden tweet, that was later deleted, in which he appeared to suggest his commitment to the cause was questioned.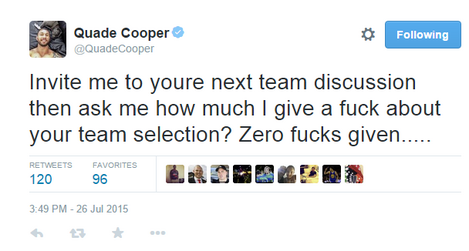 However, the fly-half has since apologised, telling Australian newspaper The Daily Telegraph: "As footballers, we're still human beings. We've got feelings.
"I bit back at a bit of criticism and I used some language that probably shouldn't have been used.
"There was some online criticism directed at me personally. I'm disappointed in that but I'm human, I've got feelings. That's it.
"I've never been one to read into media but this one time it caught my eye. I'm disappointed in myself for getting trapped in that. At the end of the day, in a professional environment and it got to me this one time.
"I'm disappointed in the language I used more than anything.
"We've had two very good victories and I was very proud of that. That's where you have to understand, this team is doing some great things.
"We've got a great culture, we're building as a team, we've got some great people.
"We're moving in the right direction and people on the outside are trying to hammer us – still – when we're doing well.
"In the past, when things have been a little unstable and people have come at us, we've been in the firing line."