PRAISING THE VALIANT rally from Connacht, to persevere with 13 men against a Munster team with a serious incentive is about as good as a pat on the head for Quinn Roux right about now.
The patronising tilted head and wincing smile that says 'hard luck' is not what the Ireland international was working towards when preparing for his first match of 2020.
While Connacht fans can bemoan the calls from former player Frank Murphy in their 49-12 loss to Munster, neither Roux, his team-mates, nor his coaches are pointing blame anywhere but in-house. Discipline was the issue rather than decisions, they say.
Andy Friend lamented a penalty count flirting with 20 and accepted the two red cards issued. Because once an impact is near the head, it's hard for officials to ignore.
"Yeah, it was good to show some character, I guess," said Roux when it was offered that Connacht had at least scored a try with 13 players against 15 late one.
"But like I said, we don't play games to show character, we want to win.
"I suppose it's one positive that we can take out of that, scoring a try against 15 or whatever the numbers they had, I guess, compared to the numbers we had. That's one positive thing out of a lot of negative things. Yeah. It's frustrating altogether, to be honest."
I'm sick of being that team who works hard but never gets results. We need to address that really quickly moving into next season."
Every team has experienced some teething issues around the new interpretation of breakdown laws.
Friend will throw his analytical eye on how his side managed to so consistently draw the ire of Frank Murphy, who refereed them two weeks in a row. He notes that Munster – who sent out a team loaded with quality poachers – targetted their ball-carrier and is intent on bringing a solution to his players during what will effectively be their second pre-season in the weeks ahead.
"I think what we can control is what we do," said Friend, "we need to be far more aggressive in our fight through contact and staying square, and then the speed of our support play, (at the ruck) we need to be a lot better.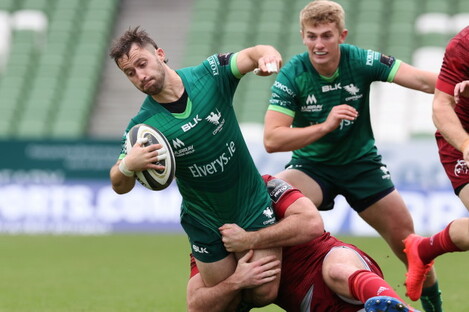 Caolin Blade during yesterday's match. Source: Billy Stickland/INPHO
"So my big focus will be on having a look at what happened there, where opposition tacklers were in the way and obstructed our support players.
Be part
of the team
Access exclusive podcasts, interviews and analysis with a monthly or annual membership.
Become a Member
"And as long as referees are going to adhere to making sure they identify the tackler first then I really think we're going to have a good game."
Last week we weren't happy with 12 penalties, but we've added another eight plus.

I said in the sheds there, 'we've done a lot of good work over the Covid period… but it means nothing if we keep giving away the penalties we've been giving away'.Until we do that, we'll probably be a very frustrated football side."
Although Friend signalled from a long way out that he intended to rotate his squad fully through these two rounds of inter-pros, such a heavy loss still leaves a lasting sting.
Whether the Australian was conscious of it or not, while feeling that sting he wound up expressing the polar opposite of a sentiment his predecessor Kieran Keane carelessly trotted out after a loss in November 2017. The Kiwi questioned the courage of his players in defence, the Australian?
"I said to the players at the end of the game, 'I'll never doubt your courage. I'll never doubt how brave you are and how hard you work. What we need to become is a lot smarter.'
"If we can add smarts to that (attitude), we become a really dangerous rugby team.
"Really proud of the effort as always, they believe in what they're doing and the jersey."
Roux revealed just that when asked who ought to carry responsibility for driving improvement in discipline.
"100% it's the players responsibility, it's no-one else's fault except our own fault.
"So we'll have a look at that and we need to learn quicker.
"So we'll do that."
They're sick to the back teeth of the alternative.