IT TAKES A brave soul to even contemplate attempting the Race Across America, which is billed as the 'world's toughest bike race'.
The ultramarathon event, which was first held in 1982, is one of the longest endurance races in the world, trumping the Tour de France in terms of distance.
The course for RAAM generally extends from the west to the east coast of the US and is approximately 3,000 miles long, spanning 12 states from Oceanside to Annapolis, Maryland.
Often compared to the Tour de France, one big difference is that unlike cycling's most prestigious event, RAAM has no stages — it is virtually non-stop, with teams whose members take turns to compete, as well as individual cyclists, involved.
It generally takes a little over a week and up to 22 hours a day of cycling for a solo competitor to finish, though in the two-man, four-man and eight-man events, it is possible to take just over five days to complete the race in occasional cases. To make matters even more difficult, there is a time limit placed on competitors — nine days for teams and 12 for solo riders.
Yet simply crossing the finish line is no mean feat. People have died during the event or been critically injured after being hit by passing vehicles. Up to 50% of solo competitors have been known to drop out of the race in certain years due to exhaustion or medical issues.
That said, there have been efforts to make the event safer of late. Each night, a vehicle with flashing lights follows every athlete, while each competitor is backed up by a support crew who provide nutritional, medical and mechanical assistance when necessary.
Passing through American landmarks including the Mojave and Sonoran Deserts, Monument Valley, Great Plains and Gettysburg, the popularity of the event has increased steadily of late, with over 35 countries represented since its inception 35 years ago.
Open to both amateur and professional racers, in recent times, RAAM's competitors have raised roughly $2 million per year for charities of their choice.
Irish cyclists have been among those to try their luck at the event and they have been very successful in some cases.
In 2015, for instance, a self-funded Irish team became the first self-supported people to complete RAAM.
This year's event begins on 17 June and is set to have further Irish interest. Experienced cyclists Graham Macken and Declan Brassil, accompanied by a 10-person crew, are aiming to become the first Irish duo to complete RAAM.
"A lot of people would know about RAAM if you say it to them, but those that don't — tell them to go and Google it, they'll always come back to you and ask: 'What's wrong with you?'" Macken tells The42.
Graham Macken and Declan Brassil will attempt the Race Across America this summer.
The duo make no secret of their aim to complete the two-man event in seven days and consequently be in contention to win it.
On the face of it, their goal is ambitious, considering that over half the two-man teams fail to finish on average.
Yet the pair's confidence is not without foundation. Four years ago, Brassil was part of a four-man team that completed the event, while Macken was their physio.
The whole way across I kept saying 'I have to do it,' Macken recalls. "At the finish line, Declan said he could return the favour as crew, but I said I'd rather he cycle (with me)."
The duo were originally supposed to attempt the Race Across America in 2015 — Macken even postponed his wedding to accommodate this pursuit, but fate ultimately intervened.
In the lead up to the event, while Brassil was participating in an alternative race, two dogs ran into a pack of cyclists that included the Irishman and he ended up breaking his collarbone in the ensuing crash.
But while they opted against going Stateside, Brassil recovered in time for the Race Around Ireland, which is widely recognised as Europe's most challenging endurance event, shortly thereafter. And not only did the pair compete, they broke the record for the two-man event.
Triumphing in RAAM, however, would be an even greater feat. The duo's official team name is Ardstone/Tayto Park LCRC after their two main sponsors. Moreover, they are participating to raise funds for the Alzheimer's Society.
Six or seven years ago, I got the notion to cycle around the coast of Ireland," Macken explains. "I took a week to do it, but it was to raise money for the Alzheimer's Centre in Navan. My mother was involved in setting it up 22 or 23 years ago and Declan's mother actually attended there before she passed."
They have raised funds roughly amounting to €30,000 in order to compete, taking time out of their respective jobs to go to the US — Brassil works as a planning consultant in Dublin, while Macken owns a Neuromuscular Therapy and Sports Injury Clinic in Trim, as well as a bike and run shop, Spun Cycles & Spun Run.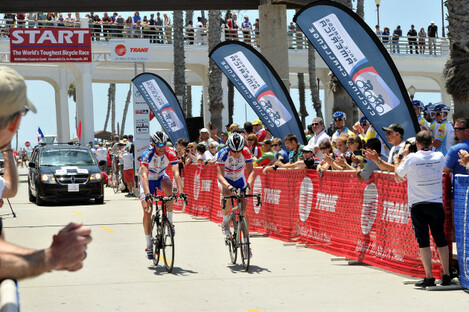 The Race Across America is often described as the world's toughest bike race. Source: AP/Press Association Images
The standard for RAAM is normally incredibly high. In 2014, for instance, the four-man event was won by a team featuring ex-Tour de France cyclist David Zabriskie, the late BMX legend Dave Mirra, and former X Games athletes Ben Bostrom and Micky Dymond.
If two (pro cyclists) decide to go this year, well then we're fecked," Macken admits.
The Meath native has been obsessed with RAAM "since the first Navan team did it in 2007″.
And what was once a distant dream is now becoming a reality.
Since October, the duo have been trained by renowned Irish triathlete Bryan McCrystal — a former Leeds United footballer whose sister Eve won gold cycling alongside Katie-George Dunlevy at the 2016 Rio Paralympics.
15 hours a week of preparation will soon become 20, while Macken will try his hand at The Race — a 24-hour Donegal-based endurance event — before focusing entirely on RAAM thereafter.
The pair will attend a warm weather training camp in April, before consciously lessening the intensity of their preparations in the lead up to the main event.
It's still up at 5am every day to do one training session," Macken adds. "Then, evening time, you get home at six or seven and you have to do the second training session. So it's a lot of head torch running around Tara and a lot of turbo training indoors.
"But I suppose (we have) two understanding wives. I've no kids yet — Declan has three of them, but they've seen him do all of this before. They're well used to it — he's the mad one of the two of us."
Nevertheless, even with the greatest preparation in the world, Macken acknowledges that nothing will quite replicate the intensity of the real thing.
If I'm cycling, Declan is being driven up the road in the camper waiting for me and then he jumps on. So there'd be very little sleep. You'd be lucky to get two hours sleep out of 24 each time.
"But then if something happens, like in the Race Around Ireland, Declan took an awful crash the first night. So I had to do longer shifts and that just impacts on everything then. You don't recover from it — it's just hell."
And despite friends and family frequently calling them "nuts," there is at least one challenge these serial risk takers would never try.
We've both said we'd draw the line at two-man. We'd be divorced if we ever tried to go solo."
Find out more about Graham's Alzheimer's charity here while you can follow his blog here.
The42 is on Instagram! Tap the button below on your phone to follow us!