DUBLIN ARE VYING for just their second-ever All-Ireland senior ladies championship title on Sunday.
Mick Bohan's charges will be hoping that they can put the heartbreak of the last three deciders behind them, and make it fourth time lucky as they take to Croke Park to face Mayo.
The one and only year they finished with the Brendan Martin Cup was 2010, and defender Rachel Ruddy remembers it as clear as day.
In just her first year with the Dublin senior panel, Ruddy was pivotal at corner back as the Sky Blues defeated Tyrone. The Ballyboden St Enda's dual player was also rewarded for her efforts that season with an All-Star.
"A good year!" she smiles, speaking to The42 at the Dublin ladies press night ahead of Sunday's showdown.
She's almost lost for words when she's asked of her standout memory of that September day seven years ago, the day that Dublin turned the screw.
"Oh God, I don't know," she continues. "Just the feeling when the final whistle blows. It's just… I don't know… Everything that you've been training for — you just eat, sleep, breathe football for the whole year.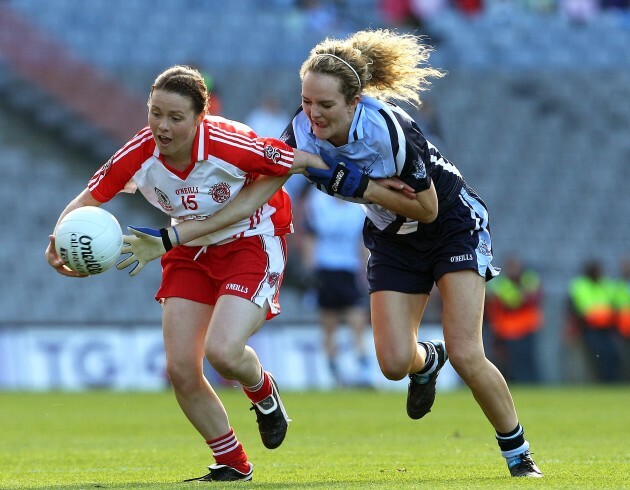 Lorraine O'Sullivan / INPHO Ruddy in action in the 2010 final. Lorraine O'Sullivan / INPHO / INPHO
"When the whistle goes, you're just like 'This is it', it's everything you wanted. It's indescribable really."
Now 29, she's been through a lot since then. As have the entire Dublin team.
After their historic victory in 2010, they failed to reach the top two in the country for the three years that followed. 2014 brought them back to Croke Park on the fourth Sunday in September, but every year since then, their hearts have been broken by Cork.
That year, there was just one point in it. With 15 minutes left on the clock, Dublin were cruising, 2-10 to 0-6 ahead. But the Rebels somehow, someway, came from behind to win.
In 2015, the margin was just two points, while last year it was a single kick of the ball yet again. Ruddy missed both of those finals. A reccurring back injury ruled her out for the guts of two years.
She hardly kicked a ball in 2015, she missed time off work, she knew her season was over from early days.
Last year, she got back playing club football, with aspirations of returning to the inter-county scene this year. Hours upon hours of rehab, and no shortage of personal frustration, here she is. Back to her best.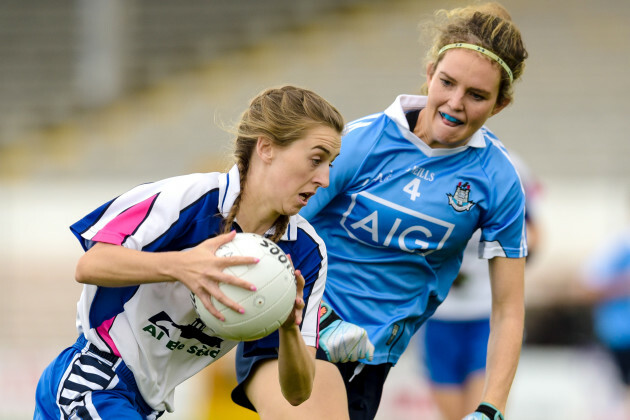 Tom Beary / INPHO Ruddy and Waterford's Aileen Wall in action in this year's quarter-final. Tom Beary / INPHO / INPHO
"I knew I could give it another bash with the county team this year. It's worked out really well," she smiles.
"It's a massive personal achievement that I've made it back with the girls. I've been watching them from the sidelines for the past two years in Croke Park, wishing I was out there with them so I'm really over the moon that I managed to get things back to where I want to be.
She's put the small ball on hold for now, with one ultimate goal in mind — redemption on the biggest stage in Gaelic games.
Of course, Cork have won 11 of the last 12 titles, with Dublin the one team to break their remarkable run of All-Ireland success.
Out of the picture this year with Mayo having bet them in the semi-final, Dublin will hope that this is their time. Time to put all of the hurt of the past three years to bed. Time to snatch the title back again.
"You draw from those experiences where you're devastated after a final and for weeks after," she continues. "You do learn from that hurt and you do think of that on the day, so I hope that we'll be able to pull that out and make that count."
And Ruddy — a physiotherapist at Our Lady's Children's Hospital in Crumlin — has felt that hurt perhaps more than anyone.
Lorraine O'Sullivan / INPHO That winning feeling: After the 2010 win. Lorraine O'Sullivan / INPHO / INPHO
Helpless from the sidelines on the last two occasions, she's also had to welcome the euphoric champions to her workplace the following morning.
"For the last few years I've watched the Cork team coming in with the cup on the Monday morning after. It's a bit heartbreaking.
"I'm hoping I'll be going into work on Monday morning afterwards….. on my day off, with the cup! It'd be lovely."
Lovely, not only for Dublin, but the perfect ending to a long, long road for Ruddy.
Subscribe to The42 podcasts here: