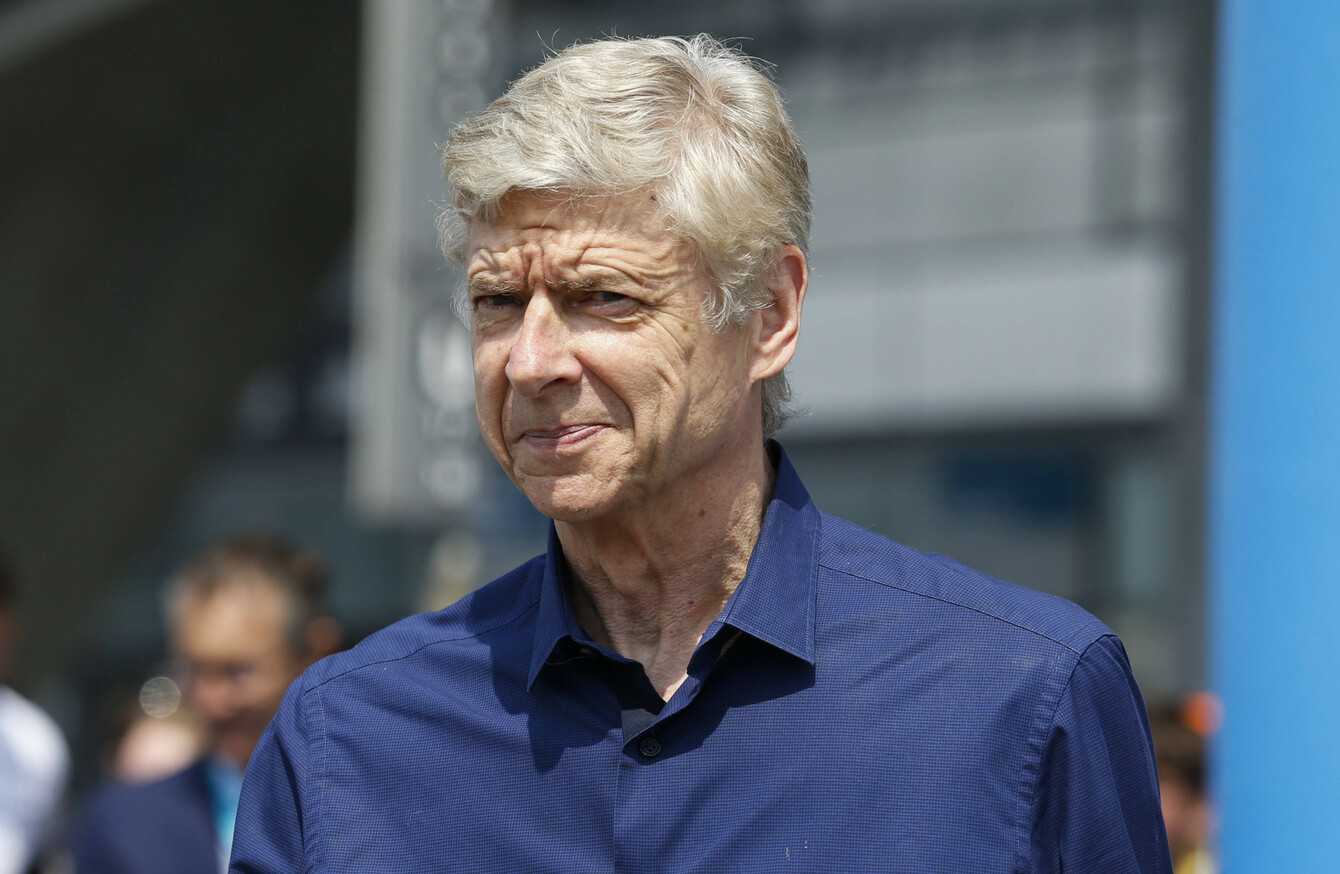 Ray Parlour expects Arsene Wenger, pictured above, to continue on in management.
Image: Imago/PA Images
Ray Parlour expects Arsene Wenger, pictured above, to continue on in management.
Image: Imago/PA Images
Updated at 19.34
RAY PARLOUR BELIEVES Arsene Wenger's passion for football means he is likely to seek another job in the game as a manager.
At 68, there are many people in the Frenchman's position who would consider retirement, but as a renowned footballing obsessive, there is a widespread sense that Wenger will not be away from the sport for long following his Arsenal departure at the end of the most recent Premier League season.
Parlour, who was speaking at the announcement of the Arsenal-Chelsea friendly in Dublin today, is a man who knows Wenger well, having spent eight seasons working under him at the Gunners, and feels he will miss the day-to-day involvement with a football club.
"He's going to go to the World Cup. He's doing the TV with Robert Pires [on French outlet BeIN Sports]. He loves football. He was in at training every day. Even if the first team were doing a warm-down in the gym, he'd be with the other players.
"The other 10 players in the squad would be training as normal. He'd be making sure they're ready if needed to come into the team.
"He's the only one who can make that decision [on whether to manage again]. I think he'll miss it and that one day, you might see him back as a manager, but the job's got to be right for Arsene Wenger."
Parlour is not the only ex-Arsenal star who feels a return to football for Wenger is likely, with Bacary Sagna recently predicting an imminent comeback.
Ex-England international Parlour also believes Wenger would be more inclined to take a coaching role rather than the Director of Football jobs he is sometimes linked with.
"I think he'd be in the training ground. [Football is] not five days a week. It's seven days a week, 24 hours a day, you're thinking about football as a manager. You don't switch off as a manager. When you go to sleep at night, things are going around your head about the next game and players. So it's very demanding on managers nowadays.
"Whether he wants time out to recharge his batteries or to go straight back in, we'll have to wait and see. But I'm intrigued to see what he does. I can't see him sitting on a bench sunbathing."
While Parlour — who currently works as an Arsenal ambassador in addition to being a Talksport pundit — is excited by the club's appointment of Unai Emery as head coach, he was sad to see the Frenchman leave and paid tribute to the veteran manager's influence on his career.
Be part
of the team
Access exclusive podcasts, interviews and analysis with a monthly or annual membership.
Become a Member
"He was a very honest manager," he recalls. "I always remember him saying to me, you play well, you play next week. As a player, every game is so important for yourself, especially once you get into the team, because you want to be playing the following week. The way he conducted himself, he was very good with players, even if he didn't want you as a player, he done it the right way to move you on [Parlour left Arsenal for Middlesbrough ahead of the 2004-05 season].
I don't think even the players he moved on early when he first came into the club, they wouldn't have a bad word to say about him. He done it the right way. He was very successful. His training methods were brilliant. Early in his reign, it was unbelievable football. I know he had a great back four and brought in some real flair players — [Patrick] Vieira, [Marc] Overmars, just some great guys work with. He was out at training every day at Arsenal — some managers don't always do that. He always wanted the best from you as well as a player and he certainly improved my game."
Parlour continues: "People say: 'Would your team [the 2003-04 'Invincibles'] beat Man City?' You can't really compare that. It's very difficult to compare eras. Football's changing all the time. You've got to go with the change. And I don't think you're going to see managers like Sir Alex Ferguson or Arsene Wenger [anymore]. That is the day and age in football. You might see that in players as well. You won't get many John Terrys or Tony Adams' who stay at clubs for almost all of their careers.
"Football in general has changed completely, and whether it's right or wrong, you've got to go with the times."
Towards the end of his reign, Wenger at times was criticised for being too soft with certain under-performing stars and while he is widely regarded as one of the nicer managers in football, Parlour believes that trait did not hinder him significantly.
"You can't be so nice that you're not going to be successful. If people are doing the wrong things [you have to be strict]. What he used to do so well is do it behind the scenes.
"If we lost a game and were poor, we'd have a meeting on the Monday with all the players. He would have looked back at that video three or four times and would know how we lost that game and why we were poor.
"He'd want us to come in and say 'why'. 'It was your fault, it was your fault.' The lads would have a go at each other, not in a vindictive way. We'd sort it out in the dressing room, shake hands, and make sure we didn't make the same mistakes next week.
All managers are different — some would be throwing cups around at half-time, others would be calm. You can't ever knock the styles of management and whatever we want to do, because they've all been successful. But Arsene Wenger was that sort of manager. He'll be angry, but he'll make sure he has that meeting on Monday, when everyone's settled down. We knew who made the mistakes — it might be me not tracking the runner or things like that, and I'd hold my hands up. That is good criticism for you, because I know next time, when he's making a run, I've got to go with them. I think that's what he did.
"You won't win trophies if you're too nice to each other. You've got to demand every single ounce out of everybody to win, because it's tough. You'll have ups and downs throughout the season."
The42 is on Instagram! Tap the button below on your phone to follow us!