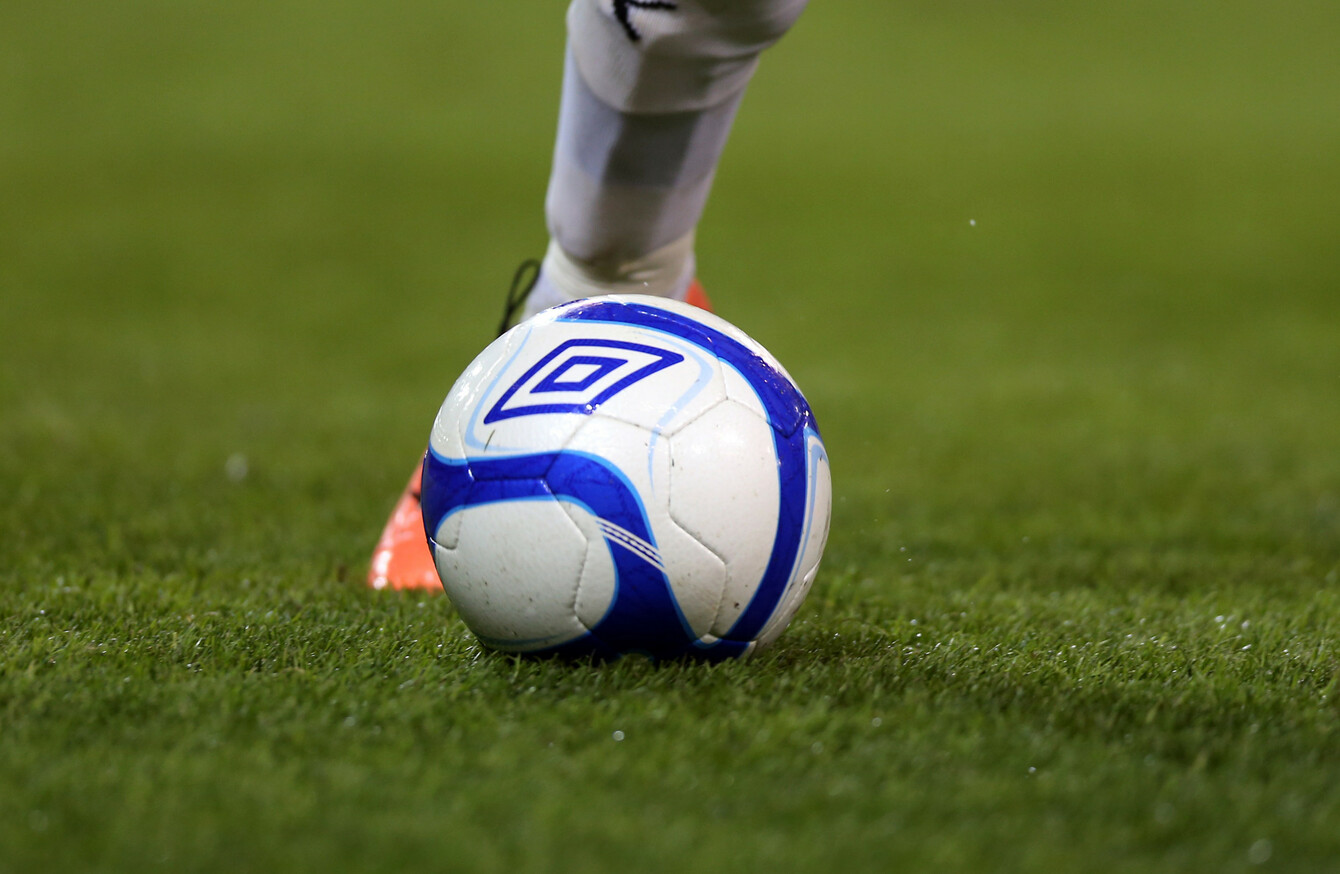 File pic.
Image: Donall Farmer/INPHO
File pic.
Image: Donall Farmer/INPHO
I RECENTLY RETURNED to Ireland following over a decade coaching in Academy football in the UK and Africa and got a job working in the League of Ireland with Waterford FC's U19s.
So what does an average day look like? Well, when I arrive at the large foyer entrance of the WIT Sports Arena, I'll often encounter young players who I greet with a handshake before entering into a discussion on an injury update, a scholarship offer or a point about their individual technical programme.
Honing in on individual development
I might, for example, spend a few minutes chatting to a striker about his movement.
In this environment, it's important to hone in on the individual development of these players. Granted, it is a team game, but when these boys are sitting down with the first-team manager at the end of the season, they will be very much on their own. They will either have the individual qualities to receive a professional contract or not. To support this goal, we sit down with players every six weeks to discuss their progress and agree on a few small parts of their game that they need to focus on.
The idea is that the aggregated gain from all these small things will improve them, and also improve the team. That factor coupled with the natural development we hope they experience within our training sessions means they will ideally become better players as a result.
A typical training session
Every day, the changing room is invariably a hive of activity. At least 10 players might be spread out around the spacious facility, completing core stability work.
I might seek out a chat with Billy Hearne, the Academy's goalkeeping coach, about everything related to the goalkeepers. We recently lost one player who needed to focus on the Leaving Cert, highlighting the problematic disconnect between Irish sport and the Irish education system.
My assistant, Conor Coad, could be at a tactics board walking three of the players through a "pressing trap" — a defensive manoeuvre based on triggers — a topic they had worked on while they were away winning the Centenary Cup with the Ireland Schools team.
Making the most of the limitations
The bare facts are that elite players in most countries will be full-time by the time they are 17 or 18. In fact, even players who are playing Conference-level in Britain can train with their club four-to-five times per week. We do not have this luxury unfortunately, so we have to maximise the limited contact time we do have with these players. To help achieve this aim, we work towards a coaching curriculum, to ensure we teach the game effectively across the season, and also so we don't get bogged down in coaching the same thing over and over again.
In other words, every minute counts. While myself and the other coaches set up for the session, the players complete 'rondos', predominantly led by the footballers themselves. I stipulate that the exercise must be completed one touch, and that there is focus. It cannot be a bunch of lads standing in a 'banter circle'.
WIT is not our venue, so we literally step on the pitch when the players do. Even if it only takes us 10 minutes to physically set up the session, we want to make those minutes count. If we train twice a week for 45 weeks a year, those 10 minutes add up to 900 minutes across the season — 15 hours of training time that may be lost otherwise.
I do not believe in running them around the pitch, and I couldn't watch half of them smash balls in the goal, and the other half chatting about God-knows-what before the coaches are ready. The one-touch rondo helps the players practice playing one-touch physically, but also to think and react quickly. It is a 'little and often' approach, but there are signs that it is having a positive impact.
The core of the session
Once the session gets underway, the players train as you would expect from an elite group, with a mixture of eagerness, engagement and quality. It's important to remind players about their individual programme along the way — Jack might need to focus on his first touch with his right foot, Shane could be required to scan and alter his body position, Eoghan would need to recognise transitions and recover quicker. Those who slack off are brought back to a level that is acceptable.
A mixture of small-sided games, or practices that replicate a game, tend to form the main part of my sessions, but there are no queues of players, no laps or repeated sprints – the balls move as soon as the pitch is in sight.
We develop our football fitness by playing football, and the game is not played in straight lines or in queues. We work with the ball, within game scenarios, as much as possible. Why should I concern the players with running laps of the pitch when the game looks nothing like it? Or straight-line sprints? That is just not what the game is like, and it takes away from our ball-rolling time.
Shortly after the session ends, the pitch is commandeered by other teams, the players disappear into the night. The last ones who leave are the individuals who are "on the gear" – a rota of players assigned to collect and ensure all the equipment is present and correct after training.
Conclusion
So what does this all amount to? I'm sometimes asked whether my team can win the Southern Elite Division this season. My answer is always the same.
Winning is great and it feels nice. Everyone goes home happier if you win. However, the result of a game is only one measure of how the players are progressing. I would genuinely much rather lose our best players to the first team than win at the weekend. We've got to look at the bigger picture.
For example, during pre-season, we played a local Premier team. In one of those bizarre occurrences, we only had one defender available. The outcome was that a player who normally plays higher up the pitch, played very well at left-back, and we can now add more strings to his bow. The fit defender, whose leadership and communication skills were part of his individual programme, was tasked with gluing together a makeshift backline – another positive outcome. As it happens we drew the game, but three months later, who cares?
Ray Power is the author of the 5-star rated coaching books, Making the Ball Roll and the Deliberate Soccer Practice series, which are available through Amazon and other online stores.
The42 is on Instagram! Tap the button below on your phone to follow us!