IRELAND's RUGBY PLAYERS were singing off the same hymn sheet by the time they entered the post match interview arena.
Unfortunately, for the most part, these were sad songs, no room for a happy whistle in ballads of rueful lament.
"Yeah, it is disappointing," began Tommy Bowe, "I think we set ourselves up perfectly in the first half.
"We put pressure on them in their own half, they made the odd error in penalties and we were able to capitalise.
"Second half we went away from that a bit. We played a little bit more into them. Disappointing to lose that lead and to lose in general."
South Africa re-emerged for the second 40 minutes of this November Test trailing 12-3, but looking like a brand new side. They instantly brought the game to Ireland, shaping themselves into a maul at the first available opportunity. And when Ireland did manage to take possession back, the black shirts were met by ferocious hits all around the park as the Springboks powered to a 12-16 final score.
Dangerous
"I think when we were running down their channels they put in those big hits and I think we weren't able to get that quick ball that we did in the first half," Bowe added. "Maybe our chases weren't as good – that had got the crowd behind us in the first half too."
Bowe described his night as "frustrating" on the wing with not nearly as much work as he would have liked, and his partner in the back three, Simon Zebo, expanded on the point: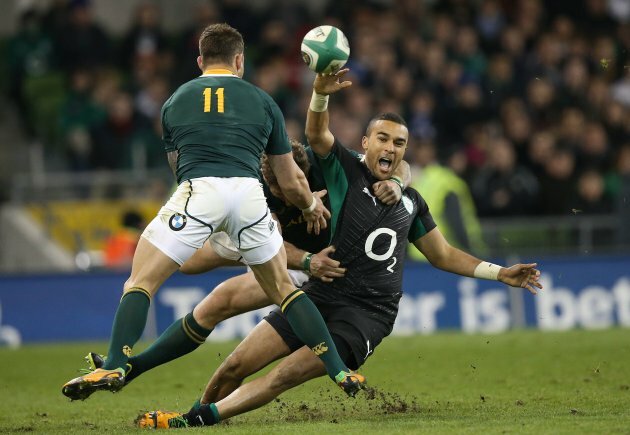 ©INPHO/Billy Stickland
"First half, after a couple of phases we were spreading it wide. Earls, Darce and Tommy were making half breaks and we were looking dangerous and making great gain-line." Said Zebo.
"Then second half, they put the squeeze on us and slowed it. It played into their hands and it's just the way they wanted to play the second half: kick the penalties and take their opportunities, and that's what they did."
Unlike, the two confident speedsters from Ulster and Munster, Mike McCarthy was in the heart of everything. So much so that he was credited with a partisan man-of-the-match award. The lock had given every fibre of his being to his performance, yet he forced his tired aching body in front of the microphones to sum up his view of the game:
"It was tough." Groaned the Connacht man.
"They're big physical lads. It was disappointing – We were in control in first half, we just needed to kick on and get the first score - I think we just took our foot off the gas when we needed to come out of the blocks and get that first score. It was disappointing to have that lead and lose it."
Most offered the theory that this result could offer a valuable lesson. But after five defeats in a row, the sentiment rings a little hollow. Still, Bowe and his fullback for the night insist that plenty of confidence still resides in the residents of Carton House. And that could go double for Simon Zebo, who couldn't hide his delight at making a home debut for his country, even if he was played out of position.
"I wouldn't worry about playing 15 or out-half, to be honest with you." The Munster wing joked. "Ah no, as long as I'm wearing an Ireland shirt I was happy tonight. It's great to be out there and singing the national anthem aswell."
The accent
Of course, before the game had even kicked off, Richardt Strauss had drawn the nation's attention as he passionately sang Amhran na Bhfiann.
Zebo revealed it was not something Strauss had sought lessons for, but the wing did offer a light-hearted helping hand with the lyrics before the moment came.
"I didn't know he was singing it." Zebo said with eyebrows raised. "I said it to him at the start of the game, as a bit of a joke: 'do you know the anthem'? And he was just…"
At this juncture Zebo chuckles as he slips effortlessly into an awful three-syllable long attempt at a Pretoria accent. It seems the attempted imitation is not new to him.
"'Aah ha, yah.'
"I took his word for it and he sung it away."
Maybe there is some reason to be cheerful after all.