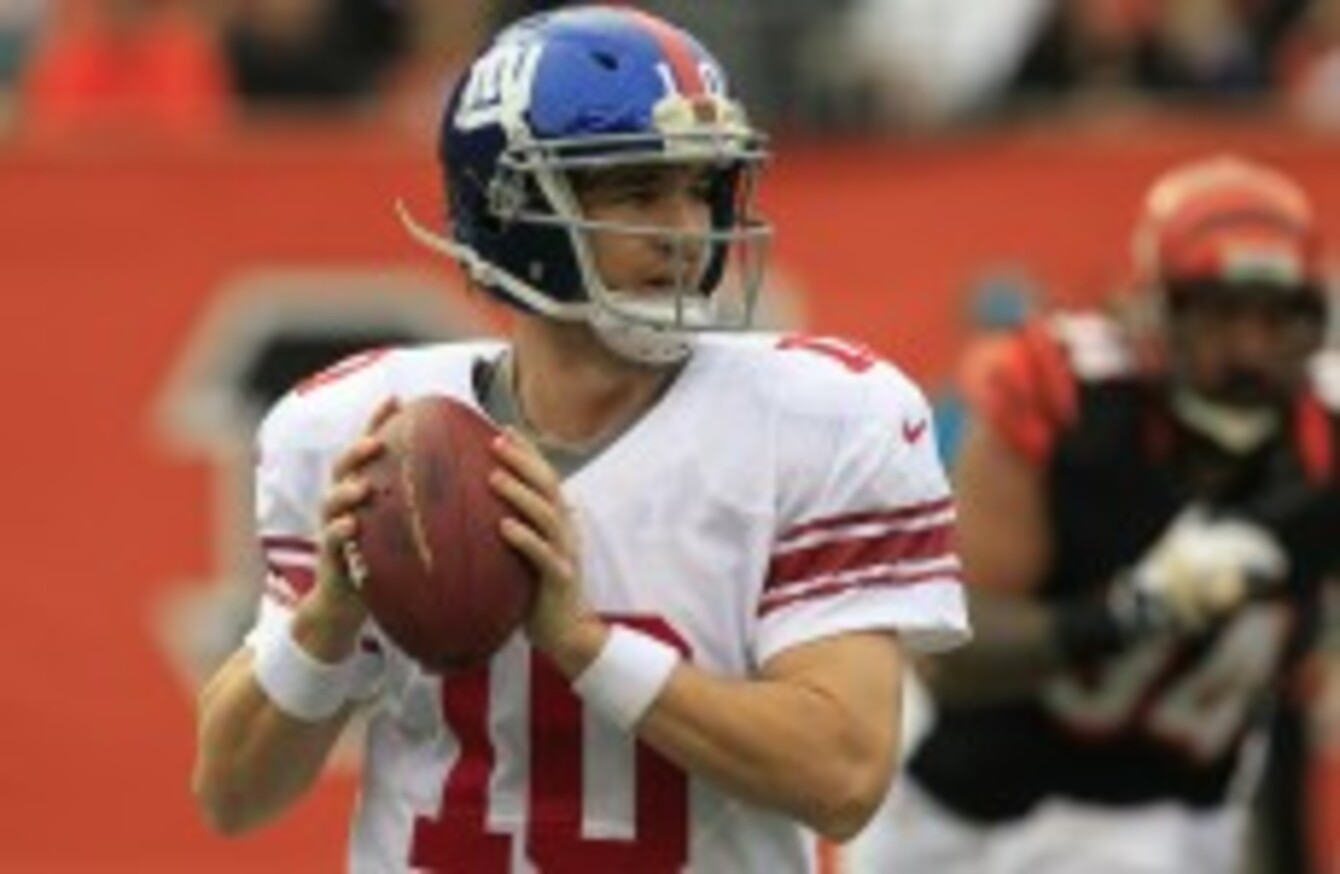 New York Giants quarterback Eli Manning is due a good performance this weekend.
New York Giants quarterback Eli Manning is due a good performance this weekend.
WITH THANKSGIVING WELL and truly stuffed and the bye-weeks out of the way, there's no doubt we're coming towards the business end of the 2012 NFL season.

Green Bay Packers @ New York Giants
If the season ended yesterday, both the Packers and Giants would be in the playoffs as the third and fourth seeds respectively.  However, the strength of the NFC means both could still finish anywhere from first to third in their division so the postseason is by no means guaranteed.
The Packers have to be confident coming into Met Life Stadium riding a five-win streak and, despite what they may say about this being "just another game" will almost certainly be seeking revenge for last season's playoff loss to New York. Without both Clay Matthews and Charles Woodson on defence, that task is made extra difficult.
For the Giants, Eli Manning needs to get better protection from his offensive line. Last year's Super Bowl winning quarterback is ranked just 22nd in passer rating following four below-par performances. As he has proven unable to scramble to create time to find the likes of Victor Cruz, it's down to the big men up front to afford him more protection.
Verdict: If this comes down to a field goal, the Packers could be in trouble given their current woes. However, something just doesn't look right with the Giants offence over the last few weeks and I'm not sure the bye week will have done much to help it. Green Bay by 5.
Atlanta Falcons @ Tampa Bay Buccaneers
The Bucs are one of the hottest teams in the NFL right now having won four games in quick succession. At 6-4, the team has already surpassed its win total from last season and done so thanks mainly to brilliance of Doug Martin and Josh Freeman over the last month. However, there are many who still question the legitimacy of Tampa's form given the perceived lack of strength in their schedule through November.
The same question marks hang over the legitimacy of the Atlanta Falcons 9-1 record. The doubters looked like they would be proven right last weekend when Matt Ryan threw five interceptions to the grateful Arizona Cardinals defence. However, Matty Ice was able to lead his team to a come from behind victory, the sort that could have you believing anything is possible.
The Falcons have won six of their last seven clashes with their NFC South rivals and, despite this being a match-up between two of the form teams in the NFL, it appears the game won't even be shown on TV in Tampa because the Bucs have been unable to sell enough tickets. We might be seeing the LA Buccaneers sometime soon.
Verdict: This game is usually a clash of styles which results in a close, low-scoring affair. I can't see Sunday's encounter being any different. There's something about this Bucs side that screams upset though. Tampa Bay by less than 3.
New Orleans Saints @ San Francisco 49ers
Another NFC playoff rematch from last season and one that pits the league's third ranked passing offence against the second best passing defence. Despite the Saints' turnaround in fortune, winning four of their last five to drag themselves back into the playoff hunt, they remain terrible on defence; ranked last in the NFL.
At the time of writing, the 49ers still haven't named a starting quarterback. However, if they don't name Colin Kaepernick, who completed 16 of 23 passes for 243 yards and two touchdowns against the Bears (ranked 4th in defence in the NFL) last week, then it's Jim Harbaugh who needs his head examined, not concussion victim Alex Smith.
I've been harsh on both these teams at times this season. The reasons are simple enough; the Saints don't put any value on defensive play while the 49ers, up until now at least, always seemed more concerned with not losing than with winning games. Naming Kaepernick as starter for the remainder the season might be harsh on Alex Smith, but it would be a statement of intent from the city by the bay.
Verdict: You can't be as bad on defence as the Saints and hope to go on the road against one of the best teams in the NFL and come away with a win. If Kaepernick starts, 49ers by 5. If he doesn't, let me be the first to use #HarbaughOut on Twitter.
All fixtures and predictions:
Oakland Raiders @ Cincinnati Bengals – Bengals by 7+
Buffalo Bills @ Indianapolis Colts – Colts by 5+
Denver Broncos @ Kansas City Chiefs – Broncos by 10+
Tennessee Titans @ Jacksonville Jaguars – Jaguars by 3
Seattle Seahawks @ Miami Dolphins – Seahawks by 3+
Pittsburgh Steelers @ Cleveland Browns – Browns by 3
Baltimore Ravens @ San Diego Chargers – Ravens by 5
St Louis Rams @ Arizona Cardinals – Cardinals by 3
Carolina Panthers @ Philadelphia Eagles – Panthers by 3+