RICHIE DOYLE LOOKED set for a long and fruitful stint in the black and amber before his intercounty career was cut short by chronic hip problems.
The Barrow Rangers player, 24, has been forced to call time on his exploits in the Kilkenny shirt and in a remarkable blog, he's detailed the extraordinary lengths that he goes to in an attempt to continue playing at club level.
Doyle, a 2012 Allianz Hurling League winner, was an All-Ireland minor medallist with the Cats in 2008 and as a senior panel member, he captured All-Ireland titles in 2011 and 2012.
But the website entitled 'Functional Movement Training in young GAA players' has detailed how "Richie Doyle, former Kilkenny hurler, had a shorter intercounty career than he would have liked after it was cut short by an ongoing hip problem because of an imbalance in his hip."
Writing his own reflections on the issue, Doyle explains: "Functional Movement has become a really big part of my life.
"On a daily basis functional movement exercises benefit me greatly.
"I was diagnosed with an imbalance in my left hip from birth, this put huge pressure on my left hip and has totally destroyed the cartilage space in my hip joint.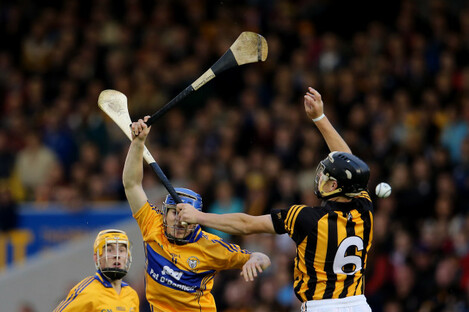 Richie Doyle (6) contests a dropping ball with Clare's Podge Collins during the 2012 All-Ireland U21 final. Source: Cathal Noonan/INPHO
"Because I was unaware of this up until two years ago, my left hip has deteriorated rapidly over the many years of training at various club, college and county levels.
"Training methods and training techniques have changed and are continuing to change over the last number of years, it has gone from static warm ups and heavy squatting and weights training to dynamic warm ups and functional movement exercises with more emphasis put on recovery after training, which in my opinion is going to be of great benefit to younger players going forward in their careers.
"This new style of training and recovery will allow players to train properly with the right techniques and movements and in turn reduce player burnout.
"Looking back on my personal situation, if functional movement screening was around ten years ago my own situation would have been a lot different to the way it is now and all those imbalances in my hip would have been caught earlier and would have been rectified and thus taking the pressure off my joint and cartilage.
"I have been forced and curtailed to club hurling only, as the rigorous training of senior inter-county level would finish the cartilage in my hip altogether and force a hip replacement a lot earlier than I need one."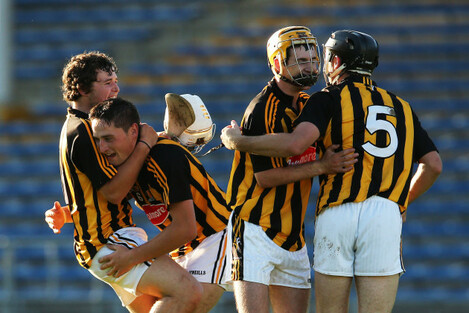 Padraig Walsh, Richie Doyle, Ollie Walsh and Luke Harney celebrate victory over Galway in the 2012 All-Ireland U21 hurling semi-final. Source: Cathal Noonan/INPHO
The day before a game or a heavy training session sees Doyle embarking on a number of exercises which enable him to train, namely foam rolling all muscle groups, trigger point release (using a sliotar), hip mobility exercises, Gluteus muscle warm-ups and resistance band works.
The day after a game or training sees former Kilkenny CBS student Doyle using the foam roller again, releasing trigger points, more hip mobility work and rehydrating.
"Through these exercises and movements my hip flexibility and range of motion have improved and are keeping me playing and enjoying my hurling," he explains.
"Fish oils and other supplements such as glucosamine can have a very positive effect in keeping the joints properly lubricated while training and recovering and have a huge place in a healthy lifestyle.
"I have studied functional movement and screening in my time at I.T. Carlow on the GAA course and have seen the many benefits that players can achieve from doing the FMS screen.
"It is very rewarding seeing a player's performance improving because of the screen and through their own dedication and work on their exercises.
Richie Doyle gets his pass away under pressure from Galway's Shane Moloney in the 2009 All-Ireland minor hurling final. Source: Lorraine O'Sullivan/INPHO
"It is a good starting point for any player looking to improve their performance and that are looking to improve their overall health and wellbeing.
"My advice to young players who are aspiring to be top level athletes in the GAA would be to get the functional movement screen done as early as possible and rectify any weaknesses that you may have, stay on top of your recovery after every training session, let your training become a way of life and give yourself every chance of becoming the best player you can be and of achieving your true potential while staying injury free."