FORMER KILKENNY HURLER Richie Power says he hopes the Central Competitions Control Committee (CCCC) acts swiftly and confirms whether Austin Gleeson will be cited for the faceguard incident which has overshadowed yesterday's All-Ireland semi-final.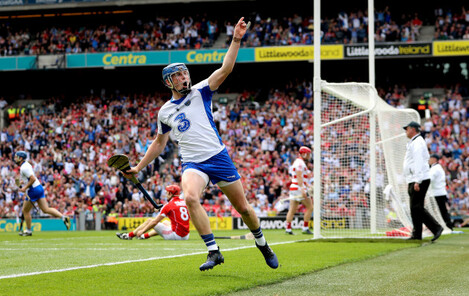 Gleeson scored 1-2 at Croke Park yesterday. Source: Ryan Byrne/INPHO
Waterford, who booked their place in next month's hurling decider against Galway with a thrilling win over Cork, are facing into another disciplinary saga following the dismissal of Conor Gleeson and the incident involving Austin.
Conor Gleeson was sent off for striking with the hurley during the 4-19 to 0-20 victory, while Hurler of the Year Austin appeared to pull off the helmet of Cork's Luke Meade during the first half.
The off-the-ball clash wasn't spotted by referee James Owens at the time, but television replays have put Gleeson in hot water ahead of the All-Ireland decider on 3 September.
Speaking on The42 GAA Show today, Power said it was 'madness' from Gleeson but hopes the matter is dealt with and it's not drawn out like the Tadhg de Búrca case which preceded the semi-final.
"It is very clear cut," Power admitted. "It was very needless at the time but I'd prefer to see the CCCC come out in the next 24-48 hours, say what they're going to do, don't leave it drag on.
"It will be a cloud over it until it's deal with and I think everyone from Waterford and I think Austin himself there will be that slight bit of worry. I'd love to see the two teams being let prepare, we're only three weeks out. So the last thing Waterford want is another circus around will he or won't he."
Asked what he thought would possess a player to commit such an offence, Power continued: "I honestly don't know. It doesn't make sense. When I was thinking about it last night, it was just madness really.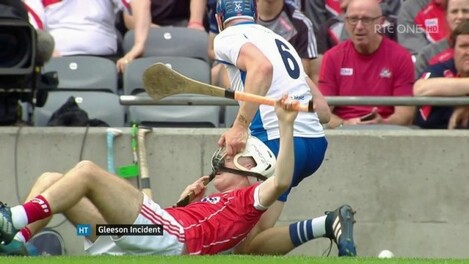 Source: RTÉ
"I think maybe when Austin done it at the time he might have realised that as well. Look it happened in front of the referee so you'd think the referee saw the incident and didn't take action and you'd be hoping that would play in his favour.
"I'd hate to see a guy miss out on All-Ireland final day because of something like this. As I said hopefully they'll put an end to it pretty quickly because the last thing Waterford want is this dragging out very similar to the Tadhg de Búrca case.
"It has to be a distraction personally. Derek [McGrath] said it wasn't and obviously they prepared as well as they did and their performance spoke in that regard. You saw with Adrian Tuohy, the CCCC came out the Wednesday morning I think it was. I just hope they do the same with Austin.
"Okay if he is going to be cited, come out and say it and let Waterford deal with it and decide what they're going to do.
"For me I'd just let the two teams prepare now for an All-Ireland final which is going to be an unbelievable occasion because there's two new teams there."
You can listen to the full show below:
Source: The42 Podcasts/SoundCloud
Subscribe to The42 podcasts here: