Shooter:

You've been the man for a long time.

Lancey Howard: That is undoubtedly true but don't let that fool you. I'm not ready to retire yet."

The Cincinnati Kid, 1965.  
RICHIE RYAN KNOWS all about just how strange the world of professional football can be.
In 2014, and having grown tired of what he referred to as the 'merry-go-round' of professional football in the UK and Ireland, he moved to the North American Soccer League (NASL) – the unofficial second tier – and signed with the Ottawa Fury. After two seasons in the Canadian capital, he was appointed captain of the Jacksonville Armada. But, still settling in the city with his wife and infant daughter and having only played a handful of games with the club, expansion side Miami FC swooped in, offered him and Jacksonville a dizzying amount of money and the deal was finalised on a whirlwind Wednesday night in May, 2016.
"I closed the door, turned to the missus and said 'What the fuck has just happened?'" he told The42 shortly after.
The following morning, he was on a flight and made his debut for his new employers, co-owned by Paolo Maldini and coached by Alessandro Nesta, just two days later.
But by the end of the year the NASL was in disarray. There were attendance issues and some clubs dropped to the lower tier, the United Soccer League (USL), where costs were lower and, owing to the litany of teams, strength in numbers and less of a burden. Sensing a seismic shift, the opportunistic USL lobbied to be granted Division II status, which happened in 2017. A patched-up NASL survived but couldn't stem the bleeding.
Ryan and Miami enjoyed an excellent campaign but the off-season was traumatic as more clubs folded, including the San Francisco Deltas – the side that had just won the championship. The NASL sought to keep its Division II status but it was denied. Ever since, there's been a legal stand-off. The NASL season – due to start next month – has been pushed back until August as top-brass wait to see how their lawsuit plays out.
BREAKING: #FCCincy announce the signing of veteran Irish midfielder @richieryan20!

➡️ https://t.co/qttwbg4FkV#WelcomeRichie pic.twitter.com/4y2k2C7lN5

— FC Cincinnati (@fccincinnati) February 19, 2018
Ryan grew tired of the chaos. The players weren't being informed of developments and there was a deafening silence from the league. Nesta had already jumped ship and when lauded USL side FC Cincinnati made enquiries, it didn't take long for Ryan to say yes.
"It was a little less chaotic than the switch to Miami," he says.
"With what was happening regarding the NASL, it wasn't a situation anyone wanted to be in. I just want to play professional football and Miami weren't able to offer me that this season.
There was a lot of confusion. I'm sure there was communication between owners and the league but there was no real communication involving our players. And from talking to others around the league, I think all the players were left in the dark. We found out about the scheduling change (the NASL pushing the league's start date to August) on Twitter so that started setting off flashing red lights for me."
Was there a lack of respect from the NASL?
"I don't know if it was a lack of respect but I think there was a lack of people actually knowing what was going on," Ryan says.
"Everybody that was involved with the league wanted it to survive but they couldn't find a way of making it happen, which was disappointing."
We chat on a Friday.
He hasn't even been in the city for a week but he's already pulled on the shirt and played 30 minutes in a friendly with Indy Eleven the night before.
We picked up midfielder @richieryan20 yesterday. Here are a few reasons why. #WelcomeRichie pic.twitter.com/mNtPRxTH1X

— FC Cincinnati (@fccincinnati) February 20, 2018
Miami was good to him and his family. His little boy, Preston, was born there last autumn. His daughter Polly had started in nursery. Ryan and his wife, Nik, had a solid circle of friends. They lived by the beach. It was idyllic. But it was time to go. At a crucial stage in his career, staying put would've meant stagnating.
"I'm not going to say to anyone that we were unhappy or desperate to leave Miami," he says.
"As a family we were settled there. My wife was happy. My little girl was in her nursery and very happy. But it came down to being a professional footballer. I want to play professionally. It's no secret that I'm coming towards the latter stage of my career and if I went to play NPSL (fourth tier) with Miami, I may have already played my last professional game of football".
Ryan enjoyed Miami but there was little hesitation when FC Cincinnati made enquiries.
In four years in North America, FC Cincinnati is Ryan's fourth club.
Another new city. Another move. Another transition. But he doesn't mind. He retains a sense of curiosity, an appreciation for the places he's been and the experiences he's had. And he's not done just yet.
"Ever since we moved over here four years ago, we've had the mentality that we'd use this as a life experience as well," he says.
"It's given us the opportunities to see various parts of the continent and life is very different in each place we've been. We'll experience that again now, and experience playing for another great club. We have some friends in Cincinnati as well, which is a big help. I have my team-mates every day and I can have the craic with them but for Nik it's different when you don't have someone around."
And he's okay with swapping sun-kissed Miami for something a little more seasonal in Ohio?
"Listen, it's gonna be very different for us for the first little while because we've had two years living in paradise," he says.
But you have to be that way in football too. You can't get too attached to places for too long because in this business you don't know how long you're going to be somewhere.
"We're not people who are on the beach everyday and especially since our little girl was born three years ago, we tend to do the same things. In Miami, we'd get up, take her to nursery, I'd go training, we'd pick her up, have lunch, take her to the park, have dinner and go to bed. So whether we're in Miami or Ottawa or Jacksonville or Cincinnati, I think we tend to do the same thing as a family."
Ryan in action for Sligo Rovers in 2011. Source: Donall Farmer/INPHO
A long way from Sligo, with whom he won two FAI Cups.
"Nearly everyday I think that," he says.
"And everywhere we've been as a family we say, 'What are we doing here? How did we end up here?' But that's the unique situation we're in and we enjoy it. It's not just great for me and Nik but also for our little girl. She's got her own little personality from being in different scenarios and situations. In Miami she's been around a lot of Spanish-speaking kids so she's picked up different bits of their language."
At 33, Ryan has secured a two-year deal with his new employers. And, like everyone involved in the franchise, his sights are set on Major League Soccer.
As a football organisation, Cincinnati have seemingly cracked the code. While other teams in more marketable locations have always struggled to bring fans through the turnstiles, the club has an inexplicable hardcore support and remarkable attendance figures.
Last year, they averaged 21,000 at each home game. For one fixture against New York Red Bulls II, over 30,000 showed up.
Those staggering stats, as well as a strong ownership group, have ensured that MLS are keen on bringing Cincinnati on board. And if everything goes to plan, the city will be a top-tier enterprise by 2020.
"It is a unique pyramid over here," Ryan says.
But in terms of everything around the club – the fanbase, the ambition, the way they want to develop – FC Cincinnati is the biggest club outside of MLS right now. If you ask any player if they want to play in front of 25,000, it's a no-brainer.
It's hugely exciting. One of the most exciting parts of finding out they were interested, actually. But, obviously, as players it's important we bring some success to match that support. There were other clubs but once my agent told me they were interested then it was the only place I wanted to go."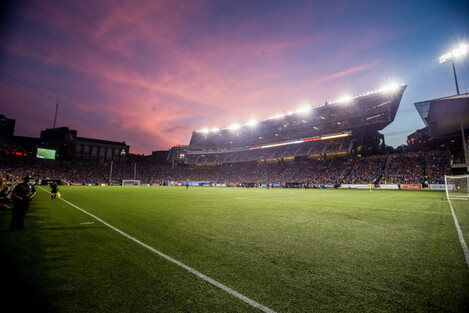 FC Cincinnati's Nippert Stadium has a capacity of 40,000 and regularly brings in over 20,000 for every home game. Source: Garig Bartram
"If Cincinnati win the bid to get into MLS, I'll be happy and I'm sure everyone at the club will be happy. It's the top league in North America so if you're a player or a coach or a fan, you want to be experiencing the best football. If it happens, I'll be very happy about it. But the first thing is the season ahead. We've got a target on our backs a bit so we've got to get some success."
The body is holding up well and Ryan feels that he can keep playing at the highest level for another three or four years.
A deep-lying midfielder, his intelligence and understanding of the game is what's set him apart in the NASL. He brings a calmness and composure and there's his understated leadership too. In his mid-30s, his game remains as sharp as ever.
"The way I look at it is that I was never blessed with great pace," he says.
"So I don't have it to lose. I'm just hoping my mind keeps working because my source of pace is what I have upstairs."
Cincinnati's coach, Alan Koch – who had a short stint as a player with Limerick in 2000/2001 – eluded to Ryan's standout characteristics when his signing was announced.
"Richie is an incredibly talented midfielder who has the skill-set to connect all players on the pitch through his vision and play-making ability. His experience and leadership will be invaluable to the group."
In North America for four years now, FC Cincinnati is Ryan's fourth club. But he's revelling in the adventure.
Ryan is walking into a dressing-room that has a couple of familiar faces. There are two former team-mates and a host of players he's battled against over the last number of seasons. And he knows former Dundalk player Paddy Barrett – who arrived in the last few months – very well, the pair having been at Dundee United together.
He's not been there long but he's impressed by what Cincinnati are doing.
"It's very well-run from what I've seen so far, very professional," he says.
I spoke to a few players before I came here and the response I got from one was, 'It's already run like an MLS club' so to hear that was very refreshing and reassuring. On the coaching side, they've been brilliant since I've come in. It's a new coach. So he has some new ideas, a different system and that's brilliant for me, as an older player. You're trying to get ideas yourself for when you're finished playing football. So to learn different systems, formations and different mindsets…everyday's a school day."
Spend any amount of time with Ryan and one thing becomes abundantly clear: he's obsessed with the game. He's increasingly thinking about what happens next.
"It's no secret to anybody that I love the game and I need to be involved with the game," he says.
"I'm 33. I have two years left here and I'll keep playing football for as long as I can keep my standards up. If I feel as if I'm becoming less of a player then I have to be honest with myself and my team-mates and just finish up. The older you get the more you're thinking about life after playing. You want to have yourself set up and everything in place so you can make that transition fairly smoothly."
For someone who has been through his fair share of transitions in recent years, that shouldn't be much of a problem.
The42 is on Instagram! Tap the button below on your phone to follow us!