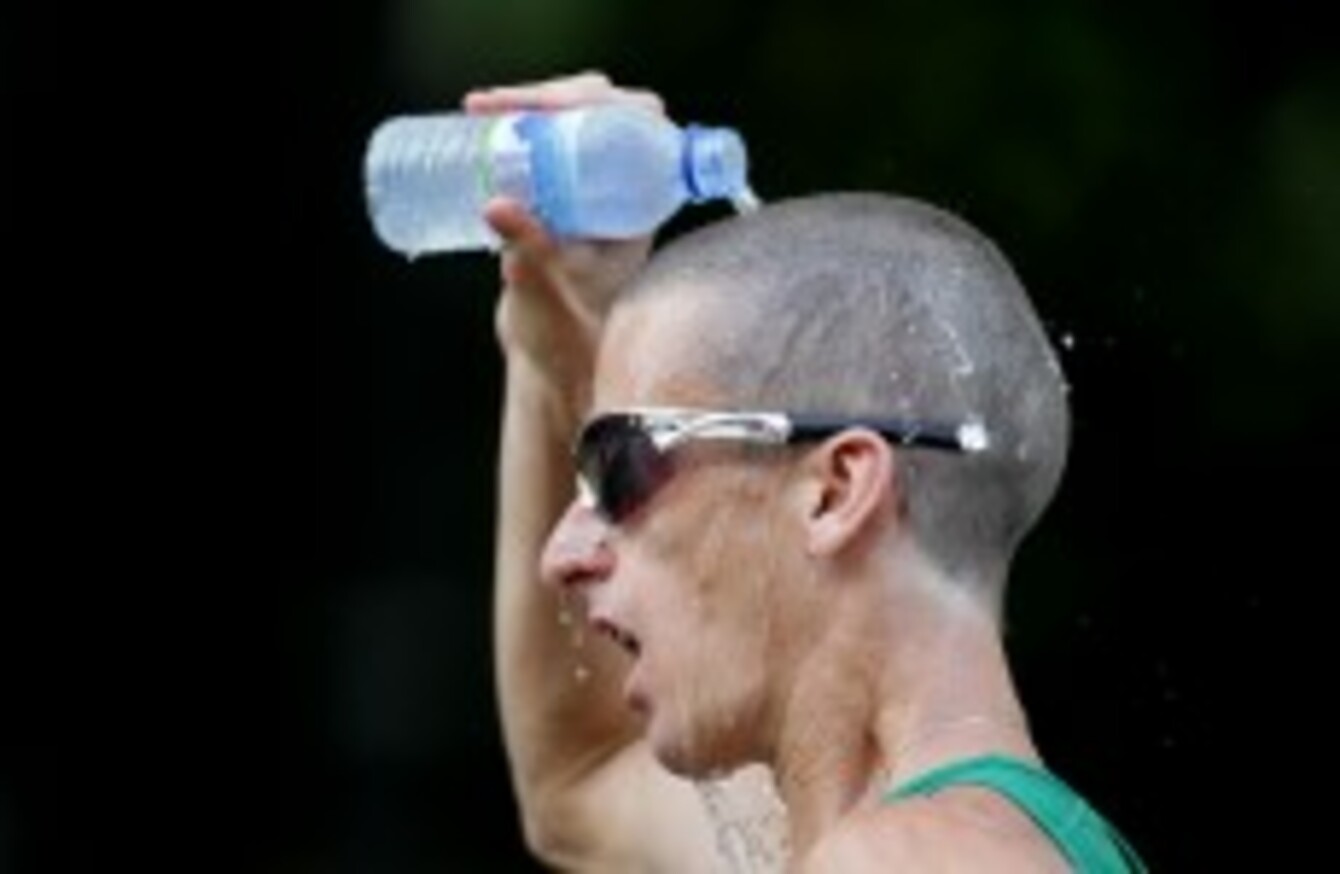 Image: ©INPHO/Morgan Treacy
Image: ©INPHO/Morgan Treacy
MAYBE IT'S A Cork thing.
Few counties offer up competitors so readily.
As TheScore reaches the top of the queue to meet Ireland's leading race-walker, Rob Heffernan, his wife Marian (herself an Olympian in the 400m relay) crossed his path.
A reporter asks a question relating to distance and speed. They cross swords.
It's all good-natured, they cede ground early and admit a distance where the other would probably win. Until Marian stretches the limit:
"Pfft, over 800 metres?" Rob says reeling back incredulously; his face quizzical, but smiling.
He once said that he would (we presume metaphorically) stab someone in the back to get what he needs during a race, andhe finds it hard to suppress that smile as he fully embraces those words again with an anecdote from his last big 20km race for illustration.
"When I finished fourth In Barcelona I was with the Polish athlete (Grzegorz Sudoł) and he ended up lapping me, but I unlapped myself and would have actually caught him if there was another kilometre or two.
"He was talking to me in the race; he says 'please help me'," At this, Heffernan clenches a fist and begins to mime a swear under his breath:
"'I'll help myself, like!' He showed a sign of weakness and I was gone. (The eventual winner, Yohann Diniz) said afterwards that I helped the Polish athlete to catch him."
Heffernan's sharkish grin widens as he proclaims his killer instinct: "I'll never ever help another athlete. Never.
"That's competition. That's the way it is."
That was his last outing at a major meeting. On that occasion he trained specifically for the shorter distance of 20km, finished strong and went on to gain another fourth-place finish in the brutal 50km.
He was forced to fly home early from the Daegu World Championships last August. It was the nightmare scenario for any athlete: his mother had passed away and he was on the other side of the globe. She is unlikely to be far from Heffernan's thoughts when he crosses the finish line at The Mall almost a year on from her death.
Typical of an endurance athlete, the 33-year-old's face is gaunt. There's not an ounce of fat to spare. Certainly not after spending a month at his intense high-temperature, high-altitude training camp in Spain.
"I was literally living in a cave in the mountains in Guadix. The nearest town was 3km away and we had no internet up there. It was just training, eating, sleeping, training – nothing else for a month.
"We had one day off and we ended up going to the altitude training centre in Sierra Nevada…" Whoa there, did you say 'a cave'?
Heffernan congratulates his wife Marian after she ran the first leg of the Women's 4x400m heats in Barcelona. Credit ©INPHO/Morgan Treacy
"It's great, there's no distractions – they burrow it into the mountains, so they're nice and cool. The temperatures are so hot there during the day, it's better than staying in a hotel, it's naturally cool."
It's been a tough schedule, but every last minute of it is needed to sustain a challenge over such long distances. Heffernan speaks with endless enthusiasm about the finer points of his fluid intake and an intense day of speedwork which left him so agonisingly stiff that he had to break into a run for twenty minutes before he was able to walk.
"The next day I did 12km (and) 8km. Saturday: 15km, 8km with 100′s (metre bursts) at the end of it. So you're recovering little by little and then I have to go into a 40km with that real heavy residual tiredness.
'How fast can I do this?'
"So, you're prepared for (the pain barrier) - You can look at both sides of the coin, you can look at the people who crumble and you can look at the best fellas who win medals: the distance isn't a problem to them, it's how fast they do it.
"That's the way you have to think. You can't be like: 'augh it's a barrier'. You have to think; 'how fast can I do this?'"
Unlike most athletes from these shores – heading to the games hoping for a familiar climate - Heffernan exclaims: "I'd love if it was roasting", when asked for his favoured race conditions.
That's not a Cork thing, it's just a man hell-bent on fulfilling a lifetime's work.