LAST WEDNESDAY NIGHT, JOHN EGAN was in McGettigan's Irish bar in Dubai.
"When Robbie scored the place went fucking bananas", he says.
"To be honest, it couldn't have happened to a better person or a better family. I was over the moon – firstly because Ireland scored but secondly because he managed to get it."
The 23-year-old defender, who has spent two excellent seasons with League One side Gillingham, has known Brady and Jeff Hendrick for the last decade.
His initial interaction with the pair is forever etched in his memory – for all the wrong reasons.
"It was below in Togher in Cork", says Egan.
We had an U-13 National Cup for Greenwood and it was either the last 32 or last 16. We came up against St. Kevin's. They had Robbie on one wing and Conor Murphy up front – so many who went on to play underage for Ireland. I remember they walloped us 4-0 that day. I think Robbie got two. Damien Cahalane, a good buddy of mine, who now plays for the Cork hurlers, was in goal for us that day and I think Robbie lobbed him from 40 yards for one of the goals.
I was up against Jeff and Eoin Wearen and couldn't get near them. Their whole team was so far ahead of us. You could see from early on that some of those players were going to have good careers. It's fantastic to look back on it. Even for my buddies back home, it's great for them to say they shared a pitch with these fellas."
But as much as the St. Kevin's side had a conveyor belt of talent, there was one player that stood out.
Brady was signed by Manchester United in 2008 and the move made sense. The winger had been ear-marked from an early age. No one was surprised when such a high-profile club made him theirs.
But, despite featuring heavily for United's underage teams and the reserve side, it proved a much tougher route to the senior dressing-room.
Following a loan spell at Hull, Brady made a cameo appearance for United in a Legaue Cup clash with Newcastle before making a permanent move to the KC Stadium in 2013.
At the time, Mike Phelan – United's former assistant manager – who subsequently worked with Brady at Norwich and Hull, praised the Dubliner's attitude and maturity.
Egan echoes that sentiment.
"With Robbie, you knew from the age of about 14 or 15 that he was going to go on and do big things", he says.
"United is a gigantic club – probably the biggest club in the world when he was there. But no matter how good you were, it was always going to be difficult to come through. If he was given more of a chance, he could easily have fitted into United. He still might in the future, hopefully. He certainly has the ability. But in football, you need a break. You need a manager to give you a chance and the way he's come back, he's now a proven Premier League player. That's a credit to his attitude. A lot of fellas can sulk away from the game but he's gone about it the right way and he's probably scored one of the most historic goals in Irish football history.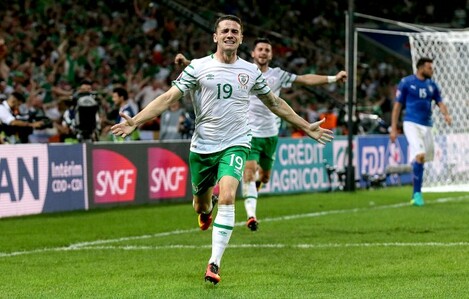 Source: Donall Farmer/INPHO
And that goal didn't just happen in one moment. It was probably the accumulation of years and years of hard work. And I think that's why there was so much emotion on his face. It had been building up for him."
Ever since being schooled by Hendrick as a young teenager on Leeside, Egan knew the midfielder was made for great things.
Jeff Hendrick being carried by Derrick Williams and John Egan with Sean Murray on his back during the successful Under-19 European Championship in 2011. Source: Donall Farmer/INPHO
Egan captained the Irish Under-19 side at the 2011 European Championship, as Paul Doolin's side made it all the way to the semi-finals.
The side eventually lost to a Spanish side that featured Alvaro Morata, Dani Carvajal and Gerard Deulofeu.
But Hendrick was the star then, reveling in the games coming thick and fast.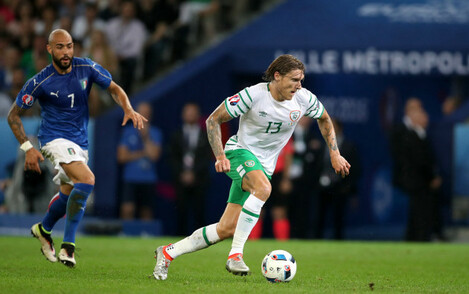 Source: PA ARCHIVE IMAGES
It all sounds a bit familiar.
"He's probably one of the best players at the Euros so far – he's had an unbelievable tournament", Egan says.
That might come as a surprise to a lot of people but not to me. I know he's capable of that. The bigger the game, the better he plays. Even against Italy, he whacked into a challenge early on and that's when you know a fella is up for it and not afraid. He's shown absolutely no fear. He always wants to get on the ball which is terrific. He's cracking shots from everywhere and he's a due a goal. It's fantastic to see him go on and take the tournament by the scruff of the neck. He obviously believes a lot in his own ability and relishes the big occasion.
It gives great inspiration to the likes of myself. When you do well at club level, you can go on and play in the Irish setup. The likes of Shane Duffy as well – he was called in last minute against Italy and he was brilliant, played out of his skin, kept a clean sheet."
When Egan made his move to the UK, it was to Sunderland.
And in 2011, Martin O'Neill arrived as the club's new manager. The following summer, Egan was rewarded for his encouraging displays with the youth team and brought on the senior side's pre-season tour of South Korea.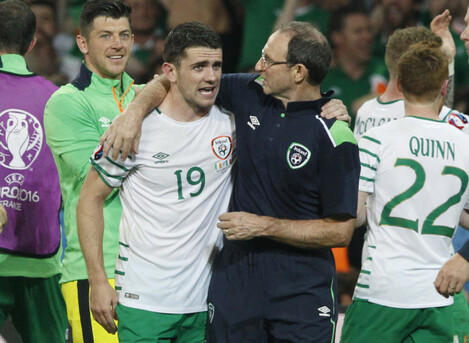 Source: Antonio Calanni
He was given a shirt number for the upcoming campaign and was sent on loan to Bradford to get some game-time.
And then came the inevitable setback.
"The one thing I'll never forget is when I broke my leg in two places when I was on loan at Bradford", Egan remembers.
"The next morning I was up at Darlington for about 8am. Coming into the hospital, there was a man there waiting for me and it was Martin O'Neill. He was the first man to talk to me and he was just saying 'Don't worry, you'll be fine'. That means a lot and shows a good side to a person. As a manager he's brilliant but, as a person, that kind of touched me a bit. It was very nice of him. It was just unfortunate that by the time I got back playing he was no longer the manager of Sunderland.
Little off-field things like that make a fella run through a wall for someone."
The42 is on Snapchat! Tap the button below on your phone to add!