NEVER MEET YOUR heroes? Try explaining that to Robbie Henshaw, who was among the generation inspired by Brian O'Driscoll's dazzling display in Paris in 2001.
Thirteen years on, the 20-year-old Connacht prodigy was recently involved in Ireland's Six Nations preparations and was praised by O'Driscoll for being a "great listener and a really good young talent".
While Henshaw narrowly missed out on adding to his haul of three caps during the Six Nations, shadowing rugby's most capped international player proved an unforgettable experience.
"Obviously, I saw Brian as a kid and took a big shine to rugby after that," Henshaw told TheScore.ie. "It was really, really good to work with, and under, Brian at the camp. It was invaluable as a learning curve for me. I just thought, 'You can't get a better one-to-one coach for your development'.
"I picked up a lot of tips in camp and I was just delighted to get the opportunity, as a lot of players don't actually get the opportunity to work under him. It was all rugby specific: dealing with situations on the pitch, running at certain moves and ballwork.
"If he did decide to [join the Ireland set-up after retirement], it would be absolutely great. I'd welcome it with open arms. 100%."
Clearly, the pair enjoy a fruitful working relationship – one that stretches back to preparing for the Autumn Internationals at Carton House last November.
Not only was Henshaw's time in Maynooth a chance to work closely with O'Driscoll, it was also the first time he experienced Joe Schmidt's famed pre-match preparations at length.
"The attention to detail up there is extraordinary. Every player knew every play and position inside out. It showed in the rewards at the end.
"That was all through the hard work of Joe, who put it there for us. Joe is a great coach and I have great respect for him. It was amazing to be able to work under him."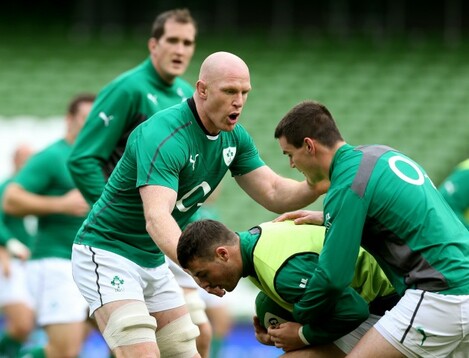 Source: PA Wire/Press Association Images
Far from this being a purely educational experience, Schmidt very nearly rewarded Henshaw's diligence with a place on the bench for the thrilling Six Nations climax against France last month.
Stripped and readied, Henshaw ultimately changed back into his tailored team suit. Still, despite potentially being involved in a championship decider in Paris, this was far from an overawed 20-year-old.
"I was the 24th man and was out doing the warm up. I had to prepare like I was going to play. You have to always expect it.
"It was unbelievable. I was unbelievably grateful to be a part of it. I just thought it was an amazing result and the way the boys went out and took it…"
Being part of the Ireland set-up clearly means everything to Henshaw, who made his international debut under interim head coach, Less Kiss, last June.
Aged just 19, Henshaw became Ireland's youngest starter in the professional era when he lined out at 15 against the USA.
Remarkably, it was exactly one year after Henshaw sat his Leaving Certificate at Marist College, Athlone.
"The feeling was unbelievable. Not many years ago, I was just looking at my role models playing for Ireland. To go out there and put on the green jersey was just an amazing feeling. It was special.
"Your first cap is a huge game to play for your country and everyone is watching and talking about you. I prepared like I would for any other game, but this was a special game and you have to give your all."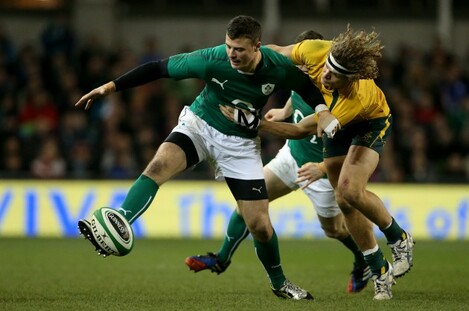 Source: PA Wire/Press Association Images
Two of Henshaw's three Ireland caps have come at fullback, but the versatile 20-year-old has vast experience of lining out at outside centre since his schools rugby days with Marist.
Amusingly, to confuse other opponents, Marist's coach, Michael Loftus, occasionally listed Henshaw at 13 on the team-sheet but then deployed him at 15.
Unsurprisingly, Henshaw has undergone marked physical development since then – towering at nearly 6ft 1in and benching 140kg – and the 20-year-old is now even more prepared for either position.
Ahead of Eoin Griffin's departure from Connacht to London Irish this summer, it seems Henshaw's future lies at outside centre for both club and country.
The Athlone man is acutely aware of the differences between both positions.
"Obviously, at 13, you have to make more decision and have to make the correct decisions in defence or else you're putting your team under strife. Out there, you are exposed because your wingers aren't close to link up with you.
"There's a lot of decision making, as well, in attack. 13 is a really good position, but also a challenging one attack wise. You have to be able to read what's on in defence and spot the mismatches in attack and release your outside backs. I see it as a very pivotal in a team and there are a lot of differences to taking high balls at 15 to taking big hits at centre."
Primarily at fullback, it has been a heartening first season for Henshaw and Connacht under Pat Lam, with the fruits of the Samoan's work witnessed in the recent four-game winning streak Connacht enjoyed in the PRO12.
It was the period where Lam's expansive philosophy really clicked on a consistent basis and, tellingly, Lam has relied on the Academy foundations that Eric Elwood valiantly built up between 2010 and 2013.
"Pat has brought a slightly different style to Connacht Rugby. Obviously, Eric was a great coach and brought me all the way up last year. He introduced me and gave me a taste of professional rugby. I owe him a lot of respect.
"Pat's game plan is a little different: it's more a Southern Hemisphere kind of rugby. It seems to be working now; we've turned a corner a little bit with Pat and shown people what we can do.
"Our forward pack has been absolutely immense in what they've done in the last couple of games and we're just enjoying rugby at the minute with Pat. The rolling maul has always been our strength and it's become more obvious in recent matches. It's a thing we've gotten stronger and stronger at over the years. What we've been working on has all been brilliant, especially the forwards."
Source: RaboDirect PRO12/YouTube
Overseeing a 41-man squad with an average age of just 26, the affable Samoan has certainly furthered the development of Connacht's Academy graduates – particularly Henshaw and scrum-half Kieran Marmion.
Being such integral components of Lam's philosophy is something that Henshaw et al clearly relish.
"It's great. There are a lot of Academy graduates in the team: myself, Kieran Marmion, Tiernan O'Halloran, Eoin Griffin, Eoin Mckeon, and a couple of others. We have a big responsibility, as a younger generation, to carry the team, and I think everyone is taking it in their stride. We're enjoying playing rugby at the top level and that's where we want to be. It's great and everyone's enjoying it."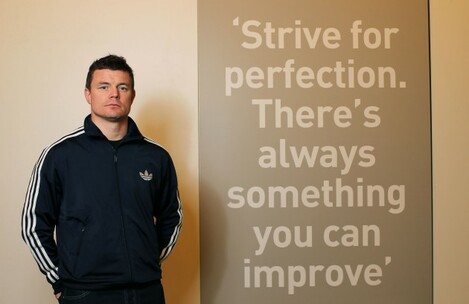 Source: Dan Sheridan/INPHO
Part of that top level that Henshaw alludes to is the Heineken Cup, a competition Connacht have enjoyed some famous nights in over the past three seasons.
Indeed, the club's greatest moment in their 129-year history came against the four-time winners Toulouse last December – when Connacht recorded a famous 14-16 win at the Stade Ernest-Wallon.
Henshaw, cruelly, had a legitimate try disallowed in the second-half by referee Leighton Hodges, but that did little to overshadow a stellar team performance.
"I think the Toulouse game was the biggest result we've had in Connacht rugby. To go away there and get the result was a really amazing feeling. If the try was allowed, it would've been a bonus on top but I was just delighted to get the win over there in one of our best games throughout the years. That just showed us what we're able to do."
Despite their impressive recent form, Connacht face a tough task to qualify for next season's Heineken Cup – particularly with only the top six of the PRO12 guaranteed qualification.
Connacht currently find themselves in seventh place and are seven points off the Scarlets, who enjoyed a narrow 32-30 victory against Connacht in Llanelli last Sunday.
"We do look to get there ourselves and not rely on other teams to bring us into it. We're aiming to get into the top six of the Rabo and we're seventh now. We're looking to improve and improve, and keep flying. I think it's still within reach and we're definitely able to get up there.
"We always want to win anyway but now that we've been winning quite a bit, with the four in a row, it's brilliant. We have that in our mind all the time and we want to get up to sixth or higher."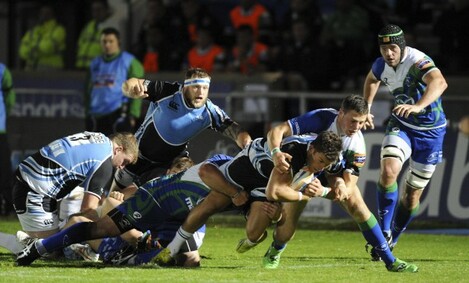 Source: Craig Halkett
18 months on from his debut for Connacht's senior team, Henshaw has settled in well in Galway and is even combining his rugby with a split-year B.A. in Geography and Economics at NUIG.
While upcoming essay deadlines are on his mind, Henshaw is already looking ahead to an exciting climax to a groundbreaking season with Connacht and Ireland.
"I'm looking forward to resuming this winning streak with Connacht and to keep improving my rugby. I'm thinking about the Argentina tour and hopefully if I get on the tour, it's going to be a chance to prove myself to Joe and hopefully get some game time over there in the jersey."