ROBBIE HENSHAW IS the kind of player and personality that coaches must love.
After a year in which he started and excelled in seven games for Ireland, the 21-year-old was asked about the looming World Cup as he accepted his Nevin Spence Young Player and VW Try of the Year awards at last night's IRUPA dinner in Dublin.
"It'll be a brilliant experience if I get selected," began Henshaw.
There's little doubt that injury is the only thing that could prevent the Connacht man from being integrally involved in Joe Schmidt's attempts to lead Ireland to glory at the global tournament as Henshaw continues to improve with every game.
Last night was his third consecutive IRUPA Young Player award, a mark of his quality since breaking into Connacht's first team under Eric Elwood. Having made his international debut in 2013, this season was the one in which those who had long predicated Henshaw as a future Ireland starter saw their forecasts come true.
International thoughts are on the back burner for now, with Henshaw focusing on Connacht's monumental final day Guinness Pro12 clash with the Ospreys in Galway on Saturday, but he can reflect on a job well done this season.
"My target was to try and get a couple of games in the November Tests and hope that went well," said Henshaw at the DoubleTree by Hilton before last night's ceremony.
"Thankfully it did and then obviously getting the start in the Six Nations was absolutely brilliant and to be involved in all the games was amazing. I pretty much hit my targets internationally that I set and hopefully now we can hit this target this weekend against the Ospreys."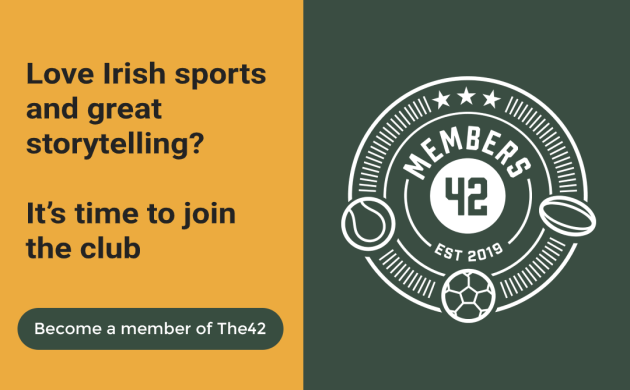 Henshaw's acceleration with Ireland has brought him into new ground at Connacht too, with his provincial teammates increasingly looking to him as a leader on and off the pitch.
There have also been increased demands on Henshaw physically, though he says the IRFU's player management system has seen him deal with that comfortably.
"I've to put my hand up down in Connacht now, I'm probably looked to as one of the leaders in the backline even though I'm one of the youngest. I like taking that job on my shoulders, even though it's obviously not easy, and I like the leadership role, it comes with it.
I've felt the intensity of this season," continued Henshaw.
"The body was tired after the Six Nations, but we got a good rest and I was looking forward to getting back into Connacht and that normal routine, I wanted to get back and help the boys get a few wins, so it's been a really exciting year for me and I've loved every bit of it."
The single frustration for Henshaw as he was racking up impressive Six Nations performances was watching his Connacht teammates lose 18-17 away to the Cardiff Blues in March.
That result, after which Pat Lam was furious, along with a home defeat to Edinburgh early in January that Henshaw was involved in mean Connacht come into this weekend with little certainty of where they will finish in the league table.
There is potential for a top six spot, and with it automatic Champions Cup qualification, or a route into the play-offs for the European competition, where Gloucester lie in wait. Henshaw is simply excited that Connacht are in the mix.
"There was a few results that got away from us and we mightn't have had to dig out as hard as we've had to in the last few weeks," said Henshaw.
A few small results got away from us at the end of games, but we're learning all the time. This is the first time in a while that we've had something to play for in the last game of the season, so it's massive for Connacht.
"It's the first time we have a chance for ourselves to qualify automatically into the Champions Cup, anything could happen. It's quite up in the air."
As he demonstrated for that try of the year, when he leaped to gather Conor Murray's clever kick against England, Henshaw is entirely comfortable in such circumstances.