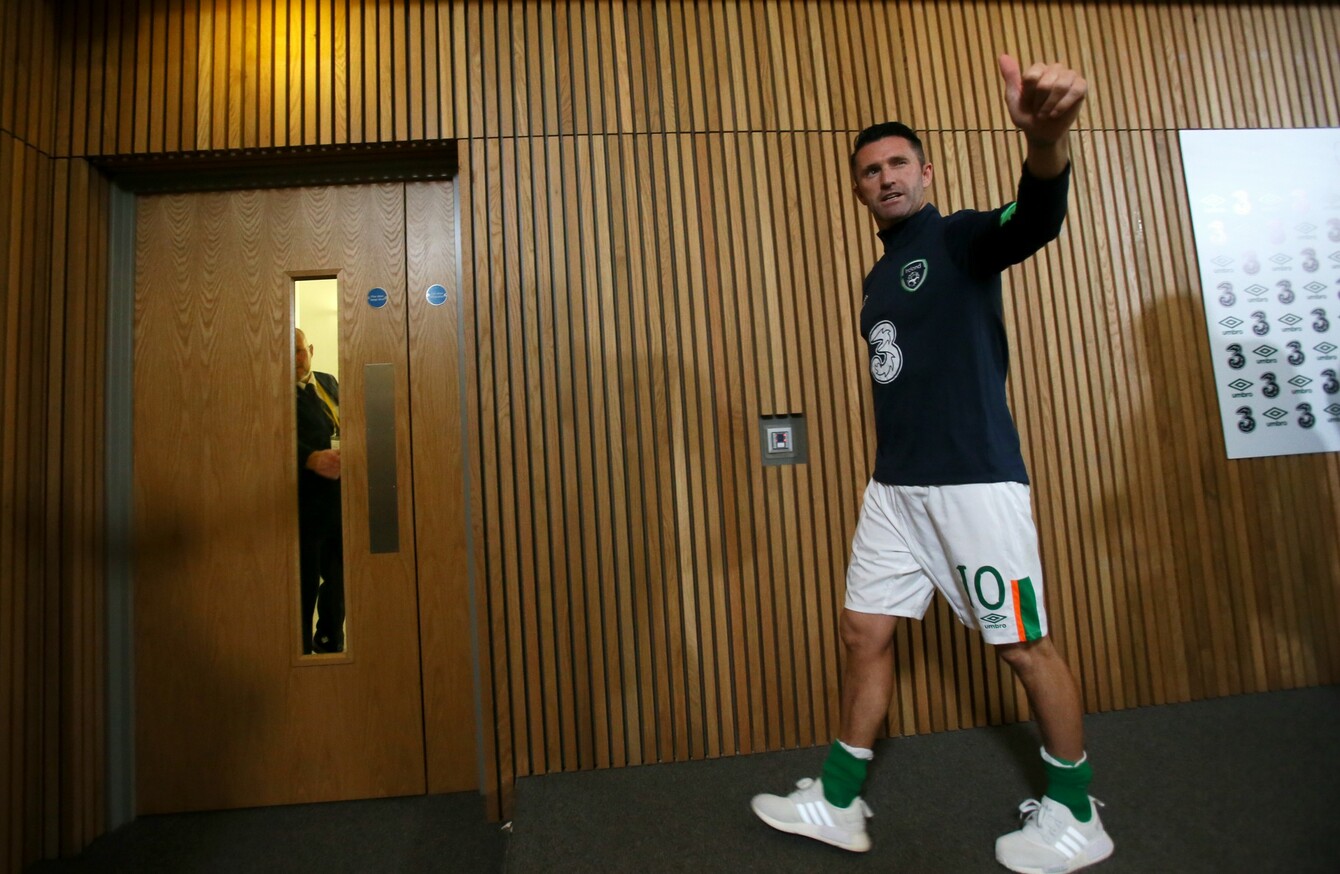 Keane leaves his post-match press conference while being applauded by members of the media.
Image: PA Wire/Press Association Images
Keane leaves his post-match press conference while being applauded by members of the media.
Image: PA Wire/Press Association Images
AFTER WAVING GOODBYE to the 27,300 fans who showed up tonight, Robbie Keane walked through a guard of honour with his wife and two sons, before disappearing down the Aviva Stadium tunnel one last time.
Not many sports people get to go out on their own terms, but an exception was made for Ireland's record caps holder and goalscorer as a friendly game against minnows Oman effectively acted as his testimonial.
A couple of early chances evaded the 36-year-old, but he produced a top class finish on the half-hour mark to score the goal those in attendance had craved.
With his job done, having equalled 14th-placed Ger Muller's record in the list of all-time top international goalscorers with a tally of 68, Keane left the pitch to a standing ovation on 57 minutes.
"It's been an emotional week, but at the same time it's been incredible with the amount of messages and support I've got from former players and managers around the world," he said afterwards.
"All I wanted to do was go out there and play the game and do well one more time for Ireland. Getting the goal topped off an absolutely wonderful week.
I could sense in the crowd that they were desperate for me to score the goal. It was the same with the team and the staff.
"When you've played this game for a long time, opportunities will always come along and I was fortunate enough to get one. I saw the defender coming in quickly so I flicked it over his head as it's hard for the defender to stop when you're running that fast.
"It was just a matter of connecting properly at the end and I was fortunate enough to do that and get the goal, which I think the whole country was desperate for me to do."
Keane hasn't given his famous cartwheel celebration many run-outs in recent years, but made an exception this evening.
"A lot of people have been asking me to do it," he explained. "I thought I'd do it for the family one last time. I did it at the start and it was only fitting that I would do it at the end. Maybe I'll hang it up now!"
While Keane heads back to LA, the rest of the squad travel to Belgrade on Saturday for next week's 2018 World Cup qualifying campaign opener with Serbia, and the outgoing skipper took the opportunity to remind them of just how privileged they are in the dressing room.
"All I can say is thank you," he added. "It's been a wonderful journey and a wonderful 18 years. I've enjoyed every minute of it.
I said a few words to the players after the game and told them: 'Never underestimate putting that green jersey on because it's the best feeling in the world'. It has been for me.
"I said to them I wish them well in the game on Monday and in the qualifiers. We have a great chance and a good team spirit amongst the players. I wished the manager and the staff all the best in the future going forward.
"I'll be watching now as a fan, which will be strange. I was always a fan but to watch it sitting back and not being involved after 19 years will be strange. But I think this group of players will do well."
The42 is on Snapchat! Tap the button below on your phone to add!