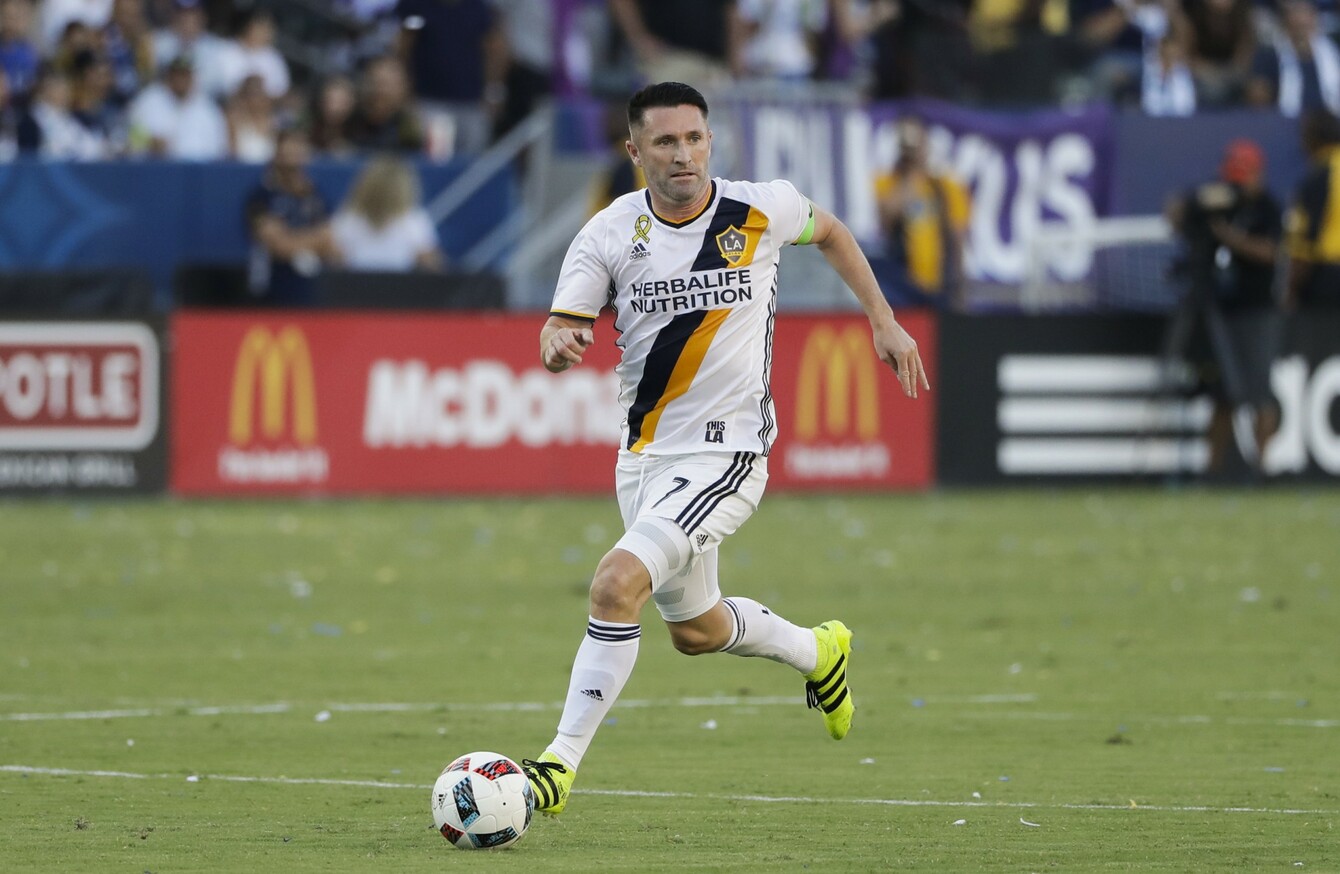 Image: Jae C. Hong
Image: Jae C. Hong
ROBBIE KEANE IS adamant that he is not retiring and that despite moving on from the LA Galaxy, there's life in the old dog yet.
In his open letter to Galaxy supporters, he mentioned how he would take some time off before deciding on who his next employer will be.
So, what are the likely options he'll be mulling over? And, ultimately, what is the best move for him?
MLS clubs
Keane has been in the United States for five years and his second son, Hudson, was born there. There's an affiliation to the country and the lifestyle seems to suit the family. It seems to make sense for Keane to remain in MLS. But it's easier said than done.
Keane has been a Designated Player (DP) for the duration of his time in the league. MLS allows three DPs per franchise and the players fall outside the strict salary cap. In 2016, Keane earned $3.5m – dwarfed by Steven Gerrard's $6.1m – but still not bad.
Considering his standing in the league – three MLS Cups in six seasons, over a century of goals scored for the Galaxy in all competitions and arguably the greatest import in the league's history – Keane would feel he's worthy of a DP spot.
And he's probably right. However, who has enough money and space on the roster?
Be part
of the team
Access exclusive podcasts, interviews and analysis with a monthly or annual membership.
Become a Member
Staying on the west coast would be ideal and Colorado seems a decent fit on paper. There's an Irish connection with Kevin Doyle and Keane has previously played with coach Pablo Mastroeni while at LA.
But they currently have all their DP roles filled by Tim Howard, Juan Ramirez and Shkelzen Gashi. All are newly-arrived and have played their parts in the team going from an awful 2015 to being one step away from the 2016 championship final. The side has transitioned incredibly well and this has been their most successful campaign in MLS history. Breaking up the current setup to sign a 36-year-old for one, maybe two, seasons doesn't seem like the smartest play in the book.
Further up the coast, Seattle is an interesting option. They also have a full complement of DPs but Clint Dempsey's future is uncertain. He has an irregular heartbeat and hasn't played since the condition was diagnosed earlier in the season. There's been no indication that the 33-year-old's career is over but he is a star name and an attacker. If the Sounders are planning on a future without him, they could put some of Dempsey's $4.5m 2016 salary into signing Keane.
Vancouver has been mooted as another possible destination, mainly because of his long-standing friendship with Whitecaps' boss Carl Robinson owing to their time together at Wolves. But it's a long way from home and quite the commute should Keane's family wish to remain in California. The club has always struggled to attract a big name – the city doesn't have the same allure as LA and it's a lengthy flight time from mainland Europe. Also, and perhaps most importantly, the season has been a struggle for the franchise. Keane is a winner and wants to leave MLS on a high – not as part of a struggling side. Vancouver's home – BC Place – also has an artificial turf field – certainly not ideal for someone of Keane's vintage.
Further afield
Should Keane wish to finish his career by making the biggest amount of money possible, he will have to sacrifice MLS and its familiar environment.
One standout option would appear to be the Chinese Super League, where former Premier League/MLS stars Fredy Montero and Obafemi Martins are currently plying their trade alongside more current elite players like Hulk, Graziano Pelle and Jackson Martinez.