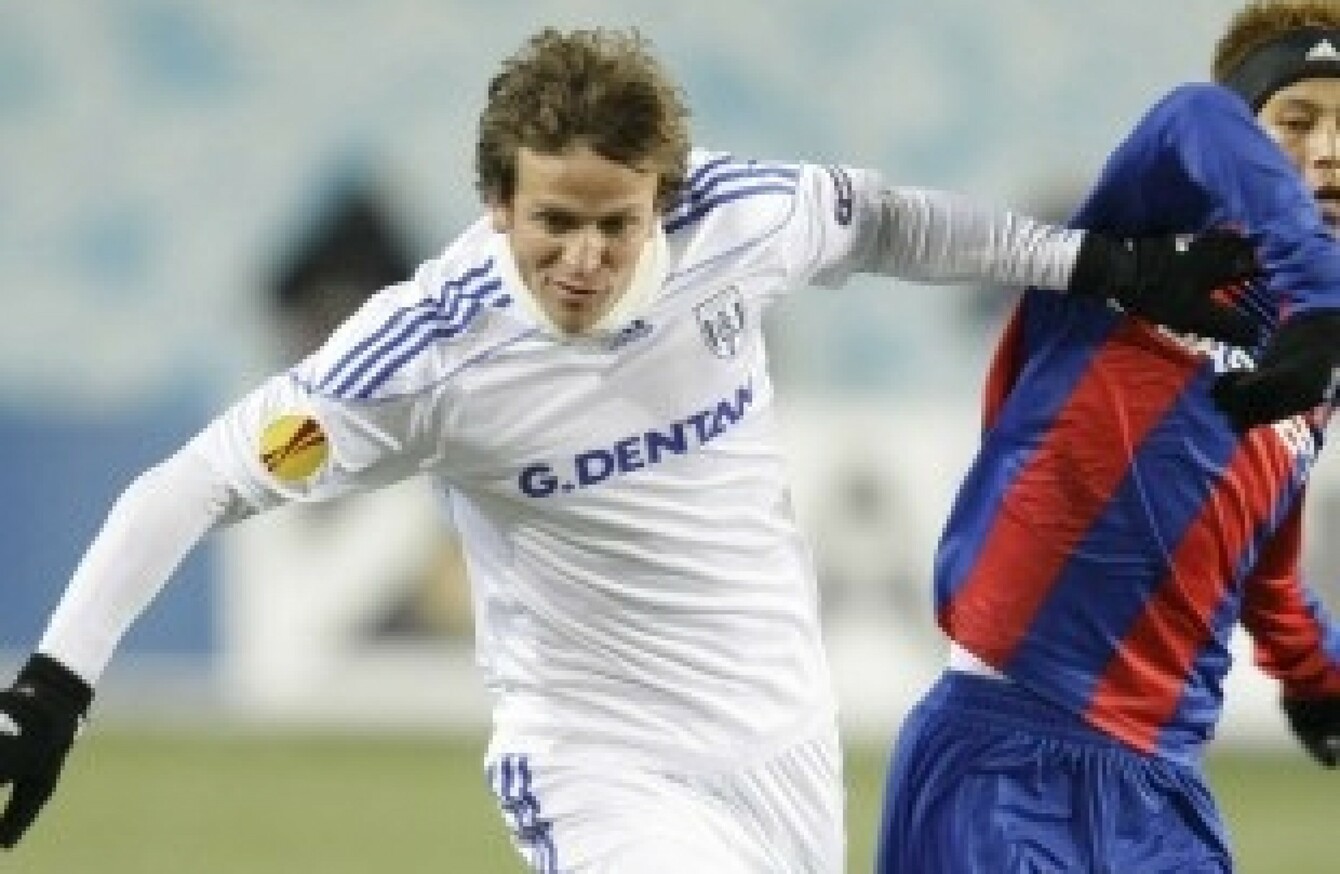 Rodrigo Tosi playing for Lausanne against CSKA Moscow in the Europa League.
Image: AP/Press Association Images
Rodrigo Tosi playing for Lausanne against CSKA Moscow in the Europa League.
Image: AP/Press Association Images
THE CITY'S BURGEONING Brazilian community didn't play a part in convincing Rodrigo Tosi to join Limerick FC, but it was certainly an unexpected bonus as the 34-year-old striker from Curitiba began to settle into his new surroundings.
"I'm really enjoying it here," says Tosi, who signed for Limerick in January. "I didn't think I would meet so many other Brazilians here. Really, if I'm walking down the street there is never a Brazilian person far away. I didn't expect that it would be like that, of course."
While the close proximity of so many of his compatriots has helped Tosi to feel at home, his exploits on the pitch have done him no harm either. After scoring a hat-trick against Sligo Rovers in his Limerick debut, word quickly spread among the Brazilian expats on Shannonside that one of their own was leading the line for the local team.
"Some Brazilian guys came to watch, and then more and more after that," explains Tosi, who has scored five league goals in total this season, a tally only bettered by Gary McCabe of Bray Wanderers and Cork City's Sean Maguire. "Actually, some of them have become friends now too for me and my wife. It's nice to have that when you're in a new place."
Tosi's three-goal contribution to the win over Sligo helped Limerick to make a perfect start to their first season back in the Premier Division. The Blues have had mixed results since, yet their haul of four wins from their eight games so far has been enough to leave them in fourth place heading into tonight's visit of Galway United to the Markets Field.
Nevertheless, a 3-0 defeat at home to Cork City earlier this month was followed by the departure of manager Martin Russell. Willie Boland was installed as his replacement on an interim basis and so far the former Coventry City midfielder has overseen wins against St Patrick's Athletic and Drogheda United.
"I was sad about it," Tosi says of Russell's untimely exit. "I liked him but I think also sometimes this is football. We have to keep going. It has been good too with the new manager. He hasn't made big changes but I'm feeling good about it."
He adds: "Sometimes so far in this season we have been playing well but we've been making mistakes too. Against Bohemians, Finn Harps, Cork City, we had too many mistakes. But I think we will be better. If we can be, I think maybe even we can go for the third spot."
Should Limerick manage to find themselves that high up the table in October, they'll be in the Europa League in 2018. That's relatively familiar territory for Tosi, who played in the competition for Swiss side Lausanne Sport in the 2010-11 season.
"I'm having a good time here. It's a good situation," Tosi says. "I hope to keep enjoying it and then of course I would like to stay for longer. If we can play in the Europa League, that would be even better."
Predictions
Every week, we're giving readers the chance to take us on in predicting the Premier Division results. After Week 9, here are the standings:
The Readers: 27
The42: 26
Next up is Gavin Woods from Cork…
The Reader (Gavin Woods)
Bray Wanderers v Shamrock Rovers – Draw
Dundalk v Bohemians – Dundalk win
St. Patrick's Athletic v Cork City – Cork City win
Limerick v Galway United – Limerick win
Finn Harps v Drogheda United – Draw
Sligo Rovers v Derry City – Draw
The42 (Paul Dollery)
Bray Wanderers v Shamrock Rovers – Bray Wanderers win
Dundalk v Bohemians – Dundalk win
St. Patrick's Athletic v Cork City – Cork City win
Limerick v Galway United — Limerick win
Finn Harps v Drogheda United – Finn Harps win
Sligo Rovers v Derry City – Draw
If you'd like to try your hand at forecasting League of Ireland results, get in touch by e-mailing pauldollery@the42.ie