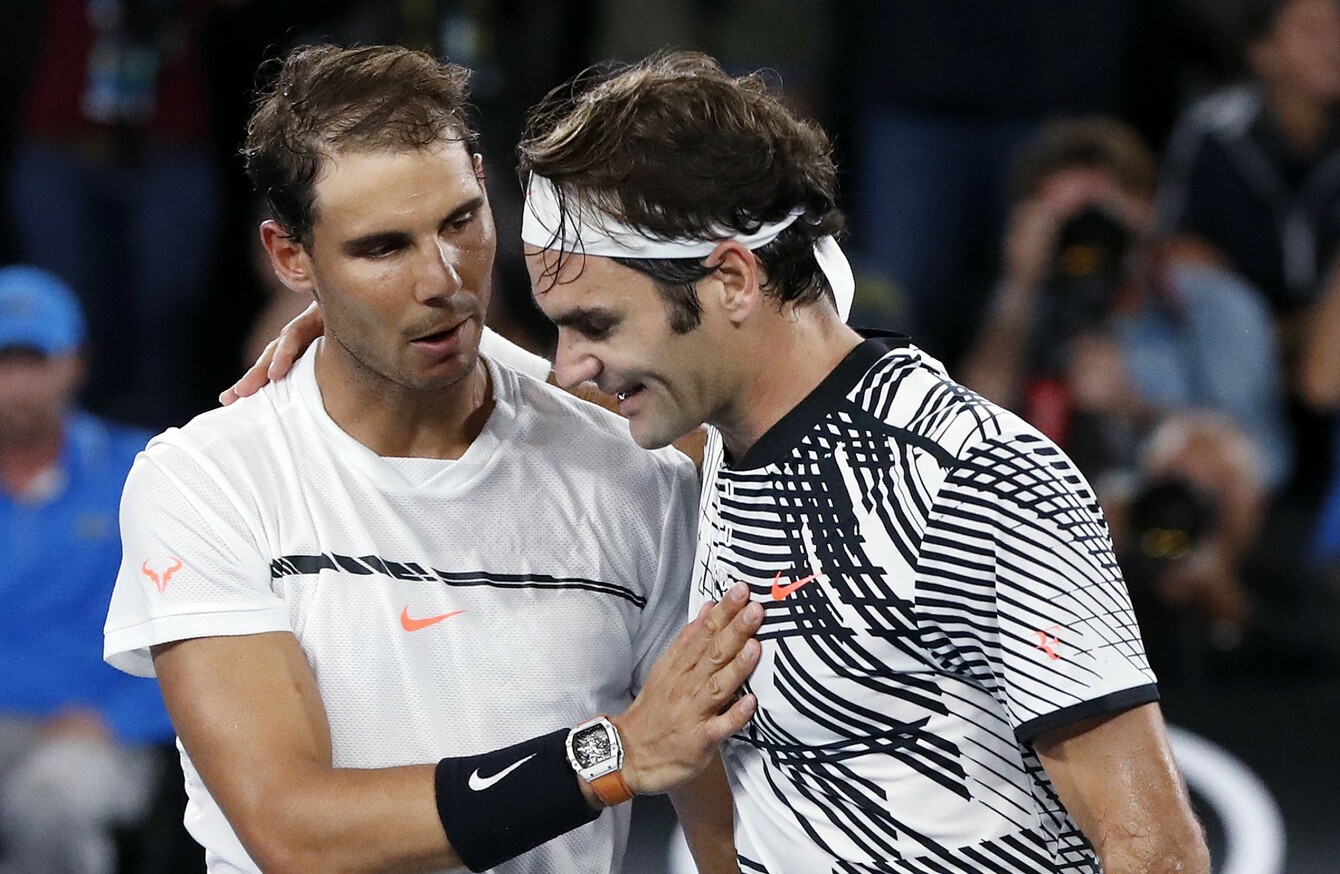 Federer and Nadal after the final.
Image: Dita Alangkara
Federer and Nadal after the final.
Image: Dita Alangkara
ROGER FEDERER HAS done what many thought he couldn't.
Having been out for the best part of a year with a knee injury, the Swiss sensation defied the odds, producing one of the most thrilling comebacks in tennis history to take home the Australian Open title.
His first Grand Slam since Wimbledon 2012, the 35-year-old fought to the bitter end to defeat fellow great Rafael Nadal and cement his place as the greatest male tennis player of all time.
In doing so, he also clinched a record-extending Grand Slam total, bringing his tally to 18.
With many hoping that the win will motivate him to progress similarly for the rest of the year and beyond, Federer slightly hinted that this Australian Open could towards the end of his touching acceptance speech.
"You guys have made it super special for me, it's been amazing over the years," he said as he was awarded the trophy.
I hope to see you next year. If not, this was a wonderful run here and I can't be more happy to have won tonight."
Although nothing definite, he also spoke about how difficult the last few months had been, leaving fans worried that retirement may be looming.
https://vid.me/0Tt8
Can't view video on mobile? Watch here>
"I'd like to thank my team, because it's been a different last six months if I'm honest. I wasn't sure if I was going to make it here but here I am, and we made it.
"I don't think either one of us [Federer or Nadal] believed we were going to be in the finals of Australia when we saw each other four or five months ago, and here we stand in the finals."
Federer spoke highly of Nadal and their battle, saying that he would have been happy had the result gone either way.
"I'm happy for you, I would have been happy to lose too to be honest. The comeback was perfect as it was."
"Tennis is a tough sport, there's no draws. If there was one I would have been very happy to accept the draw tonight and share it with Rafa.
Keep playing Rafa, please. Tennis needs you. Thank you so much for everything you do."
The42 is on Instagram! Tap the button below on your phone to follow us!