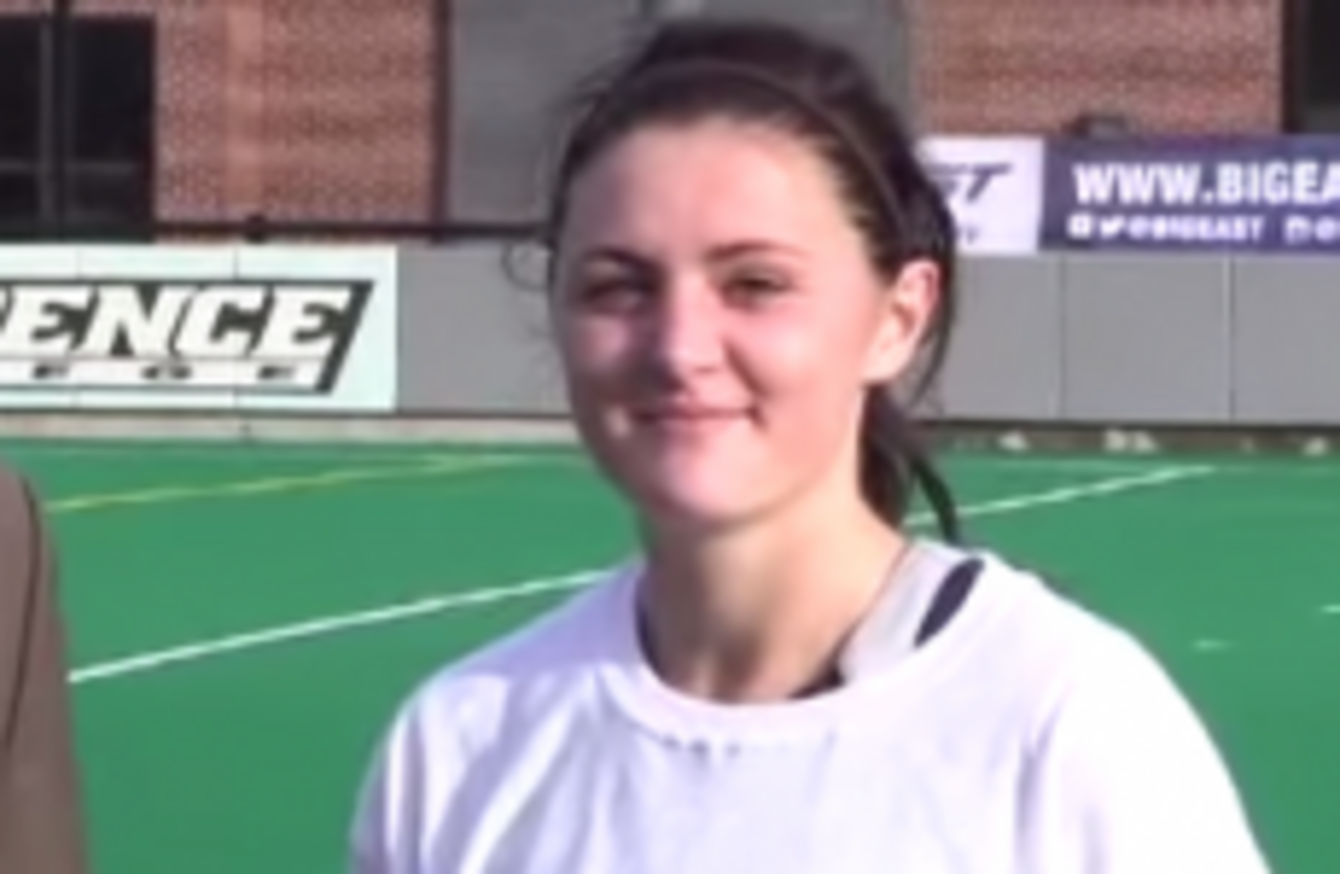 Upton has been one of the best field hockey players in America this year.
Upton has been one of the best field hockey players in America this year.
CHOOSING WHICH COURSE to put on the top of your CAO form is a stressful experience for any sixth year but when your parents are secretly writing to colleges that are thousands of miles away, well, that probably has you on edge a little more as you scan for your poet in English paper 2.
When Roisin Upton was doing her Leaving Cert at Crescent College in Limerick, she discovered that her mother had been in touch with schools in America to try and get her a field hockey scholarship.
Initially Upton was apprehensive about the idea but her mother's letter writing has paid off big time. Upton has won the last two NCAA field hockey championships with the University of Connecticut (UCONN) Huskies as well as receiving a monstrous number of individual accolades.
Upton didn't know what to make of her mother's scheme at the time, and also wasn't prepared for the sheer scale of American collegiate sports.
"I thought she was joking because I'm a complete homebird," Upton said.
"But I thought about it and when I saw that I could home if I didn't like it then I knew I had a bit of leeway.
"I also didn't realise how time-consuming it would be and I was kind of blown away by the whole experience. Everything is taken care of for you – you have a physio if you need it, all your travel is planned out and you have an academic adviser to help you with your study."
UConn also won the NCAA men's basketball tournament last year and while the field hockey win won't get the same publicity, Upton and her team-mates still have to put in an awful lot of work to keep themselves at the summit of their sport.
"We train six days a week so it can be pretty hectic," Upton said.
"You would usually try to schedule all your classes between nine and two and then after that you would maybe do some film study with the coaches or see the physio. Then we train between three and half five and then some of the girls might have night lectures."
As well as winning her second straight NCAA title this year, Upton has been a regular on the awards circuit, picking up nine accolades for her work this season including being named a First Team All-American and making the NCAA All-Tournament Team.
She was also nominated for the Honda Award, which is given to the best field hockey player in America each year.
With so much personal glory being heaped on her, it would be easy for Upton to set aside a couple of hours each day for basking but she has kept a humble outlook on her stellar campaign.
"It is not really about individual prizes for me really," Upton said.
"America loves an award but I have always just tried to do my best for the team."
Source: BIG EAST Conference/YouTube
While her ego hasn't yet ran wild with all her success, Upton's family are very proud of her achievements. In fact, TheScore.ie first heard about her after her brother Sean sent in a glowing email outlining all of her various accolades, chock-full of links.
"Did he really?," Upton laughed.
"Oh, that is so embarrassing. I'm going to kill him."
Of course, outside of her field hockey career, there are plenty of other things that an Irish person needs to get used to when moving to America.
Your skin will crawl when you hear your new friends speak of potato chips, trash cans, candy and side walks, and you'll suffer from grease withdrawals in your quest to find a decent fry.
"I missed a lot of things initially, just stuff like my friends and family and sleeping in my own bed," Upton said. "Now it would be things like the chocolate and sausages – there is nothing in America like Cadburys or Dennys!"
Upton has already moved onto next season and the prospect of finishing her collegiate career with a lucrative three in-a-row. But away from the all the trophies, she has also reflected on an experience that most Irish sixth year students would kill for.
"I think I let it go over my head a little bit at first but it has really helped me grow up," Upton said.
"It's ridiculous – I'm 21 and I basically got to live in America for free for the last three years."