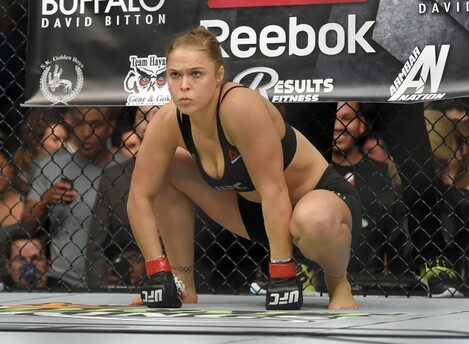 Source: AP/Press Association Images
UFC WOMEN'S BANTAMWEIGHT champion Ronda Rousey kept her unbeaten record intact with another devastating performance at Los Angeles' Staples Centre last night.
The 28-year-old took just 14 seconds to see off Cat Zingano and earn a first round submission –her fourth on the bounce.
Zingano had been hyped up as the biggest threat to Rousey's dominance in the division and begin the main event on the offence. However, Olympic Judo bronze medallist Rousey flipped her opponent over and forced her to tap out with an arm bar.
"I was expecting that she might do something like that because so many people are always saying that she is a slow starter," Rousey told Fox UFC afterwards. "Nobody's rushed me in the beginning before so I thought it could be a plan of theirs.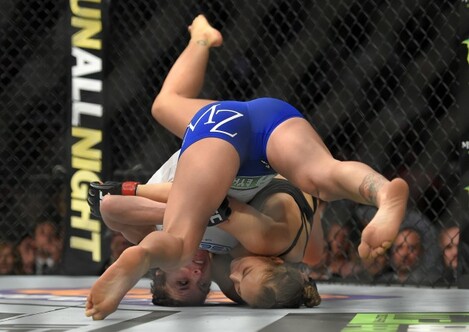 Source: AP/Press Association Images
"She really fell on me so it is a good thing I stepped left so the knee missed and when we were falling I went back to Judo mode, thinking don't touch your back to the ground because it's a point, which actually helped the whole transition.
I never did that exact throw before, I just made it up on the spot to be honest!"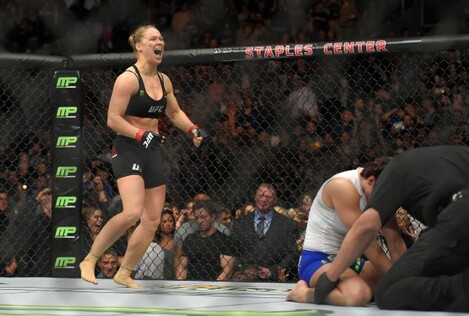 Source: AP/Press Association Images
Rousey's last three fights combined have lasted less than two minutes, but when asked by Ariel Helwani if she wished her fights lasted a little longer she replied: "Not really. I would like to take as little damage as possible and be able to keep fighting longer.
"The longer that the matches are, the shorter my career will be. So I like that they're short because I want to do this as long as possible."
"I sat down in front of her afterwards and was honest. I said I'd be happy to do this again some time. It's hard to feel like you really test yourself when something like that happens so I think that if we fought again it would be very different."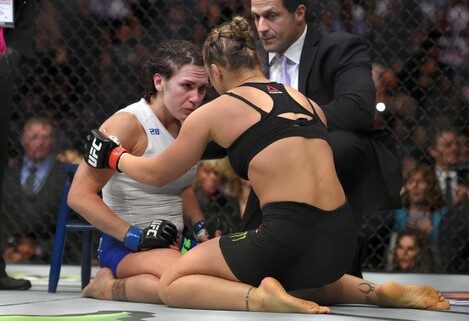 Source: AP/Press Association Images
UFC president Dana White compared Rousey to Mike Tyson after her latest victory.
"There's no doubt about it," White said. "She is without a doubt that female version of him. And I told her. It got to the point with the Tyson thing – well, tonight; let's talk about tonight.
"You guys have been around the fight game for a long time. There's very few situations where a fight goes 14 seconds and the crowd is cheering and going crazy and looking at each other with their mouths open.
"Everybody was looking at each other with their mouths open because she was fighting Cat Zingano."
https://vine.co/v/O29P5H56r13
UFC 184 results
Main card:
Ronda Rousey def. Cat Zingano

 via submission (armbar) in first round

Holly Holm def. Raquel Pennington 

via split decision (29-28, 28-29, 30-27)

Jake Ellenberger def. Josh Koscheck 

via submission (north-south choke) in second round

Alan Jouban def. Rich Walsh

 via TKO (elbow and punches) in first round

Tony Ferguson def. Gleison Tibau via submission (rear-naked choke) in first round
Undercard:
R

oan Carneiro def. Mark Munoz via technical submission (rear-naked choke) in first round

Roman Salazar vs. Norifumi Yamamoto declared a no contest due to an accidental eye poke in second round

Tim Means def. Dhiego Lima via TKO (strikes) in first round

Derrick Lewis def. Ruan Potts via TKO (punches) in second round

Valmir Lazaro def. James Krause via split decision (29-28, 28-29, 29-28)

Masio Fullen def. Alexander Torres split unanimous decision (28-29, 29-28, 29-28)