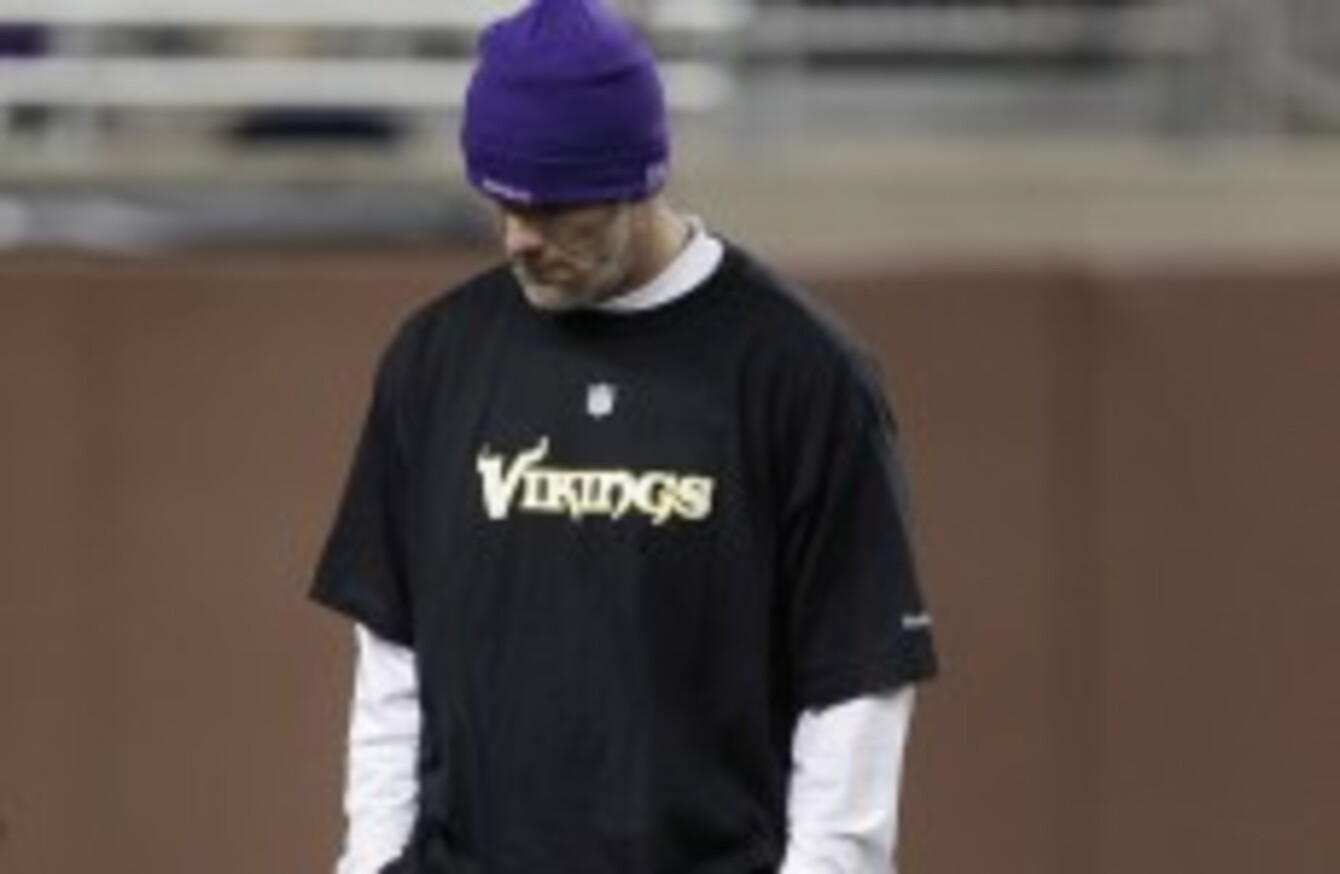 Minnesota Vikings quarterback Brett Favre looks downbeat as he loses hi starting streak at Ford Field in Detroit last night.
Image: Paul Sancya/AP/Press Association Images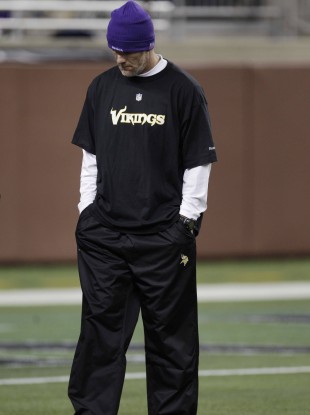 Minnesota Vikings quarterback Brett Favre looks downbeat as he loses hi starting streak at Ford Field in Detroit last night.
Image: Paul Sancya/AP/Press Association Images
THE NFL TAUGHT us two valuable life lessons this weekend.
The first, as we showed yesterday, is that you should never build a stadium roof out of what looks like tracing paper (It's actually teflon – Ed).
While the hole in the roof of the Metrodome gave the Minnesota Vikings an extra 30 hours to prepare for the New York Giants, it was not enough time to save one of the most impressive streaks in sports, namely Brett Favre's 297 consecutive NFL starts.
To put this feat into context, since Brett Favre prepared to start his first game for the Green Bay Packers on September 27 1992, the US electorate has voted in five presidential elections; Brazil, France, Italy and Spain have all won the World Cup and this writer has celebrated 17 birthdays.
To start 297 games in a row, despite numerous injuries, retirements and a 'sexting' scandal, in a sport as physical as American football, is an incredible achievement and one likely to go unmatched.
Indeed Favre's closest rival, Peyton Manning of the Indianapolis Colts, would have to start every game for the next 5 ½ seasons to do so.
Though he won Super Bowl XXXI in 1997, Favre's greatest achievement on the football field remains his performance against the Oakland Raiders on December 22, 2003. Favre threw for four touchdowns in the first half alone, amassing a total of 399 yards in a 41-7 victory that came just one day after his father's sudden death.
Even as a Raiders fan, I had to applaud Favre's strength of character that night.
Brady bunch
Week 14 also showed that you should never bet against Tom Brady and the New England Patriots, especially when there is a playoff berth up for grabs.
On Thursday morning, this column looked at the Patriots defence who had just six days to recover from an emotionally-draining divisional rout of the New York Jets and suggested, if Jay Cutler was allowed to throw the football, that the Chicago Bears could sneak a home win.
Remember, the Bears have won 19 of 19 games when Cutler has a passer rating of 100 or more. In terrible conditions on Sunday night, his rating was 32.9, with no running game to back him up.
Be part
of the team
Access exclusive podcasts, interviews and analysis with a monthly or annual membership.
Become a Member
Brady, on the other hand, was immense, completing 27 of 40 passes and managing to avoid throwing an interception for the eight straight game. The Patriots totalled nearly 500 yards of offense while only giving up 175 yards on defence.
The other notable result of the weekend was the Detroit Lions managing to end a 19 game divisional losing streak in the NFC North, the worst such run in the NFL since the merger. They beat the Green Bay Packers whose playoff chances now hang on QB Aaron Rodgers and whether he can recover from his second concussion of the season.
Results:
Indianapolis Colts 30 @ Tennessee Titans 28
Cleveland Browns 6 @ Buffalo Bills 13
Atlanta Falcons 31 @ Carolina Panthers 10
Cincinnati Bengals 7 @ Pittsburgh Steelers 23
Tampa Bay Buccaneers 17 @ Washington Redskins 16
Green Bay Packers 3 @ Detroit Lions 7
Oakland Raiders 31 @ Jacksonville Jaguars 38
St Louis Rams 13 @ New Orleans Saints 31
Seattle Seahawks 21 @ San Francisco 49ers 40
Miami Dolphins 10 @ New York Jets 6
Kansas City Chiefs 0 @ San Diego Chargers 31
Denver Broncos 13 @ Arizona Cardinals 43
New England Patriots 36 @ Chicago Bears 7
Philadelphia Eagles 30 @ Dallas Cowboys 27
Baltimore Ravens 34 @ Houston Texans 28 (OT)
New York Giants 21 @ Minnesota Vikings 3
Steven O'Rourke is the offensive coordinator of Tullamore Phoenix American Football Club. When not obsessing with football he can be found at 4fortyfour.