THE FINAL MOMENTS of Ireland's win over Australia this evening in Dublin had an ominously familiar feeling to them.
As Michael Cheika's Wallabies built through the phases, flashbacks of defeat to New Zealand a year ago brought hearts into the mouths of Irish supporters.
On the pitch, however, it was a different story. Under Joe Schmidt's rule, this Irish group has come a long way from those infamous seven system errors that cost them a first-ever win over the Kiwis in 2013.
Hooker Rory Best, who was wonderfully combative on his return from a calf injury, highlighted the Irish assurance in the closing stages of the 26-23 win as the most pleasing part of the entire performance.
Irish teams in the last 10 years have really prided themselves on their fitness and their work ethic, and I think for us, we know we're fit, we know we can match any team for 80 minutes physically," said Best post-match at the Aviva Stadium.
"The pleasing thing for this compared to where we were 12 months ago is that mentally, we stayed in. If you look at it 12 months ago, we went mistake after mistake, mental switch-offs if you like, but this time around in similar position, we didn't.
Best shows his pleasure after seeing off the Wallabies. Source: Dan Sheridan/INPHO
"We stuck to our system, we came off the line, we hit and stuck, and we really put pressure on them. Ultimately, they were the ones under pressure because they were the ones who had to get points in some shape or form.
"We put pressure on them, everyone stuck to their job and the big thing for us is that no one threw in the towel mentally."
Be part
of the team
Access exclusive podcasts, interviews and analysis with a monthly or annual membership.
Become a Member
Three wins this month will have understandably built confidence in Schmidt's squad, while the victories over Southern Hemisphere powers South Africa and Australia will drive expectation into the 2015 Six Nations and World Cup.
Ireland's last clean sweep of the autumn Tests came back in 2006, when Ireland also reached third in the IRB world rankings. Memories of the 2007 World Cup tell Best that Ireland's current form is no guarantee of further success next year.
"I think when you look back at the series, to beat two of the top teams and then to make a lot of changes and to really take a team like Georgia apart in the first half, maybe it didn't show in the score, but I think we got the rewards in the second half from that.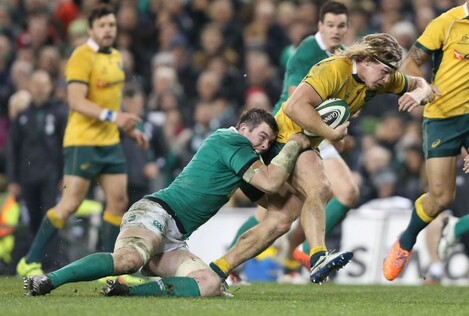 Ireland defended doggedly in the second half. Source: Colm O'Neill/INPHO
"We have a lot of injuries, but we also played a lot of players in this autumn series and got three wins. We're in a really good place.
"But having said that, in 2006 I was involved in a team that did something similar, won three games, and then some 11 months later at the World Cup, I think it's an understatement to say it didn't go according to plan.
For us, we talk about learning lessons, we've learned lessons from how to close a game out, compared to 12 months ago. Now we talk a lot about taking each game as it comes; we've done that so far under Joe, and now it's very much a case of doing that again.
"This is going to put a bit of pressure on us, because people are going to want to come and beat us now. But it's a good place to be, because when people are coming to beat you it means that you're going well and doing a lot of things right.
"It means you have to be even better every time you take the pitch now."