AMID THE PERSISTENT devaluing and belittling of the Airtricity League, it's easy to have a blinkered view of Irish domestic football.
There is a perception, whether it's true or not, that the League of Ireland offers a shoddy product not worthy of a moment's attention or appreciation. The league's defects are eagerly, and regularly, emphasised to the point that it's image is spoiled and value undermined.
But, wade through the supposition and you'll find a league that continues to foster young footballers and a platform which provides fledgling stars with a rich, and raw, footballing education.
Like it or not, the domestic game is used as a stepping stone on a player's career path. If that's its purpose then on exports alone, it's more than sustainable.
When Rory Gaffney sealed his switch to Cambridge United in November, nothing much was made of it. It wasn't because the striker's big break was being understated but because it was nothing new.
Over the winter, the production line has shown no sign of faltering: Ryan Manning was snapped up by QPR, Pat Hoban joined Oxford, Gearoid Morrissey followed Gaffney to the Abbey Stadium and Derry City duo Michael Duffy and Patrick McEleney have been the subject of interest from several clubs, most notably Celtic.
The Airtricity League is an increasingly worthwhile breeding ground for English clubs to tap into. Scouts are regularly casting an eye over Premier Division fixtures, hoping to uncover the next Seamus Coleman or Shane Long or Kevin Doyle.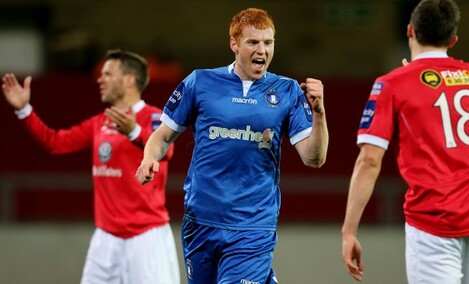 Gaffney scored 14 goals for Limerick last term Source: James Crombie/INPHO
And, if the fine margins between success and failure in sport are defined by grasping an opportunity when it arises then Gaffney certainly chose the perfect moment to deliver.
His 52nd minute winner against Sligo Rovers last October may have seemed like just another goal in a fruitful season but little did he know it would lead to much more.
"Cambridge regularly scout the league and they hadn't seen ourselves or Sligo so came to our game at Thomond Park and it went from there," he tells The42 in the build-up to Cambridge's show-piece FA Cup tie against Man United on Friday.
"Their manager didn't see me that night so the club invited me over to England for two days training. I knew I had been playing well but never did I think I would be the subject of attention from abroad."
Now, three months after putting pen to paper on his first professional contract, the 25-year-old is settling into life in the quiet university city not far north of London. As he takes stock for the first time, it's been a lot to take in. It wasn't so long ago that the Galway-born forward was juggling football with studying for an accountancy degree.
"To be honest, I just thought I would combine part-time football with work for the next few years until I retired. Then I started scoring a few goals and enjoying it that small bit more. It was then I realised I need to do this for as long as I can because I'm going to be working for the rest of my life."
A delay in paperwork and an untimely injury has meant Gaffney is yet to feature for his new employers but he's not prepared to complain about how things have panned out.
"This time last year when I was studying five days a week and training in the evenings I would never have thought I'd be in the position I'm in now.
"I can't wait to play a game and find out what it's all about. It's all well and good watching and training but you're not going to find out and test yourself until you're in a game."
Tonight, Cambridge – who have only just regained their Football League standing – host arguably the biggest fixture in the club's coloured history. The Abbey Stadium, unsurprisingly, has long sold-out for the visit of Man United and their multi-million pound squad.
Richard Money's side are the lowest ranked team left in this year's FA Cup but Cambridge are a club with a propensity to punch above their weight. Twice they have embarked on runs to the competition's quarter-final stage and last year lifted the FA Trophy at Wembley.
The U's won the FA Trophy at Wembley in May Source: EMPICS Sport
Frustratingly, a hamstring injury picked up this week in training has sidelined Gaffney but as he watches his new team mates from the stands tonight, the occasion alone will provide him with a reminder of his fast-tracked journey from Mervue United to Man United.
"My ambitions haven't really changed since I started playing football for Mervue. I've always wanted to be the best I can and when I do retire and look back on my career, I just want to say I didn't waste any opportunities or didn't work hard enough.
"I just want to make the most of this chance and if my level is as average League Two footballer than so be it but it will take time to settle into the footballing culture here. Of course, I want to hit the ground running but obviously I haven't been able to do that yet."
Shortly after Gaffney became an U's player, the League Two outfit finalised a deal to sign Morrissey from Cork. With limited financial muscle, the club are regularly scouring the Airtricity League for young players to strengthen the playing staff.
That said, several eyebrows were raised within the Irish footballing fraternity when two of the leading marksman from last season – Pat Hoban and Gaffney – moved to the English third tier. But Gaffney understands why clubs higher up the ladder can be hesitant in opening the cheque book for players who are, as of yet, unproven in the professional game.
"English clubs have every right to be afraid to take a gamble on loads from the League of Ireland. The top few teams are full-time for the season and the rest are part-time, training a couple of days a week. Over here, the majority of conference teams are full-time.
"The whole set-up is completely different, more professional over here. You feel important on match days. You go to the ground two hours beforehand and there's people everywhere whereas in Ireland there is nobody around," Gaffney explains.
The Galwegian has been sidelined with ankle and hamstring injuries since his move Source: Ryan Byrne/INPHO
"Obviously I haven't played yet but judging by training, it's definitely a step up in standard. Some of the lads are very, very good players but that's not to say anybody back home can't come over here and make an impression – that's what I'm hoping to do."
Already this season there has been considerable success for Irish exports in the FA Cup. Dubliner Craig Mahon played a starring role for Chester in their exploits, both Stephen Ireland and Doyle were on the score sheet for Stoke and Crystal Palace respectively while Michael Harriman scored his first goal for Luton Town in the third round.
"There's been a great buzz around the place," Gaffney says of the build-up to the visit of Louis van Gaal's side. "There's nothing expected of us, we can just go out and try our best and give it a shot."
"They're one of the biggest teams in the world and it's going to be a great occasion for everyone associated with the club. We just need to enjoy it and of course we want to do well but who knows, anything can happen in a cup game."
While tonight's game may come too soon for Gaffney to announce himself on the biggest stage of all, it will mark another significant milestone in his footballing education.
Having become the latest in a long line of League of Ireland graduates, the former Limerick striker is more than qualified to prosper in his new work place.
"If the lads can't do the job tonight then maybe a draw and a replay at Old Trafford. It wouldn't be a bad place to make your debut, would it?"