RORY MCILROY HELD his nerve to salvage three closing pars from tricky positions at Augusta National, scoring a three-under par 69 in a promising start to his bid for a first Masters title and a career Grand Slam.
The solid closing run left the world number seven tied for fourth place, three strokes behind early leader Jordan Spieth who set a ferocious pace with an opening 66.
"To hole those putts coming in — I left myself in some tricky positions on 16, 17 and 18 — to walk away with three pars there, I'm really pleased with that," McIlroy said. "It's not always the birdies that stick out in your mind.
"Everything was really solid. And if I can continue to play like that over the next three days I'll be pretty close."
McIlroy's only better Masters start was his ill-fated 2011 run, when he led entering the final round but melted down with an 80 to squander a green jacket.
"Everything worked," said the 28-year-old, who has come up short in his three previous attempts to complete the career Slam at the Masters.
"I drove the ball well, I controlled the distances well with my irons. I made some clutch putts for par. Everything worked well."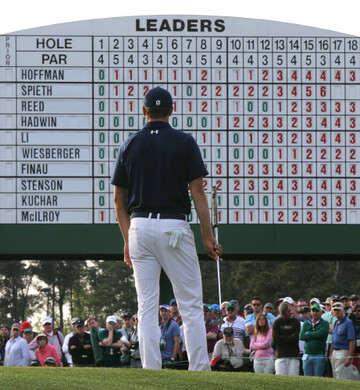 Spieth: leads by two. Source: Curtis Compton
Spieth's solid start sparked to life with an eagle at the eighth, and then exploded into a birdie blitz for five straight holes from 13 through 17 to seize control of the leaderboard.
And it could have been even better but for a dropped shot on the last to bring him back to six-under and within two of Matt Kuchar and Tony Finau, who lead the chasing pack.
"Not anyone is really getting away," McIlroy said. "Jordan had a pretty strong finish there, but this is my best start in a few years.
"And it's such a hard golf course to play catch up on. If you start to chase it around here, that's when you start to make mistakes.
"To be right up there and have the ability to stay patient, because of the position I'm in, that's a nice luxury I have over the next few days."
McIlroy says being among the leaders brings a different mindset to missed opportunities under the mental pressure Augusta National brings.
"You can play more relaxed. You don't have to chase. You miss a couple of chances and there's just a different mindset. You feel like you need it a little bit more. That putt has to go in, rather than if it goes in, great, if it doesn't, I have a chance on the next one."
Patience has been a lesson well-learned for McIlroy, with top-10 showings in each of the past four years.
"That's the way you have to play this place," he said. "It's just tick holes off as you go along, take your pars, whenever you get a birdie putt try and hole it, and move on. Stay patient.
"Getting off to a good start will allow me to keep that mindset the next few days."
The42 is on Instagram! Tap the button below on your phone to follow us!