TWO TEAMS MARCH on and two teams bow out.
It was a key afternoon in Portlaoise with a pair of coveted spots in the Super 8s snapped up by Roscommon and Tyrone, while Armagh and Cork reached the end of the 2018 championship road.
There's plenty for the four camps to consider after they departed O'Moore Park.
Roscommon
They were hanging on to a single point lead entering injury-time but by the final whistle, Roscommon's spirits were soaring high after a late flurry of scores copper-fastened their passage to the Super 8s. It was an essential requirement for Kevin McStay's team to maintain their rate of progress by negotiating this qualifier hurdle.
They bounced back well from that Connacht final loss, even though there were some anxious moments in the first half when Armagh were picking off points easily. But Cathal Cregg was excellent from the outset and Enda Smith was a towering influence by the end of the game. The Murtagh brothers and Donal Smith contributed a total of 0-15 in attack. Racking up 2-22 is impressive scoring and they'll head to Croke Park next weekend with a spring in their step.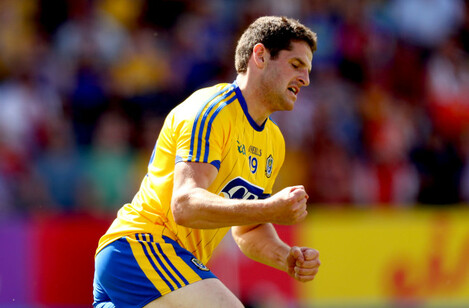 Fintan Cregg celebrates his late point for Roscommon. Source: James Crombie/INPHO
Armagh
Kieran McGeeney's qualifier record during his stints in charge of Kildare and Armagh has been exceptional, but he was just unable to steer his players past another backdoor battle today. Wins over Westmeath, Sligo and Clare in recent weeks saw them build up nicely yet they ran out of steam this afternoon.
They jumped out of the blocks at a fair old pace, contributing to a super contest that was high on quality. Armagh did not chalk up a wide until the 25th minute, by that juncture they had registered 0-9 and would finish the half with 0-12, evidence of the brilliant marksmanship displayed by the likes of Rory Grugan and Andrew Murnin.
The concession of the goal to Roscommon before the interval came at an inopportune time and Grugan's penalty miss was another blow early in the second half. They did find the net through Mark Shields in the 46th minute but any time Armagh got close on the scoreboard in the second half, Roscommon simply kicked on once more. The energy required to reach the last eight for the second successive year was missing for Armagh in the closing stages.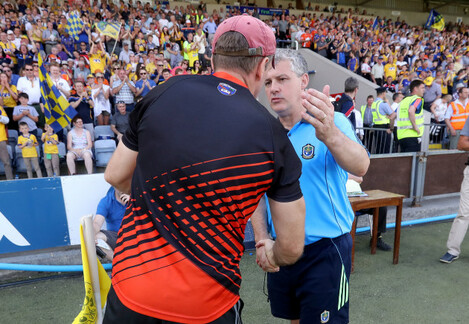 Roscommon's Kevin McStay with Armagh's Kieran McGeeney. Source: Bryan Keane/INPHO
Tyrone
Once again, Tyrone have found a way to navigate a route to the business end of the championship. The bad vibes from that Ulster loss to Monaghan have dissipated and surviving that test against Meath in their opening qualifier, now looks like a key moment in their season. Carlow, Cavan and now Cork have been despatched with Mickey Harte getting his side moving once more.
The paucity of the opposition display in Portlaoise means it is difficult to properly assess Tyrone's latest win. But Peter Harte's class surfaced in the first half while they will be glad to have got good scoring outings from Connor McAliskey, Cathal McShane and Ronan O'Neill. Roscommon in Croke Park, Dublin in Omagh and Donegal in Ballybofey represents an exciting schedule.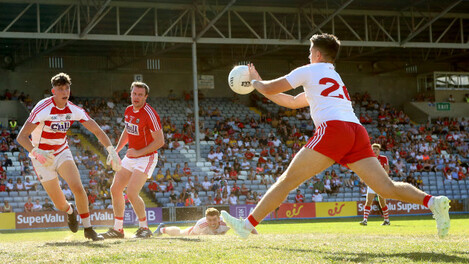 Ronan O'Neill scores his side's second goal for Tyrone. Source: James Crombie/INPHO
Cork
For the fourth successive year, Cork exit the championship stage after a Round 4 defeat. But this was in contrast to the plaudits they received for pushing Mayo all the way last summer, instead it was another of those dispiriting and deflating occasions for Cork football that prompts questions over the direction the game is going in the county.
A 16-point beating against Tyrone, arriving a fortnight after a 17-point hiding against Kerry, points again to the serious regression that has set in over the last few years. Cork were in trouble on kickouts from the start, made a multitude of unforced errors all over the pitch and far too often carried the ball into contact when Tyrone erected their familiar defensive wall.
It was a chastening experience and will prompt another winter of soul-searching. A tough final day in the career of Donncha O'Connor, one of the county's leading lights in recent times, as he retired in the aftermath of the match.