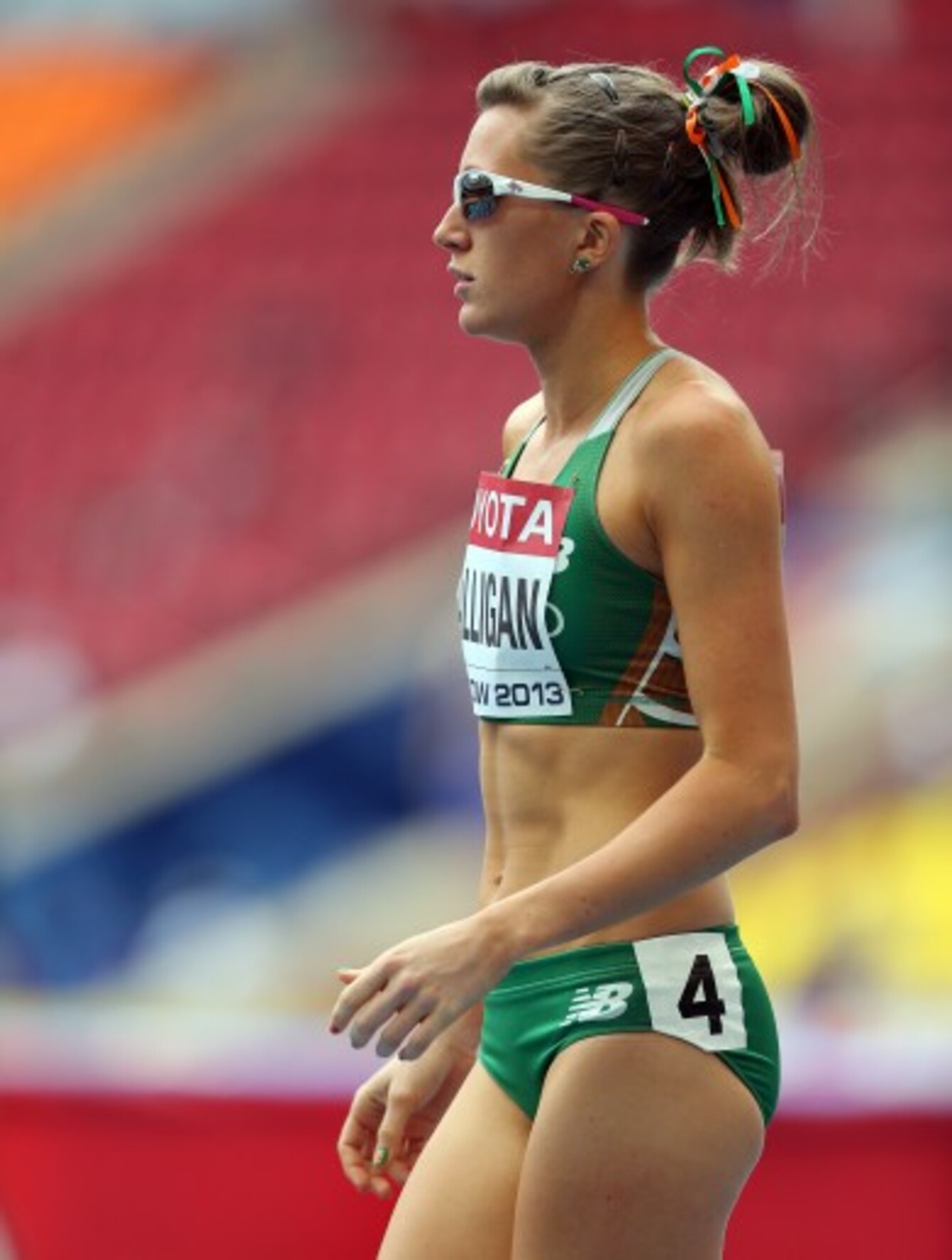 Rose-Anne Galligan is hoping to represent Ireland in Rio this summer.
Image: Ian MacNicol
Rose-Anne Galligan is hoping to represent Ireland in Rio this summer.
Image: Ian MacNicol
ROSE-ANNE GALLIGAN has had some rotten luck in recent years.
A former Irish schools champion, the defining moment of Galligan's career so far came on July 27, 2013, at the London Diamond League Anniversary Games in front of 60,000 people.
In the 800m event, she ran a time of 2:00.58, breaking a 19-year-old record set by the legendary Sonia O'Sullivan, and becoming the new Irish national record holder as a result.
Yet that moment aside, it's been a somewhat frustrating few years for the 28-year-old athlete. She missed most of the 2012 season, owing to illness stemming from low-level blood poisoning caused by the removal of wisdom teeth. Similarly, 2014 and 2015 were dogged by injuries and ill health that further hampered her progress.
And while now, Galligan says she is "the fittest I've ever been," and going into races "knowing that I'm in shape and knowing that I'm going to perform well," she had another galling setback last week.
After competing in the World Indoor Championships in Oregon, the Dublin-born athlete knew something wasn't quite right. She missed out on a place in the Women's 1500m final after finishing ninth in her heat with a time of 4:16.84.
Galligan had been aiming for a time of 4.09 or under, which she knew would have been good enough to secure a coveted place in the final.
Having been in second place for much of the race, her legs inexplicably failed her for the final 400m and she finished well behind the leading pack.
I'm pleased with how I ran tactically. I'm just not pleased with the end result. I'll learn from it," Galligan

told reporters

, in the immediate aftermath of her disappointing display.
It turns out, however, that there was a less-than-obvious reason for her inept performance. She had woken up on the Friday morning with a sore throat and felt drowsy in the warm-up for the race before the adrenaline kicked in.
Feeling more exhausted than usual after her race, the Irish athlete promptly returned to her hotel and slept in until 4pm on the Saturday. Upon visiting the doctor later that day, Galligan's worst suspicions were confirmed — her sinus was inflamed and she was suffering from a virus.
Bad luck had struck again and contrived to cost Galligan at the crucial moment, but there was some consolation in knowing that at least it didn't happen at the Olympics. Moreover, with the benefit of hindsight, she realises her performance wasn't that bad in the circumstances.
We worked out the past results and my coach said 'if you run a 4.09, you'll get into the final,'" she tells The42. "That was the aim — to go and do that. And before my training sessions, we were confident that I could run that.
"(My coach) worked out after the race that running a 4.16 was about 2.5% down on a 4.09 and if you've got a cold or a flu or a virus, you can be up to 5% down on the day, so it definitely affected my performance, but I'm trying to take the positives out of it and thinking 'I've still ran a 4.16 even though I've had a virus.' I know my shape is still there, so I'm not going to lose fitness just from an easy week this week."
Source: urbsintacta/YouTube
At the time of the interview earlier this week, Galligan was still recuperating. Despite suggestions from her physio that she should stay in Oregon, she went ahead with her original plan of travelling to Albuquerque for a month of altitude training in the aftermath of her Worlds disappointment.
"I think maybe flying didn't do me any good because I was completely blocked up when I got here and I couldn't breathe at all," she reflects.
Galligan has consequently been forced to take a break from her rigorous training schedule for a few days. Aside from the odd walk, she has done "literally nothing" for the past few days.
I'm not running but I'm still getting the altitude breathing benefits," she says. "Hopefully, I can start training by the end of the week — that's the plan."
It will not be her first experience of altitude training. Back in January, she spent some time in South Africa in preparation for the Worlds, while she also did some cross-country training in France last November.
"Altitude training really works for me — I'm quite lucky that way," she adds.
The results back Galligan's assertion up. After Mark English had to pull out with an ankle injury, she became the only Irish representative in Oregon, so simply qualifying for the event was no mean feat. Ironically, she also managed to achieve a PB despite a slight mishap before the qualifier. A superstitious person by nature, Galligan had left her lucky hair ribbons behind at the hotel. After contemplating rushing back to retrieve them, she decided to ignore this oversight and triumphed regardless.
Especially on race day, I'm really superstitious," she explains. "I'll have to straighten my hair, put my hair ribbons in, have my nails painted the same colour as my race kit and I need to eat certain foods on race day. I do certain things, so I'm a very superstitious person."
In general, everything has been going quite well for the Newbridge athlete of late. When she's not sick, Galligan trains every day twice a day usually, focusing on either 800m, 1500m or cross country events depending on her schedule. Running is combined with three days of gym work that mainly consists of leg work and exercises related to her events.
Naturally, the main concern right now is this summer's Olympics — the event Galligan has dreamed about since watching her first Games as a five-year-old (Barcelona 1992).
"My coach has the whole plan set out," she explains. "He'll tell me week by week where we're going. But he's obviously aiming for me to peak when I'm at the Olympics. So I've put all my trust in him."
The Newbridge athlete has until 10 July to achieve the qualifying standard of 2:01.5 — a time she has, of course, bested in the past.
"I'm going to race over here the middle of April before I go back. It's just to blow away the cobwebs, get back to running 800s, because I haven't ran an 800 in maybe almost a year. Then I'll probably start hoping to get the time early June back in Europe, so that's the plan.
Before, it was 1.59 to qualify. No one in Ireland had ran at a time lower than two minutes, so it was very unrealistic, but now it's more realistic. It's a time world-class athletes can probably run."
Competing in Rio would be the crowning achievement for the Dublin-born athlete who has had a long love affair with running.
After showing exceptional promise at schools level, Galligan attended the University of Tennessee, where she competed on the athletics team.
Homesickness meant she lasted just a year in America, however, before moving to attend college in London so she could be closer to her Irish-based family.
She now resides in Cheltenham, where her coach is also living, and as a sports fanatic whose brother is an American-based jockey, she was somewhat disappointed to miss the festival this year owing to her simultaneous participation in the World Indoor Championships.
I think it's the first year in my life that I didn't watch a race at Cheltenham. Sad times," she jokes.
Despite her success in recent years, funding has been a regular source of angst for Galligan. As far back as 2012, in an interview with The Irish Independent, she hit out at Athletics Ireland (AAI) for failing to show her adequate support during her struggles with illness.
Due to her issues with injuries, Galligan hasn't received any official Sport of Ireland funding this year either. She is, however, getting some income through her involvement in Irish crowdfunding site Pledgesports, while she also works, when possible, as a substitute teacher, having studied primary school teaching at college.
In the past, I've expressed disappointment at how (AAI) won't look at you and think: 'you have the ability, we'll trust you, we'll help you, we'll support you,'" she says.
"I've qualified for worlds, I've been to worlds and they're supporting me a lot more now, which is good. I obviously have my physio out here with me now. So it's disappointing how you have to get to the level you're at before they'll help you out.
"I had no support before I got my national record. Once you get the national records, you get the support. You do need it still, but you need it more in order to get to that level. But that's just the way the system is."
She loves the satisfaction of teaching and the exuberance of the youngsters she works with, and hopes to secure a full-time role when she retires from athletics.
"Sometimes, they figure out what I do, and they'll ask me to race them in the field and in the playground. They're fascinated by it," she laughs.
"I did (race with them) one day in PE. I did a warm-up with them, they were all trying to beat me — obviously, I had to let them win."
In contrast with the innocence of this world, Galligan has also had to cope with the increasingly murky environment of top-level athletics. The teacher in her cherishes fair play and abiding by the rules, so it's no surprise to learn that the Dubliner is passionate on the topic of athletes who dope.
With

the (Maria) Sharapova thing

, there are so many athletes over in Eastern Europe that were on the same drug as her, which obviously benefits your endurance and helps you run faster for longer, so I think they know they're doing it. It's good that they're catching them now, but there are so many people who are one step ahead of the drug testers, and they always will be.
"I can only train as hard as I can and do the best that I can do. I get the satisfaction of seeing my performance, and seeing my improvement, and knowing I'm doing it clean, whereas I don't know how the drug cheats can justify not doing it honestly."
And is she in favour of supposed plans to ban Russia from competing in the upcoming Olympics, owing to the country being accused of "state-sponsored doping"?
"I think they definitely should (be banned). I'm a big believer in, if you get caught, you should get a lifetime ban straight away.
There's a Ukrainian girl — a lot of us racing against her over the years had our suspicions. She got caught last year, she only got a nine-month ban, and she's come back this year, and she's been done again for the same drug Sharapova's been on.
"If she had just got a lifetime ban when she got caught initially last year, we wouldn't have this problem and she wouldn't be back racing again. She'll probably be back now after a two-year ban, and drug cheats are never going to change, they're always going to be taking something."
And does Galligan believe these short bans are so minor a punishment to the point that they are effectively an incentive for many athletes to dope?
"Yeah. They figure that they're going to make so much money off winning races or Olympic or European or World medals, so they just think: 'I'm only going to get a two-year ban, I've made enough money to settle for two years, I'll come back again and do it in two years' time.'
They can still train when they're on their ban, they just can't race. So they can come back straight away and race. The IAAF just need to enforce lifetime bans, I think it would put a lot of people off drugs.
"If a gold medalist has been caught for drugs and the medal is revoked, it obviously directly impacts the people in second, third and fourth. But you need to keep looking down and it affects the people who maybe didn't get in the final by one place, because if that drug cheat wasn't in there, they would have made the final. It changes the race — one person that made the semi-final might have made the final."
And Galligan herself has been directly affected by other athletes' cheating.
"I've raced against people who have been banned since. Maybe I didn't win a medal, but it might have cost me a place in the semi-final — anything could happen in that semi-final and you could make a final. It affects the whole way down the chain, so it is disappointing.
But I can't physically do anything about it, I just need to use it as motivation to keep doing what I'm doing in training and improving my own performance."
Bad luck is one thing, but rivals doping is something Galligan knows she shouldn't have to put up with. Honest athletes have been cheated for years, and despite recent controversies and the action that's been taken, her conspicuous lack of trust in the system is a salient reminder that the sport of athletics still has a long way to go to clean up its image.
For more information and to donate to Rose-Anne Galligan's Pledgesports campaign, click here.
The42 is on Snapchat! Tap the button below on your phone to add!