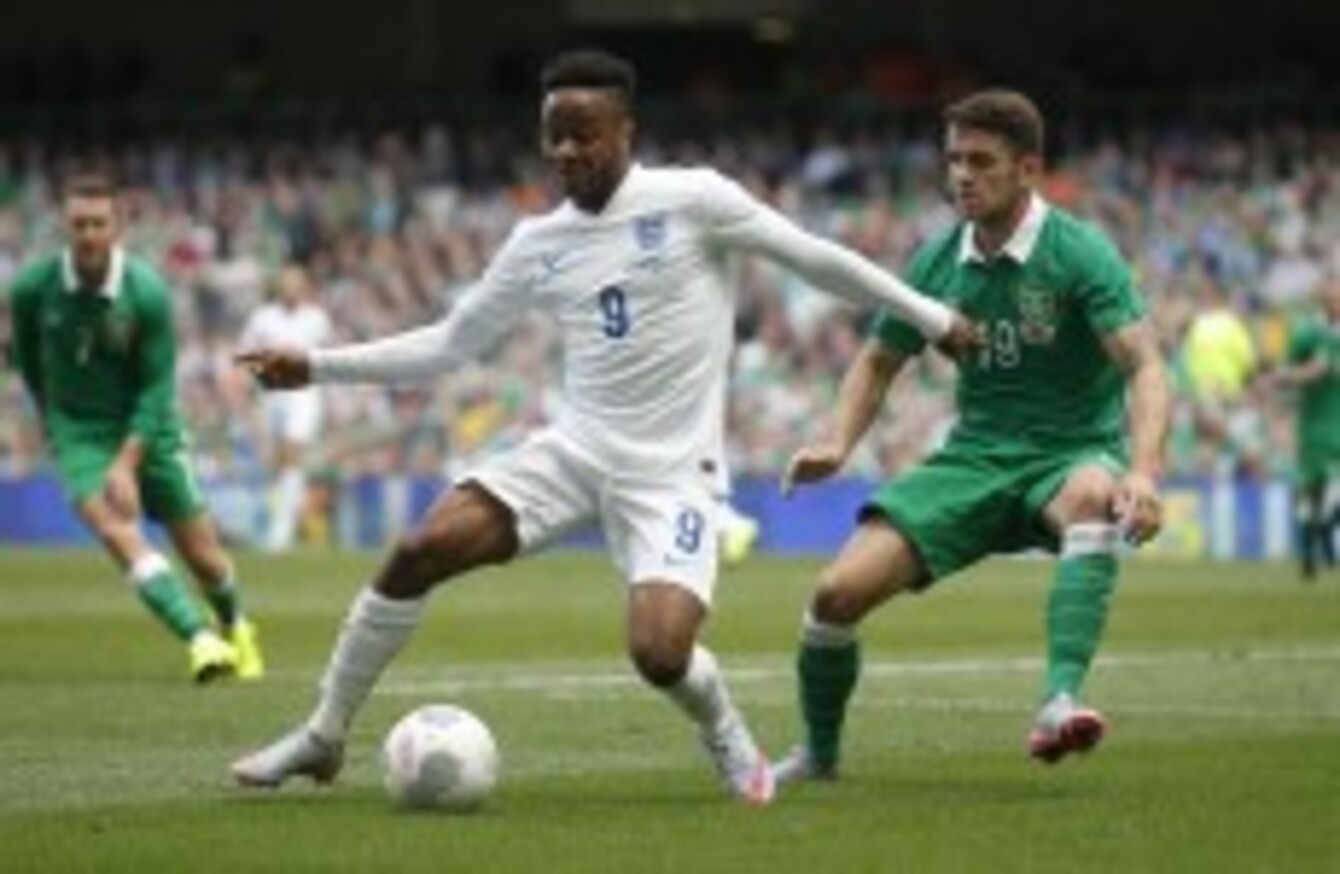 England's Raheem Sterling, left, wins the ball from Ireland's Robbie Brady.
Image:
AP
/Press Association Images
England's Raheem Sterling, left, wins the ball from Ireland's Robbie Brady.
Image:
AP
/Press Association Images
ROY HODGSON HAD words of support for embattled England winger Raheem Sterling despite a sub-par showing from the player at the Aviva Stadium today, in a game watched by 43,486 fans.
The Liverpool starlet has become embroiled in a contract standoff with his club, and the youngster's form appears to have suffered as a result both domestically and at international level.
"He's going through a bad time publicly," Hodgson said. "You can't expect people to shrug off the kind of criticism he's been receiving. He's had bad press from the local media that tends to fan out and become national pretty quickly.
"He needed this game to realise that he must work even harder to get [the criticism] out of his system and get an even thicker skin than maybe he's got at the moment
"We took him off today, not because we were particularly dissatisfied with his performance, but to give people a game.
"Players are not robots — he's done some fantastic things but today he didn't reach those heights."
The veteran manager also conceded his team's performance overall was below par.
"It was a game that both teams needed after the season ending, in some cases three weeks ago.
"Two obvious positives were the spirit in which the game was played — both teams were trying to win and the atmosphere in the stadium and the behaviour of both sets of fans.
"As far as we're concerned, we set high standards but got nowhere near that in the first half, and the second half was marginally better.
"We believed we could win the game but never got close to our best football. We didn't lose but there were a lot of things we could have done better."
Nevertheless, despite his disappointment with the visitors' performance, Hodgson insisted he did not want to "take anything away from the Irish team" who "defended exceptionally well" and were "well worth the draw".
The veteran boss also predicted a tight game between the Boys in Green and Scotland next week.
"I think it's going to be a ding-dong battle — obviously more exciting than today.
"It will be a very tight game and fiercely contested. I expect it to be a 1-0 or 2-1."
Hodgson was also asked about the ITV official Twitter account, who apologised to supporters for today's performance, but the 67-year-old responded with a firm "no comment" when the question was put to him.