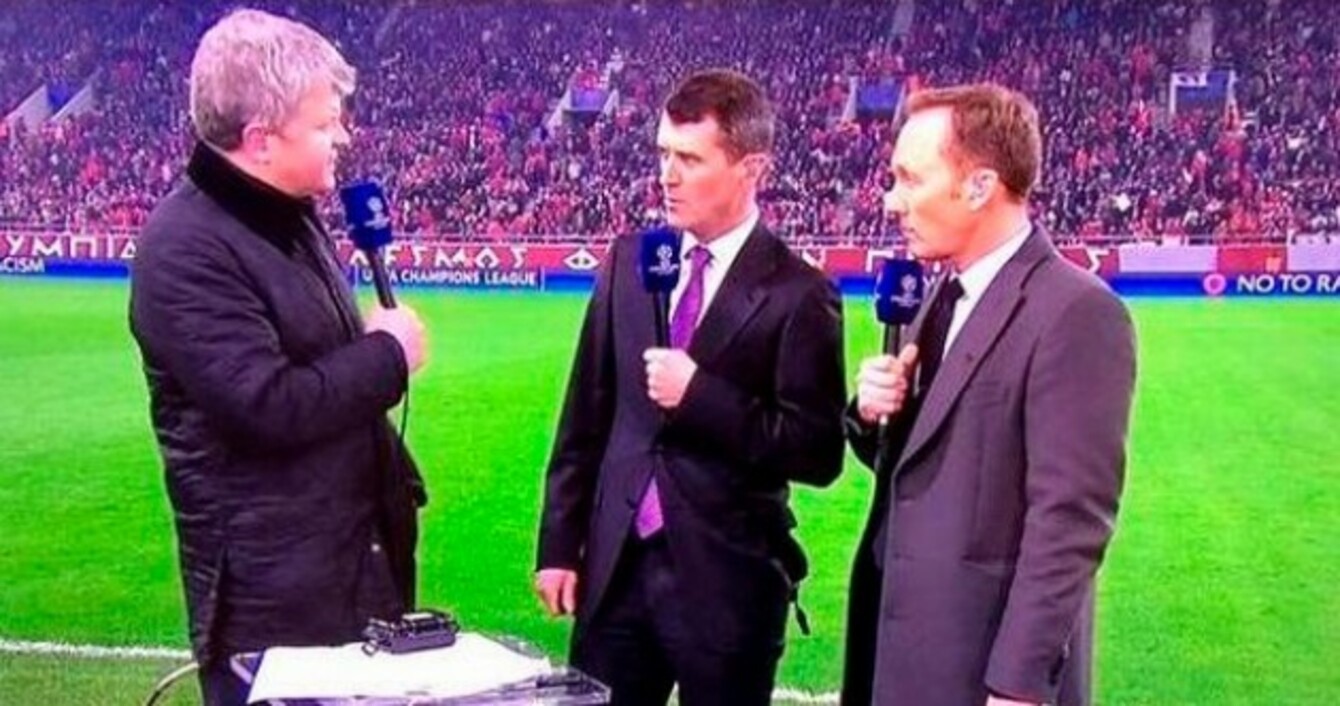 Roy Keane makes his feelings clear in Athens.
Image: ITV
Roy Keane makes his feelings clear in Athens.
Image: ITV
ROY KEANE HAS challenged the Manchester United players to step up and take responsibility for the situation the club finds itself in.
The Premier League champions put in another forgettable performance tonight as they were soundly beaten 2-0 by Olympiakos.
Former United skipper Keane — on the sidelines as a pundit with ITV — insisted afterwards that an improvement must come from within the dressingroom.
"We heard Wayne Rooney before the game talking about the players taking responsibility," he told Adrian Chiles.
"It's not about alex Ferguson, it's not about David Moyes. They'll look at it and say we need to do more — particularly David Moyes and his staff — but the players have got to take responsibility. Having said that one or two of the players aren't good enough… it's not they're fault, they're being selected to play and will do their best but some of them aren't up to it."
He added: "I don't think any of us could have predicted that was coming. Before the game we looked at it and we weren't that sure about [Olympiakos], we fancied United all day but they never showed up."
Be part
of the team
Access exclusive podcasts, interviews and analysis with a monthly or annual membership.
Become a Member
Asked how United's decline has been so steep, Keane said: "I think there there's a number of things; new manager, new ideas, United missed out on some players over the last number of years, there's certain players — one or two playing for Man Utd — who aren't showing enough quality. And I said it's a combination of all those things. Lack of confidence I suppose a little. But like I said let's give Olympiakos credit.
"I think we've also been brainwashed by this Premier League being the best in the world. Nonsense, it's the best brand. And we've seen over the past few weeks with these teams struggling that they've fallen behind the top teams in Europe. And United in particular.
"I feel United need six top quality players," he told Adrian Chiles, "there's obviously players going to be leaving in the summer; we know Vidic is leaving, Rio's coming towards the end, speculation about Evra, Giggsy you'd expect to retire . So I think, at least five or six players to rebuild the club.
"I think David Moyes will be shocked. I think he went in the club in the summer and looked at the players and, I would say privately, has been shocked at the lack of quality."
What do you think?