ROY KEANE AND Alf-Inge Haaland really should have been team-mates.
It was October 1992 when Nottingham Forest first contacted Norwegian side Bryne about signing the blonde-haired midfielder and a deal was quickly agreed.
However, the transfer only went through in December of the following year. By that stage, Keane had already moved to Manchester United for a British record and Forest were in Division One, having suffered relegation in Brian Clough's final season in charge.
The Haaland deal was also a hugely controversial one and was investigated – along with others, including Teddy Sheringham's transfer from Forest to Tottenham Hotspur – as part of an enquiry into the 'bung' culture that was embedded in the fabric of the game. Ultimately, there was a lack of evidence to convict Clough of anything but his assistant, Ron Fenton, was banned from football because of his role.
Fenton had been heavily involved with the infamous Norwegian agent Rune Hauge, who would prove a central character in George Graham's year-long suspension from football in 1995. Fenton later admitted to picking up £45,000 from a fishing trawler in Hull as part of a kick-back from the sale of Toddy Orlygsson.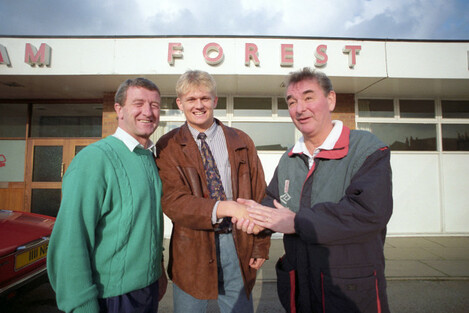 Haaland with Brian Clough and Ron Fenton after he signed a deal to join Nottingham Forest in October 1992 - when Roy Keane was still there. Source: Ross Kinnaird
Haaland didn't play much in the 1993/94 campaign but enjoyed a fruitful first experience of English football as Forest went straight back to the top-flight under Frank Clark. That summer, Haaland was part of the Norway squad that headed to the United States for the World Cup.
But, he missed the chance to face Keane for the first time. He picked up bookings in his side's first two games against Mexico and Italy and subsequently was banned for the final Group E assignment with the Republic of Ireland.
They first came face-to-face at Old Trafford in December 1994, when Keane was at right-back – a role he played quite frequently during that campaign – and United went down to a 2-1 defeat in a tetchy, difficult affair against a Stan Collymore-inspired Forest.
Because of Keane's injuries, he wouldn't face Haaland again until the Norwegian had signed for Leeds United.
So, there was little or no history between the players prior to that fateful afternoon at Elland Road in September 1997.
United were unbeaten after their first nine games of the season and Keane was the team's new captain, following Eric Cantona's retirement.
Leeds had snatched United's championship from under their noses in 1992 and revelled in the success over their cross-Pennine rivals. Clashes between the teams after that were tight, fraught and always on the brink of boiling over. Cantona's move only intensified matters and between February 1993 and December 1995, United won just two of the seven fixtures involving the clubs.
But, United's domestic dominance began to coincide with Leeds' drop-off and Sir Alex Ferguson's side no longer feared them in the same way heading into their 1997 visit.
Still, Leeds were fired up. There was a spice to proceedings. Big challenges. They laid down a marker and United struggled to offer up much of a response. With the likes of Henning Berg and Karel Poborsky in the side from the start, perhaps Leeds felt United lacked aggression. With Sheringham and Solskjaer up top, there wasn't much bite and centre-backs David Wetherall and Lucas Radebe were strong and aggressive. On 34 minutes, Wetherall headed home and United didn't muster much.
Their changes said much: Phil Neville, Ronny Johnsen and Ben Thornley were all introduced.
As time ticked by, Keane rolled up the sleeves and attempted to influence as much of the play as possible.
He began to push higher up the field and make runs in behind – anything to unsettle a Leeds defence that had been relatively unchallenged all afternoon. With 10 minutes to go, Thornley slipped him in with a pass into the left channel. But it was a poor ball. Overcooked and sent into a cul-de-sac. Three white shirts, one red. The closest to Keane was Haaland, an irritant alongside David Hopkin in central midfield, for the entire game. He'd annoyed Keane with his constant chirping. The winding up.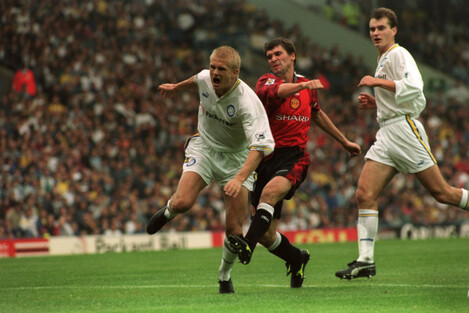 Source: Peter Wilcock
Maybe Keane was annoyed with himself and sought some self-inflicted punishment. After all, two days before the game, he was on one of his regular benders in the Chester Court Hotel in Manchester and was escorted out in the early hours of Thursday morning after getting involved in a drunken punch-up with United fans from Dublin.
"Fuck it," Keane later said in his autobiography, referring to the Haaland incident.
"He'd done his job. He'd done my head in. He was winding me up from the beginning of the game."
So, chasing a ball he had no chance of getting, Keane despairingly whipped his left leg across Haaland, who was sent tumbling to the turf.
Source: Mangesh Puranik/YouTube
Keane had snapped his cruciate ligament and was out for the season. But Haaland didn't know that. He bounced back to his feet, raced over to Keane – who was prostrate on the ground – and spat some abuse at him for feigning injury, as did Wetherall.
The entire incident is well-documented but what's usually forgotten is that because United had used all their substitutes, Keane actually came back on after receiving treatment.
A sorry episode but nobody could have predicted the long-term consequences of it.
Especially given that everything seemed to be parked in the past.
The next time Keane faced Haaland and Leeds he scored in a 3-2 win at Old Trafford. No recrimination. No retribution.
They faced each other a couple of more times but, with Haaland increasingly being frozen out at Elland Road, he was usually restricted to substitute appearances and moved to Manchester City in the summer of 2000.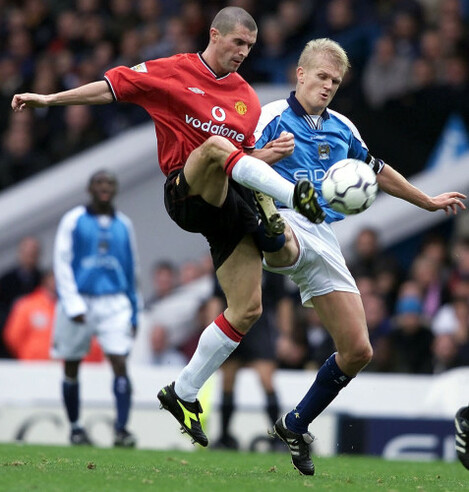 Keane against Haaland in November, 2000. Source: Phil Noble
In November of that year, he experienced his first local derby and faced Keane again as United won thanks to a solitary David Beckham strike.
So far, so uneventful.
Then, for whatever reason, the pair clashed again at Old Trafford in April 2001 where Keane delivered an x-rated assault.
Source: manutdxtra/YouTube
There is some revisionist history regarding what occurred that day at Old Trafford.
In an Observer interview with Sean O'Hagan in 2002, Keane spoke about the tackle on Haaland. He was asked if he had been patiently awaiting the perfect moment to retaliate.
"Maybe so. Maybe so," he replies.
O'Hagan asks why he did it.
"Let him know that I remembered," Keane says.
Even in the dressing room afterwards, I had no remorse. My attitude was, fuck him. What goes around comes around. He got his just rewards. He fucked me over and my attitude is an eye for an eye.'
I know it's not right, don't get me wrong. I wouldn't try and tell my kid that. But I'm only human, I was out for a long year that time."
Searingly honest but there was a problem: Keane's autobiography.
In it, Keane was forthright about his motivations for wanting to inflict some pain on Haaland.
"I'd waited long enough. I fucking hit him hard. The ball was there (I think). Take that you cunt.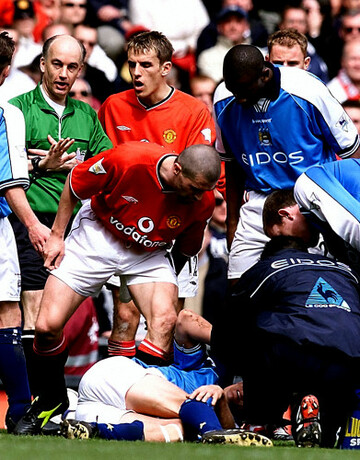 Source: NOBLE PHIL NOBLE
And don't ever stand over me again sneering about fake injuries. And tell your pal [David] Wetherall there's some for him as well. I didn't wait for Mr Elleray to show the red card. I turned and walked to the dressing room."
But Haaland hadn't played much since the injury. He and his team launched legal proceedings and Keane was spooked.
He attempted to pull back from what he said in the book and to O'Hagan, blaming the 'artistic licence' used by Eamon Dunphy.
"I have never in my career set out to deliberately injure any player,' Keane said.
"In the incident involving Haaland I was making a genuine effort to play the ball. The words used in the book represent a degree of artistic licence on the part of the author. It should be borne in mind that Haaland has acknowledged that my tackle did not bring his career to a premature end."
Years later, the incident was still racking up the collateral damage. Keane got a five-game ban from the FA and a fine of £150,000 following the investigation.
Eamon Dunphy arrives at the Reebok stadium in Bolton to attend Keane's FA disciplinary hearing in 2002. Source: Phil Noble
This time, plenty of recrimination. Keane felt his fate was sealed when Dunphy was cross-examined and was asked if he believed Keane had set out to intentionally injure Haaland in 2001.
"Eamon's three words back were: 'without a doubt'. That was the case, my defence, out the window,", Keane said later in The Second Half.
In the book, published in 2014, Keane delved into the Haaland incident once again.
He (Haaland) pissed me off, shooting his mouth off. He was an absolute prick to play against. Niggling, sneaky. I did want to nail him and let him know what was happening. I wanted to hurt him and stand over him and go: 'Take that, you cunt.' I don't regret that. But I had no wish to injure him.
It was action; it was football. It was dog eats dog. I've kicked lots of players and I know the difference between hurting somebody and injuring somebody. I didn't go to injure Haaland. When you play sport, you know how to injure somebody.
There was no premeditation. I'd played against Haaland three or four times between the game against Leeds, in 1997, when I injured my cruciate and the game when I tackled him, in 2001, when he was playing for Manchester City. If I'd been this madman out for revenge, why would I have waited years for an opportunity to injure him?
Was I going around for years thinking: 'I'm going to get him, I'm going to get him.'? No. Was he at the back of my mind? Of course he was. Like Rob Lee was, like David Batty was, like Alan Shearer was, like Patrick Vieira was. All these players were in the back of my mind: 'If I get a chance I'm going to fucking hit you, of course I am."
It's astonishing to think that a seemingly innocuous incident that occurred in 1997 was still so oft-quoted and referenced almost twenty years afterward.
Source: Martin Rickett
The chain of events that followed had their consequences. Keane missed a year of football & lost himself in a dangerous spiral of drink and self-pity. After the second Haaland incident, it cost him financially, professionally and ruined a seemingly chummy relationship with Dunphy.
For the Norwegian, he only played six more times between club and country. For a long time, he was going to sue Keane – with Manchester City backing the case. But it never happened.
His retirement was confirmed in 2003 and he has distanced himself from the game, concentrating on a property career back in Norway.
In 2008, he spoke to the Daily Mail.
"The knee still hurts, that isn't going to go away. I have to accept that. Did that tackle end my career? Well, I never played a full game again, did I? It seems like a great coincidence, don't you think?"
Six years later, he appeared as a guest on BBC Radio 5 Live – around the time Keane released The Second Half.
"I don't blame him for kicking me in other games or that particular game. What I was concerned and worried about is that he said, in his first book, that he wanted to take revenge. And I don't think that's part and parcel of football."
And if he met him again?
"I'd probably run!
"No, I don't know what would happen. I don't blame him. He was a really good footballer. He played for a very good team. I never actually said he finished my career. The fact is it was my last full game in England. So, maybe he had something to do with it. I don't know. I wouldn't have any problem in speaking with him. But maybe he would with me."
Subscribe to The42 podcasts here: