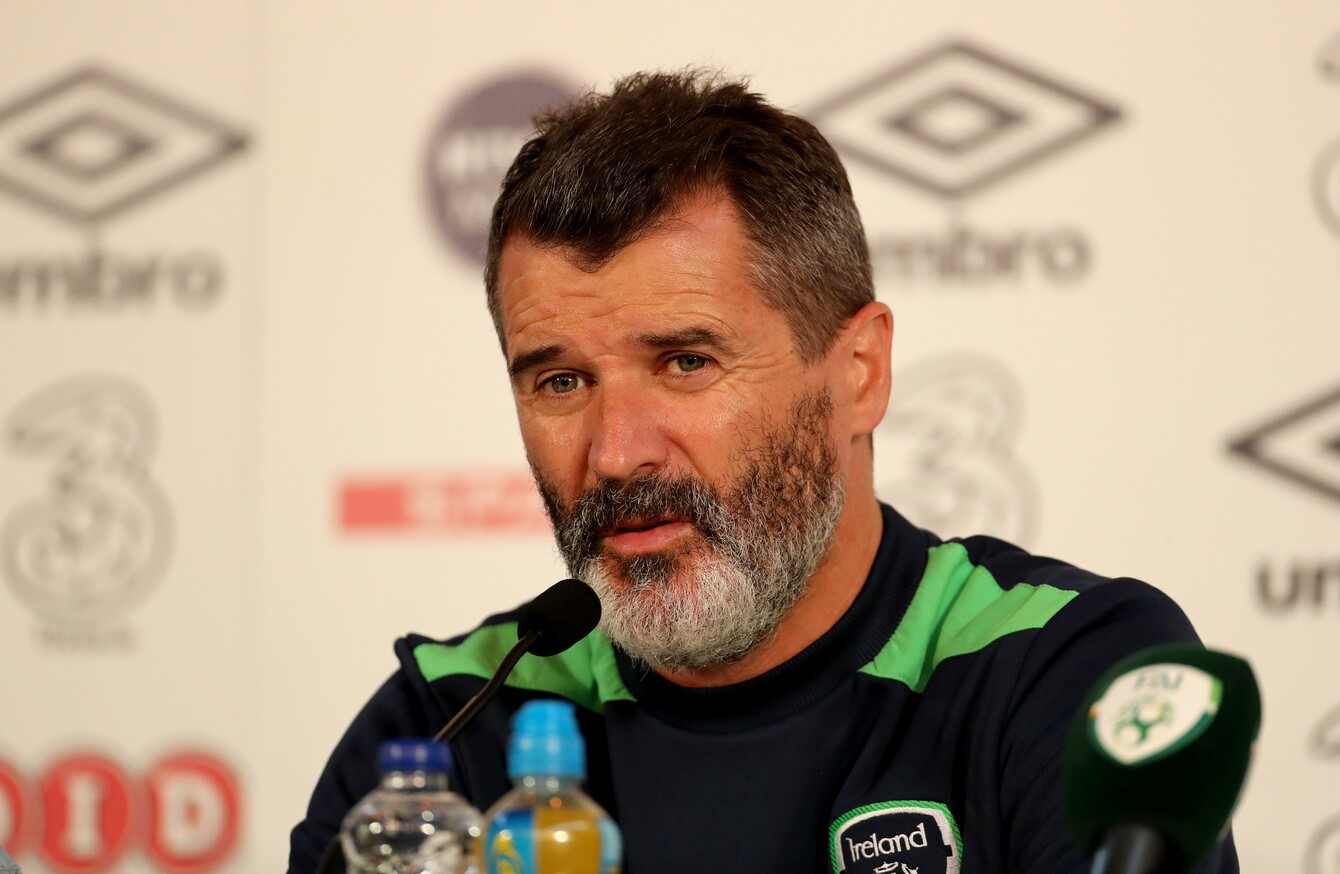 Keane speaking today.
Image: Chris Radburn
Keane speaking today.
Image: Chris Radburn
- Ben Blake reports from Versailles 
IRELAND HAVE A mountain to climb if they are to qualify for the last-16 of Euro 2016, but Roy Keane insists they can cause an upset on Wednesday.
Having picked up just one point from two Group E games, the Boys in Green take on Italy, who are guaranteed to go through to the knockout stages as winners thanks to victories over Belgium and Sweden.
Although the positive mood in the camp has taken a beating due to Sunday's 3-0 defeat at the hands of the Belgians, assistant boss Keane is adamant that this squad have enough character to pick themselves up.
"We had a bad day at the office the other day, but we've got a good group and we have had setbacks before," Keane said at this afternoon's press conference. "We're looking forward to the match and it will be a very tough game. We knew from the start they would be very difficult games with the draw we had.
"We had a few plaudits after the first match but we said after that we have to move on quickly and you have to be in the same mindset after it as after a defeat – Get ready for the next game.
"That's what football is all about. You have to deal with the setbacks and the disappointments, because football is more about setbacks and disappointments than the good days. So you have to deal with that and I think we will be fine. Come Wednesday, we will be ready.
He added: "It's a huge challenge for the players but one we look forward to. This group of players has had disappointments over the last year or two, don't think for one minute it's new to us.
We've had setbacks before as a group and I've got to take my hat off to this group of players as they have bounced back.
"It's only a year or so ago that people weren't expecting us to qualify. That is the name of the game. The other day when we had a few plaudits after what we felt was a good performance against Sweden, we said the same. You've got to move on quickly in this game, whether it be the highs or the lows.
"It is easier said than done, I appreciate that especially when you've had disappointment. For everybody – for the fans, the manager, the staff… everybody.
"But I can't wait for the game on Wednesday, that's part of life. You get ready for the next challenge and I'm really looking forward to it. I can't wait for it."
Antonio Conte's Italy have emerged as one of the favourites for the competition with two disciplined performances, and in-coming Chelsea boss has promised to rest a number of players in Lille.
Keane has watched the Azzurri on several occasions and he believes the team has "no real weaknesses" even if they do make changes.
"For me, the Italian team were always favourites to top the group," he says.
This idea that it was a surprise they won their first match against Belgium… No. The players they have huge experience and a lot of trophies under their belts.
"It's a system that suits them down to the ground, they've got good options and will no doubt rotate a few players. I think their manager has said that.
"I don't think tactically that they will change from their previous couple of games because of the way they are set up.
"I have seen them a number of times. They are well-organised, they clearly love to defend, and they've got good options. They don't necessarily like to pass it 800 times in the middle of the park but they will put you under pressure and get it forward. Their wing-backs will get forward, they're a big goal threat.
"I don't want to be talking them up too much but they've got a bit of everything and that is why they are a good team. There is no real weaknesses and vast experience from the goalkeepers to the centre-halves.
"(Daniele) De Rossi the midfielder, I really like. I've mentioned warriors, he's up there, a really good player and they have options off the bench if they are going to rotate, so we'll have to be at our very, very best. But, we have beaten Italy before, so it can be done."
Keane started in midfield while Conte was an unused sub when Ireland claimed a famous victory over Italy at the 1994 World Cup, and although he wasn't interested in discussing his playing days, he is hoping that they can do something similar in two days' time.
"I don't think it will help (the win at USA 94), but as I said, it's been done before. It's not an impossible mission we're on.
"Individually, they have very good players, but if we're at our best and a little bit of luck and a few decisions go our way, then we're capable of it. We have beaten Germany in the last two years. Players have to remember these days.
I appreciate there was some negativity for the past one or two days, but this team has bounced back before and I've no doubt that we will bounce back on Wednesday with a good performance.
"I've said it before that it doesn't guarantee that you are going to win a game of football, but I think our energy levels are going to be higher and I don't think we'll give the ball away as cheaply. I hope not.
"Cut out the individual mistakes, a few decisions go our way and we've got a chance. So fingers crossed."
Listen to The42′s Ben Blake on the 98FM Euro 2016 Daily podcast throughout the tournament