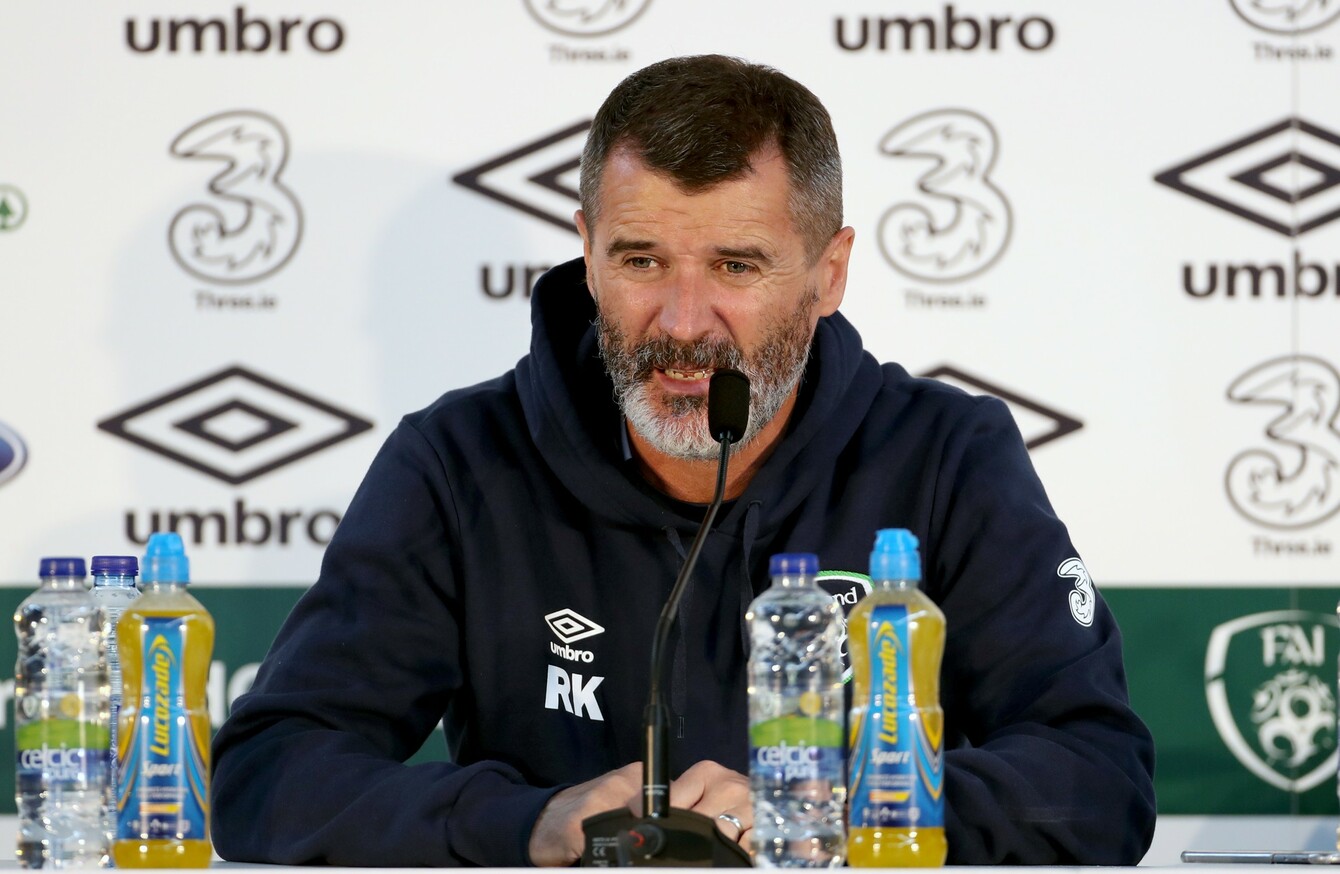 Keane was talking at today's press conference.
Image: Chris Radburn
Keane was talking at today's press conference.
Image: Chris Radburn
Ben Blake reports from Versailles 
ROY KEANE IS in no rush to get back into club management and today described his role as Ireland assistant manager as "a brilliant job".
Martin O'Neill has verbally agreed a new two-year deal with the FAI and asked Keane and the rest of his backroom staff to also stay on for the 2018 World Cup qualifying campaign.
And despite hinting that he would be interested in getting back into the day-to-day grind of club football, Keane has been more than happy to turn down other offers to continue in his current position.
"I said all along that I had to wait to see what the manager's plans were," Keane said today. "Things fell into place the last few days and he has decided to stay on. He wanted me to be part of it and I didn't really hesitate.
"With the club stuff, I'm 44 years of age so there is plenty of time for that. I am keen to get back into it and when I said short-term, I mean in the next few years not the next few weeks.
"I'm happy to stay on, I've really enjoyed the job with the manager, the staff, the players and the FAI. It has been really enjoyable.
"It's been tough. We had a tough, old group and tough play-offs. I'm happy to stay on for another couple of years.
"I'm pretty confident in what I'm trying to do and working with the Irish team is a pretty good job. Actually, it's a brilliant job and I've really enjoyed it.
I'm sure that other stuff will fall into place. I've had offers but nothing that has rocked my boat to leave the Irish job."
"That has happened," he replied, when asked by TV3′s Paul Walsh if he would be interested if a club came calling.
"Recently?"
"Yes."
"And what happened?"
"I said no."
"Was it a Premier League club?"
"It's none of your business."
With Jon Walters making a return, all 23 players in Ireland's squad trained today ahead the meeting with Sweden in Paris on Monday.
Number two Keane has advised them to enjoy by doing themselves justice on the pitch.
"We're looking forward to it," he added. "I think the buzz is there with the games starting last night. It was great to see the opening ceremony. We were all looking forward to the first game of football — the players, the staff.
"We are here to enjoy it and it will no doubt be fantastic for supporters. You can feel the buzz already but we're all professional people and we're here to get results. I'm pretty sure we'll enjoy it a lot more if we get the right results.
From the staff's point of view and the players, we're just looking forward to going out and doing the country with a good performance — whatever the result.
"Please God, we get a positive result and really put in a good performance."
It's 14 years since the infamous Saipan incident and Keane explained that the current set-up in Versailles isn't comparable to their pre-2002 World Cup base.
"Brilliant," he responded, when asked about the facilities. "They're a credit to everyone in the set-up here — the training pitch, the hotel, the location where we are.
"It's been fantastic and so far the welcome that we have had where we are staying with the staff, the food, we're delighted.
"The FAI have been brilliant. If I was trying to find something that was wrong then maybe my bed's a bit too soft but other than that it's great!"
Listen to The42′s Ben Blake on the 98FM Euro 2016 Daily podcast throughout the tournament