AFTER MARTIN O'NEILL and Roy Keane's appointments as Ireland manager and assistant manager respectively were confirmed during the week, most critics praised the move.
The decision was widely hailed as a breath of fresh air in comparison with the previous regime, however at least one long-time O'Neill watcher reckons the Northern Irishman's tactics are "not unlike Trapattoni's".
Editor of A Love Supreme, Martyn McFadden, covered Sunderland during O'Neill's tenure there. And McFadden describes how O'Neill is an innately cautious manager.
"Full backs weren't crossing the halfaway line towards the end of O'Neill's tenure at Sunderland. His tactics aren't unlike Trapattoni's. He was very much wanting to play on the counter-attack. He likes to get everyone back behind the ball when the team hasn't got the ball and then break down the channels with speed.
"The problem with Ireland — and it might be a frustration for him — is that you can't change the players and the best players are all in the squad and there isn't anyone obvious that hasn't been drawn on."
McFadden feels O'Neill is a better manager than Keane, despite the fact that the latter arguably achieved more success.

"O'Neill was arguably the better manager even though he was seen as less successful. Keane came at a time when the club was on its knees and he was given a load of money to spend and it was really exciting. He was learning the game of management at out our expense, quite literally. He did establish us as a top-flight team, but as soon as he didn't get his way, after his first new meeting with the then-new owner [Ellis Short], he resigned.
"The people before, who were Irish billionaire builders, thought he was amazing because he was Roy Keane. And Quinny was just trying not to rock the boat so Keane wouldn't kick off. As soon as someone came in that stood up to him, he disappeared. He came in, he got us promoted and established us in the Premier League, which is what he wanted to do. He hasn't really done much since then.
"O'Neill came in when we were struggling against the drop and kept us up. Then the following season, he obviously left. He wasn't given the full season, which I thought was a bit disrespectful. When he got sacked people were saying 'we would have gone down if we didn't sack O'Neill,' but in hindsight, the position we're in now is arguably worse. Di Canio kept us up, but the club's now in complete turmoil because he was so mental. It's because of the sort of fear he's spread through the club for the past six months."
He believes O'Neill's tendency not to spend much time with teams in training during his managerial club career won't be as big a factor with Ireland.
"He appears to  be a tracksuit manager — he's always jumping up and down on the bench, looking pretty agile for a guy in his 60s. But he didn't spend that much time on the training ground with Sunderland. In his previous jobs, he had John Robertson, but everyone said he was lacking John Robertson.
(O'Neill has been known for his animated touchline gestures throughout his career — Owen Humphreys/PA Archive/Press Association Images)
"So he recognises he needs a number 2. And at Sunderland, it's more noticeable, because he wouldn't be there on the Thursday or the Friday. But international football is a different thing. He was criticised at Sunderland for not being there that much, but obviously, if you're managing your country, you don't need to be there that much. It's a lot less labour intensive."
McFadden also believes Keane's lack of patience could ultimately pose problems for Ireland.
"Keane hasn't got a high tolerance level. He was quite intolerant of the players in that Sunderland team who weren't good enough to do the job as he saw it. And this is what you get with people who were brilliant players — Di Canio is the same — they sometimes get frustrated with players who are less talented than them. In terms of playing style — I think Keane was still working it out, but O'Neill is going to have a set plan where you get people behind the ball and try to break.
"With Keane, I'd say that he just has to stand in a room and he's got an aura — people think 'I better do my best here'. I was at his first press conference at Sunderland. There was an Irish guy there — he asked him an awkward question and Keane just looked at him. There was silence in the room. And the guy didn't say another word for the rest of the press conference. It was just this look, which suggested 'I'm going to f*cking kill you' basically. He's got that thing where if Roy Keane was taking your training session, you'd be ready for it. Especially as it's not weekly, it's international football."
O'Neill, McFadden believes, will add man-management skills to Keane's more motivational-based strengths.
"People like him. He can be friends with the players in a Mourinho-type way almost.
"O'Neill's weakness is probably that he's too guarded. I didn't mind having everyone back behind the ball and sort of picking teams off on the break. It's not unlike the way Man United play — but you've got to have the players to make it work. When you go behind, there's not really a plan B because you've already set the team out [to play in a certain way].
"When we played West Brom, they got a really lucky goal. I think it was a deflection or an OG early in the game. They then scored another goal about 10 minutes later from a set piece. And then just before half-time, they scored a wonder goal. So, at half-time, we were losing 3-0, but we hadn't played that badly, it was just one of those days. At half-time, O'Neill made three changes, as he had made the team too defensive, but the game was all over."
"I think world-class teams could find it really difficult to break Ireland down. He'll have them really drilled, they won't mismark on corners. All that preparation will be 100%. It's just matter of if you go behind, whether you can counteract that."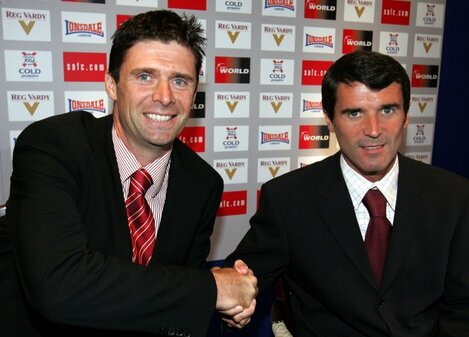 (2006 file photo Sunderland's new manager Roy Keane, right, and club chairman Niall Quinn — SCOTT HEPPELL/AP/Press Association Images)
He suggests that Keane, however, will be less predictable.
"His weakness is that he can just kick off about prawn sandwiches, or the wrong football or the wrong pitch. He left Anthony Stokes and our reserve keeper Martin Fulop behind because they were late for the team bus for a really important game. Thankfully, another Irishman, David Connolly, scored a very late winner against Barnsley. Stokes had been playing really well. And he played a couple of players who hadn't been in the frame.
"He did the same with Liam Miller — he dropped him for being two minutes late. It works in the short term because it keeps everyone on their toes.
"I don't think he should have taken the Ipswich job and maybe he regrets taking the Sunderland job. He's rarely happy with anything — except for when he's walking his dog."
Meanwhile, Chris Young of the Sunderland Echo is slightly less positive about the O'Neill era but still concedes he was somewhat harshly treated.
"O'Neill was superb for the first three months and re-energised a side that was plummeting towards the relegation zone," he says. "But the momentum stopped following an FA Cup quarter-final replay to Everton and he never really regained it."
"Sunderland were almost sleep-walking towards relegation last season before O'Neill was sacked and Paolo Di Canio came in. O'Neill will rightly argue though that he was still using the vast majority of Steve Bruce's side and didn't even have a full season to make his mark."
He also rejects the perception that Keane's record in the transfer market was unequivocally poor.
"Keane arrived at a time when the club was at its lowest ebb after being relegated from Premier League with a then-record points low of 15. After a flurry of astute signings, including David Connolly and Graham Kavanagh, hope and confidence was gradually restored and in the second half of the season, Sunderland were unstoppable in getting promotion.

"In his first season in the Premier League, it was a case of job done. Sunderland survived, albeit with some big money invested. But in the second year, Keane brought in the trio of Pascal Chimbonda, Djibril Cisse and El-Hadji Diouf who didn't come off and the team began to lose its way."
In addition, Young agrees that both were fairly conservative tacticians.
"Keane's [footballing philosophy] was a pretty orthodox 4-4-2. O'Neill tried to play the counter-attacking football he used at Villa, but he didn't have the pace in the side to achieve it. That didn't make for great entertainment."
Meanwhile, he is adamant that Keane was successful at Sunderland and says his controversial style was received positively, arguing that "supporters welcomed someone who was willing to speak their mind".
So the key question: will they succeed in their new roles?
"I think O'Neill is ready made for it. He proved at Sunderland that he can make a short, sharp impact and he's undoubtedly a motivator. Both will immediately get the respect of the players."