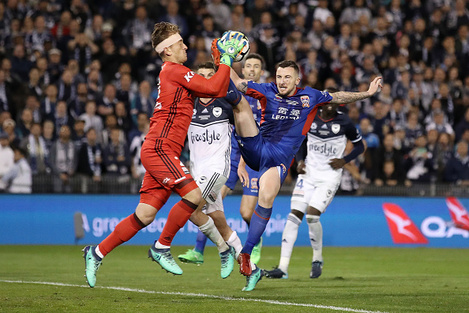 Roy O'Donovan of Newcastle Jets collides with Melbourne Victory goalkeeper Lawrence Thompson. Source: Cameron Spencer
ROY O'DONOVAN IS to lodge an appeal against a 10-game suspension which has been handed down to the Irish striker as a result of the red card he received in the closing stages of the A-League Grand Final earlier this month.
In the third minute of added time in a 1-0 defeat to Melbourne Victory, the Newcastle Jets forward was sent off for "serious foul play" by referee Jarred Gillett.
The straight dismissal followed an incident in which O'Donovan's raised leg connected with Victory goalkeeper Lawrence Thomas as he challenged to win a free-kick in the box.
Having recently returned home to Cork following the end of the Australian season, O'Donovan conducted a disciplinary hearing via a Skype call earlier this week.
The 32-year-old accepted that his challenge was reckless and warranted a red card. However, he pleaded for leniency by insisting that he was fully committed to winning the ball in an attempt to score an equalising goal in the final seconds of a league title decider.
O'Donovan also explained that his vision had been impaired by an earlier incident that left him with a wound and significant swelling beneath his left eye. He sustained the injury when he was struck by the arm of Victory's Besart Berisha while trying to win a header.
O'Donovan says his vision was blurred after being struck by the arm of an opponent. Source: Mark Kolbe
Having considered the evidence, a Football Federation Australia Independent Disciplinary and Ethics Committee decided to impose an additional nine-match ban on top of the automatic one-match suspension O'Donovan was subjected to for being sent off.
In addition to the recent incident, it's understood that the committee took into account the two previous extended suspensions O'Donovan has served during his three-year spell in the A-League, which began with the Central Coast Mariners in 2015.
In January 2016, despite being shown a yellow card at the time, the former Republic of Ireland U21 international was banned for eight games for a headbutt on Wellington Phoenix defender Manny Muscat.
Earlier this season, he received a two-match sanction after Sydney FC defender Jordy Buijs appeared to react theatrically when the pair collided, which saw O'Donovan red-carded.
In a statement released this morning, O'Donovan's club said: "The Newcastle Jets are extremely disappointed with the outcome of this hearing and will immediately lodge an appeal on O'Donovan's behalf.
"The club would like to thank Professional Footballers Australia (PFA) for their support of Roy during this process, and their tireless work in building his defence."