BEFORE EMBARKING ON what proved to be a sensational double-winning campaign last year, Leinster made a dramatic change to their training regime.
The dreaded long slog of a run-up to a new campaign – the element of the profession most bemoaned by Brian O'Driscoll in his latter years – was shelved. In its place, Leinster brought their players back earlier than usual but then released them for a fortnight-long break.
The change of tack tightened the parameters for holidays, sure, but it also broke up the sweaty slog of matchless training before a new campaign.
This year, the eastern province proudly unveiled their new Adidas gear as players got back to pre-season training before their many team-mates on tour with Ireland had finished their season.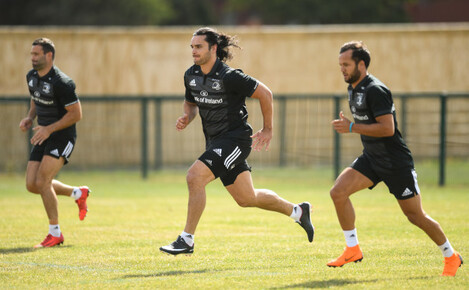 Source: Ramsey Cardy/SPORTSFILE
If that sight felt even earlier than the 2017 approach, it's down to Leinster's success, progressing to two finals rather than end the season in disappointment at the semi-final stage.
25 days on from beating Scarlets to seal the Pro14 title, the likes of James Lowe, Rhys Ruddock and Jamison Gibson-Park were back in boots on 20 June getting set for 2018/19.
Last week, with other provinces approaching the full swing of their preparations, Leinster broke for a two-week holiday again and their time is their own until 23 July.
Well, not entirely their own, says head of athletic performance Charlie Higgins.
"(It's) a working holiday," Higgins says on LeinsterRugby.ie, "we'll give them GPS units, a programme, and they can train remotely for two weeks, improving on their strength and conditioning."
Recruited in 2016, Higgins is the man behind Leinster's change of tack. His first season, after arriving from Western Force was a time for familiarising himself with all the province's processes. The structural shift came about ahead of his second year in Dublin.
"The rationale of that is: in three weeks it's hard for them to do a lot of damage or de-train. So we give them three weeks off (post-season). Then we're not chasing ourselves when they come in chasing fitness, we allow them to build into the season."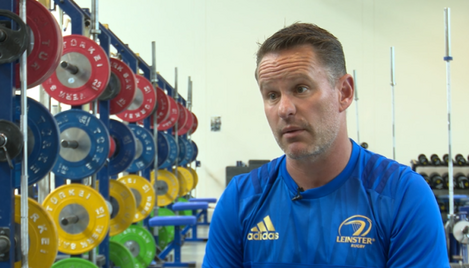 Charlie Higgins in Leinster's UCD gym last week. Source: Leinster Rugby TV
The infamous rugby-heavy Stuart Lancaster-led training days have also brought about a tweak to the traditional approach. Rather than starting from scratch with strength and conditioning in the gym before latterly moving to game-based training outdoors, rugby is central for Leinster from the earliest days.
"We've jumped pretty much straight into rugby. We are addressing our strength and conditioning issues, but it's pretty much rugby from day one.
"We get the majority of our speed and conditioning through our rugby sessions, through our 'Stuesdays'. Our strength (weights-based work) supports that on the side."
A little under three weeks out from a friendly against Montauban, the squad will resume working as a collective on 23 July with their work already appraised by way of GPS. Once back in the office, players will face Dexa scans (monitoring bone density) and the fitness test of a Bronco shuttle run. Then they are in 'rugby mode' with the clock ticking down fast to the new season and the defence of two titles.
And as they take up the scent of friendly and competitive matches ahead, the 15 players who were involved in Ireland's summer series will begin their own pre-season programme, ramping their fitness back up in good time for inter-pros and Champions Cup encounters.