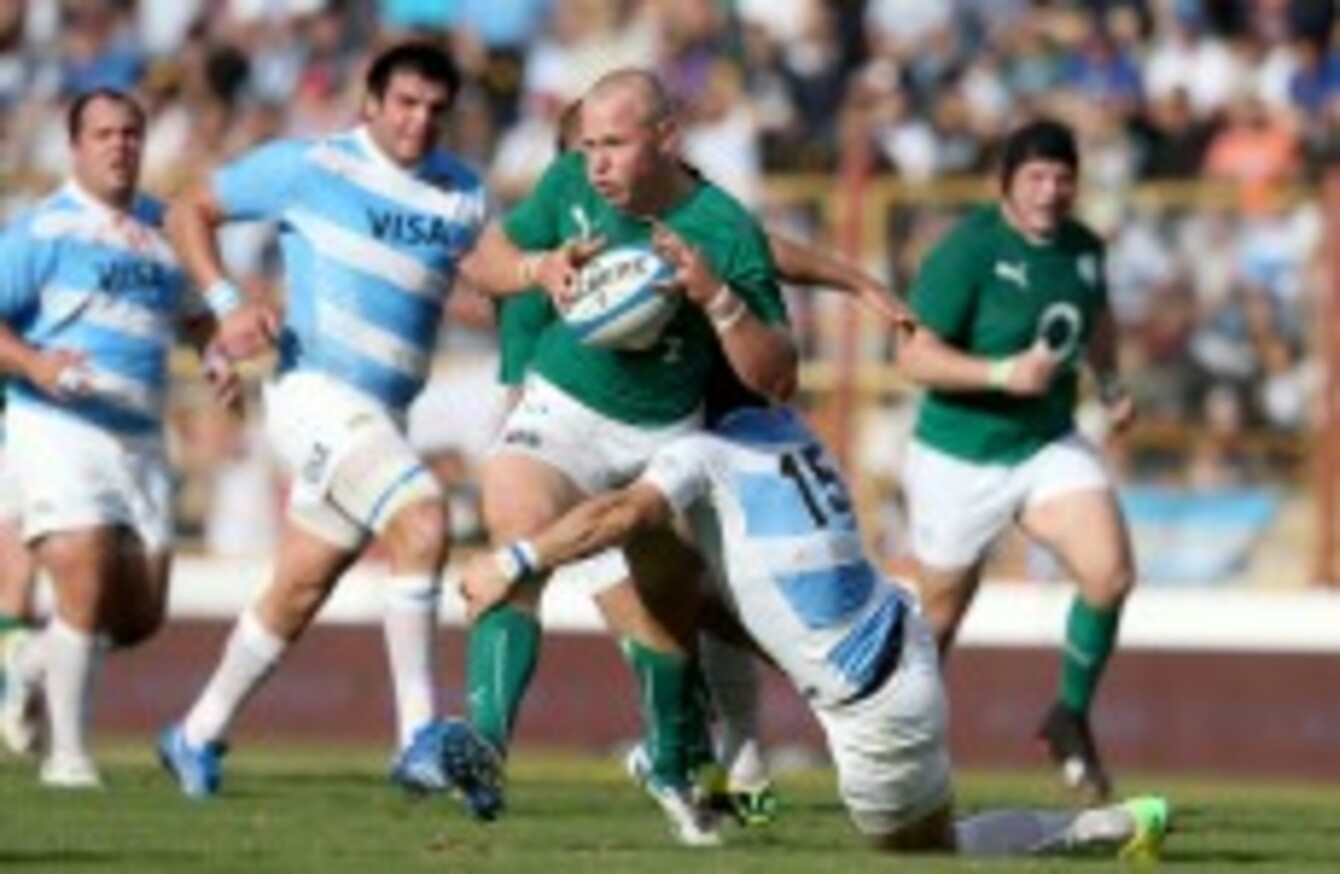 Argentina produced some high-quality tackling in the two Tests against Ireland, with some notable exceptions.
Image: Dan Sheridan/INPHO
Argentina produced some high-quality tackling in the two Tests against Ireland, with some notable exceptions.
Image: Dan Sheridan/INPHO
IT WAS INTERESTING to hear Sky Sports commentator Shane Horgan outlining the fact that Joe Schmidt and Conor Murray had both spoken to him about their concern over Argentina's chop tackling ahead of the second Test on Saturday.
The Pumas deserve major credit for their defensive performance over the course of the two games in Resistencia and Tucumán, but there was certainly an element of the illegal and dangerous in isolated instances.
Early in the second Test, former Leinster wing Horgan mentioned that Ireland had some issues in this area, and it seems likely that Schmidt had asked referee Pascal Gaüzère to keep a close eye on Argentina's low tackling.
Before we go any further, let us stress that there is no intention to belittle the Pumas' achievements in repeatedly frustrating the Ireland attack; some of their chop tackling was superb.
That said, it was good to see Matías Cortese sent to the sin bin for his dangerous challenge on Dave Kilcoyne in the 8th minute. This was an extreme example of a chop tackle gone wrong, with the Liceo RC man simply throwing his body at the feet of Kilcoyne.
Ireland's cries of unhappiness at the tackle were immediately audible over Gaüzère's microphone, and the Frenchman didn't hesitate in producing the yellow card. This is an exaggerated example of tackling without using one's arms, but it's an increasingly common tactic in the modern game.
Watching the alternate angle of Cortese's challenge is almost comical, were it not for the potentially disastrous effects on the health of Kilcoyne's knees and lower legs. Luckily, the Munster prop bounces right over the hooker, but it could have been so much worse.
It's not only Argentinian players who have shown an inclination not to make any effort to wrap their arms when making low tackles; this is something we have seen creeping into the European game, as well as Super Rugby.
Get exclusive
lions analysis
Get members-only video analysis and Insider reports from The42's Murray Kinsella
Become a Member
Fortunately, referees seem to be clued into highlighting and punishing the more noticeable incidents. The challenge below – in a clash between the Cheetahs and Blues earlier this year – led to a penalty against the defending side and provides a less extreme example.
There is no intention to climb aboard a high horse here; we fully understand that low tackling takes serious bravery. Rugby players so often put their heads where many outside the game would not even dream of.

It is, of course, laudable that players will literally put their bodies on the line for the defensive success of their teams, but sometimes those same players may need to be defended from themselves and their intense desire to win.
We often speak of the requirement for players to 'wrap their arms' in the tackle, even though there is no direct mention of that term in the IRB's lawbook. However, the section on dangerous play and misconduct does forbid the practice of no-arms tackling.
10.4 (g) Dangerous charging. A player must not charge or knock down an opponent carrying the ball without trying to grasp that player. Sanction: Penalty kick.
In the examples above, there is clearly danger for the players carrying the ball, but there is also risk involved for the tackler. Concussion is a huge area of discussion in the game at present, and with that in mind, tackling without the arms is a major worry.
The sheer physicality of rugby is one of the biggest draws of the sport and something that is rightly valued. Still, ensuring that the players' health and safety is taken care of is paramount, meaning it was encouraging to see Gaüzère taking action in Tucumán.
Clinically carried out chop tackling is always a welcome sight, but players diving at knees and shins with their arms tucked at their sides is something the game can do without.