RYAN BRENNAN SOUNDS excited to be back.
The St Patrick's Athletic player does not particularly enjoy the off-season. He gets restless going an extended period of time without playing or training. Devoid of a game to prepare for, the hours can sometimes be hard to fill, while the scenario is far from ideal for someone with aspirations to be competing with the best domestic-based footballers in the country.
"I used to do a bit of coaching with a couple of lads up the north," he tells The42. "I was just doing that locally around the likes of Slane, around Drogheda. But I had to pack that in. We got back training and the times just didn't suit me.
"This year, I went on holidays in December, it was the first long holidays I've ever been on. I'm normally just working away and chipping away on my fitness over the off-season.
"It is really frustrating because you want to be up training with the lads, you want to be going away for a week and then coming back in and training.
"It's just not the set-up that you as a professional obviously want or need, or for that manner, any of the lads in the league at the minute."
Brennan is speaking to The42 in the aftermath of his side's frustrating 3-2 loss to reigning champions Cork City. Since then, they have had mixed fortunes, beating Bray 2-1 before losing 2-0 in Waterford earlier this week.
It was his side's opener that was especially galling, however. After going 2-0 down at Richmond Park, there was drama as City striker Graham Cummins was controversially sent off following a clash with Pat's defender Kevin Toner. The Saints threatened to make their man advantage count, as a Conan Byrne effort and an own goal by Aaron Barry brought them level in the game.
However, the 10 men ultimately prevailed, despite their opponents dominating possession after gaining a numerical advantage. Kieran Sadlier's 82nd-minute goal directly from a corner secured a winning start for the Leesiders, leaving Pat's deeply frustrated in the process.
The 26-year-old midfielder, who is targeting "a top-four finish" and "a good cup run" this season, as well as consolidating a place in the starting XI, has mixed emotions about the Cork game.
The buzz was unreal getting back at it. The fans were brilliant. The result didn't go our way on the night. It was very upsetting and there were a lot of emotions going around the dressing room at the end of the game, as you can imagine. I thought we'd done enough to win the game. Obviously, getting back into it, we were disappointed to go and concede late on to 10 men.
"In hindsight, you would be disappointed against any team to come back and be bet against 10 men. But sure look, this happens, I don't think we'll be the last team to lose a game to 10 men, but they're the champions, it was a hard-fought win for them."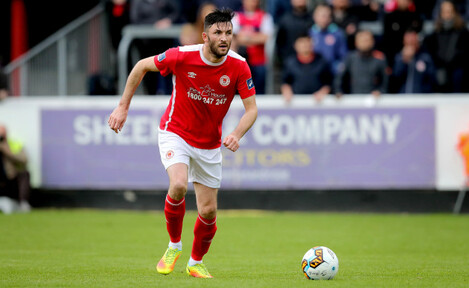 Three of Brennan's brothers, including Killian, have played in the League of Ireland. Source: Ryan Byrne/INPHO
Brennan's brother and St Pat's team-mate, Killian, has been brutally honest in the past about the difficulties of life as a League of Ireland player. The younger Brennan got first-hand experience of these issues last year at Bray Wanderers. Having got off to an extremely promising start on the pitch, the extent of the club's financial problems became fully apparent midway through the campaign.
While they did enough to secure their future ultimately and pay the players what they were owed, it was a rocky road and one that unsurprisingly affected the team's performances. Having been at one point challenging for second spot with Dundalk, a deterioration in form saw Bray finish outside the European places in sixth. Manager Harry Kenny departed, as did several key players, including Brennan. And by the evidence of Monday night's 6-0 hammering by Shamrock Rovers, the problems at the club on the field are likely to get worse before they get better.
Reflecting on the situation with the benefit of distance, Brennan admits it was somewhat of a "relief" to get away from Bray and the various problems surrounding it, while explaining his reasons for joining Liam Buckley's side.
"I wanted to play in the same team as Killian," he says. "I had [already] played with Drogheda with two of my other brothers [Gavin and Sean], so that kind of swayed me.
"Last year, when things went a little bit pear-shaped at Bray, Liam was onto me as we were told we could go and talk to other clubs. So it was kind of always in the back of my mind.
"Waterford were in for me at the start of the season as well, but it was probably too much of a big move for me, whereas they were only training up the road [at Pat's].
"Liam talks a lot of sense football-wise and going forward, he seemed really ambitious, and I wanted to jump on that as well.
"I played a couple of decent games against Pat's to be fair when I was opposition — maybe that turned his head a little bit. But the fact that he showed a bit of keenness last year was probably why I made the move as well."
Of the Bray situation, Brennan adds: "It kind of was [a relief to leave] without being [harsh] on any of the players or anybody else there at that club. We started well, had a great group of lads there and I still have a lot of friends there, but when things start going on behind the scenes, everyone always says deal with your stuff on the pitch and this, that and the other, but it's hard [not to be distracted] when you think you're not getting paid at the end of the month or the end of the week or whichever it is.
It's lads' livelihoods at the end of the day. And after that, things kind of capitulated, which was obviously sad for the group of lads we had there. We were really competitive and ambitious and we thought we could have secured a European place. But after things went a bit Pete Tong, everyone's form dipped and heads obviously went down.
"But things like that happen in football and I don't think we'll be the last team in the League of Ireland for it to happen to. It's sad to even think that and say that, but it's a realistic thing in the League of Ireland.
"When you're up and down the M1 for training and paying petrol and your car insurance, you might have kids or whatever, it's really difficult to think 'if you don't get paid at the end of the month, you've nothing to show for it really'.
"But look, the lads at the PFAI [Professional Footballers' Association of Ireland] got everything sorted and obviously, the backroom staff and everybody there got everything sorted, which was just brilliant. The form kind of dipped I suppose, but we ground out a few results at the end of the year as well to keep us away from that bottom half [of the table]."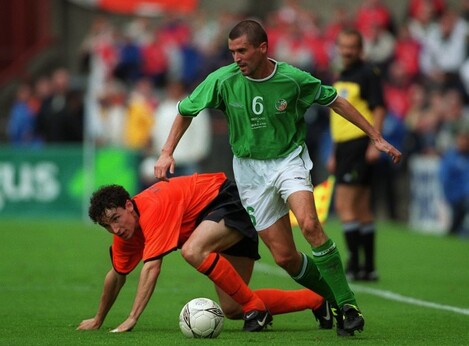 A young Brennan grew up idolising Roy Keane. Source: INPHO
The last few years have not been easy for a player whose entire family were clearly steeped in football from a young age.
Brennan grew up idolising Roy Keane and playing for Drogheda Boys, a club "100 yards down the road" from where he lived. He saw his elder brother Killian get a move to England with Peterborough, only to return a year later after suffering from homesickness. The older sibling subsequently enjoyed a successful time in the League of Ireland, leading St Pat's to the title, the third of his career, in 2013, and winning the PFAI Player of the Year award in the process.
While Ryan has not enjoyed quite the same levels of success, he has still managed to carve out a solid career in Irish football. With help from coaches such as Darius Kierans and Harry McCue, a young Brennan made waves at underage level and was rewarded with a senior Drogheda debut in March 2010, coming off the bench in a game against Dundalk at the age of 18.
"Harry McCue got me involved with the first team then, he said I was doing well," he recalls.
"Alan Mathews was the manager there and the team weren't doing well really, so at that time, I was lucky enough to get a chance and I thought I grabbed it with both hands. But that year didn't go as planned."
Drogheda finished bottom of the league, but Sporting Fingal's demise meant they avoided relegation. However, Brennan had by then linked up with Mick Cooke at Monaghan, who would soon be replaced by Roddy Collins. It was there that Brennan would first taste footballing success, as his six goals in 23 games helped the side gain promotion from the First Division via the play-offs.
I got on real well with Roddy," he says. "He done an awful lot for me. I was only 18 or 19, he threw me in straight away and just thought I could play straight away. The confidence he showed in me, I imagine I paid him back [as] we got promotion.
"But yeah, a real character around the dressing room, always up for a laugh and stuff, but you wouldn't want to get on the wrong side of him.
"I would have been a quiet lad at that age, coming into a new dressing room. It was all kind of new for me.  But if anything was needed, he'd always put the arm around you and bring you on as a player or whatever it may be
"But team talks were all 'go out and give everything'. It was never a nailed down pinpoint actual team talk. It was fiery and you had a fire in your belly before you went out to actually play the game."
Brennan pictured during his Shamrock Rovers stint. Source: Donall Farmer/INPHO
Despite this success at Monaghan, Brennan re-joined Drogheda ahead of the 2012 season, featuring regularly during the campaign in question and helping the club finish second, just four points behind champions Sligo Rovers. They could not build on this progress the following year, however, finishing eighth.
It was then that Brennan completed the biggest move of his career ahead of the 2014 season. Shamrock Rovers had been league champions two years previously, but had struggled to maintain this level of success following the departure of their highly rated manager Michael O'Neill. At a transitional phase in the club's history, Brennan's presence could not elevate them to their previous elite status.
"I thought it was going to be a big challenge for myself. I went in probably as fit as I could have went there. I think I played the first six or seven games, then I was out with a hamstring injury. I never really got back on track after that.
I played a couple of games and was kind of in and out of the team. Then Trevor [Croly] left, Pat [Fenlon] came in and I kicked on then towards the end of the year, played a lot more games, but the year after that, I was in and out of the team with injuries. Then obviously, there wasn't a deal for the next year, so it was time to move on."
Brennan's career trajectory thus far very much reads like the CV of a typical League of Ireland player. While club stalwarts, such as Dundalk's Chris Shields and Cork's Mark McNulty, do exist, they tend to be few and far between. Such is the nature of the SSE Airtricity League with short-term contracts invariably a necessity, it is rare enough for individuals to remain at one particular club for a substantial period. Consequently, the midfielder has never spent more than two seasons at senior level with any side and at 26, has already played for five different clubs, including the separate stints at Drogheda.
Regularly moving around is not something Brennan enjoys particularly, but he recognises it is symptomatic of the harsh economic realities of the domestic game.
"It's just the way it's gone over the last few years," he says. "You can only hope it's going to get better for players in the future and especially with managers.
"If you don't have a good year one year, you might be gone the next, so it's a bit of a cutthroat business at the minute. But I suppose, you have to just get on with it, not be too hard on yourself and always work to the best of your abilities."
The42 is on Instagram! Tap the button below on your phone to follow us!