IT'S STILL EARLY days but Bayern Munich have been impressed with Ryan Johansson's development since he joined the club last year and expect him to learn from his summer sojourn in the United States with the senior team.
The 17-year-old has made plenty of headlines in the last week as it's been widely reported that he'll be included in the Republic of Ireland's Under-18 squad when it's announced next month.
Johansson has been on the FAI's radar since early last year, the organisation tipped off about his eligibility by a journalist in Mullingar – where the teenager's mother, Christine McCarthy, was born. By that stage, he'd already signed a deal with Bayern and there was some initial hope that Johansson would even feature at an Under-16 international tournament. But the process has taken a little longer to fine-tune.
Johansson also qualifies to play for Sweden through his father but he was born and raised in Luxembourg and he's already tasted underage international action for both countries.
So, he's got a decision to make, though it appears he's keen on playing for Ireland.
It's been a steady rise for Johansson, having been signed by the highly-regarded FC Metz academy in 2015. But his time in France was relatively brief as Bayern swooped early the following year and he arrived in Munich last summer.
"With Ryan we were able to land a highly talented player," Bayern's head scout Timon Pauls said at the time.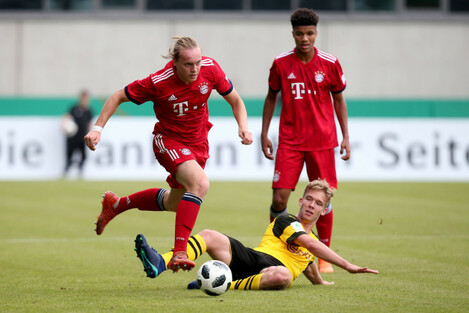 Source: Langer/Eibner-Pressefoto
"He was able to confirm our first good impressions during training sessions at the club."
In his first campaign for the Under-17s, Johansson played in five different positions but featured prominently in central midfield. Certainly, his flexibility and ability to transition between different roles has impressed his coaches.
This season, Johansson steps up to Under-19 level at Bayern, where Sebastian Hoeness is in charge.
"Ryan is a central midfielder but he also played at right-back at the end of the Under-17 season, including games against Leipzig and the final against Dortmund," Hoeness told The42.
"He has good technical qualities because he played offensively for a long time so he has a good technique for a central midfielder or defender. He's big and strong and has a good technical understanding. He's full of ambition. He had three very good games as a full-back with the Under-17s so he can play both roles. He also played as a right-back for the first team in their recent friendlies in the USA. He's intelligent and tactically very capable."
Despite being at Bayern for just over twelve months, the club has challenged him positionally. They transitioned Johansson from a more attack-minded midfielder into a deep-lying one while full-back represented quite a radical departure for him. But, there's been no major setback yet.
"He can play in a variety of midfield systems but it's normally a more defensive role," Hoeness says.
"That's changed a little bit from his time in Luxembourg where he played higher up the pitch. Now, I can imagine him in both positions – right back and central midfield. And in the future too. He didn't play the full-back role much before so it was impressive how fast he adapted to the position in such important games. But we will see. We have him in mind for both roles and it's always good for a player to be able to play in multiple positions."
The website Bavarian Football Works charted Johansson's progress throughout the Under-17 campaign and hasn't shied away from offering some high praise.
Source: Mario Houben
After Bayern beat Leipzig in their semi-final clash, they suggested he was ready to make the step up to the senior squad. Similarly, after the team lost the decider with Dortmund, the kind words continued.
He is a really solid player who always seems to give a good performance and could start his professional Bayern career at right-back as a backup to (Joshua) Kimmich to get some time with the first team. Johansson definitely has a great future ahead of him."
Hoeness is keen to stress that Johansson is still a work in progress. Bayern are happy with his development but there's a long road ahead.
"The first year is over now and especially at the beginning, it was important for him to adapt fast because the quality is different from Luxembourg and you're away from your parents and your friends," he says.
"So, like every other player, he needed a little bit of time to adapt and feel comfortable in Munich but now it looks like he is. His playing time is getting better, as we had imagined."
Still, given how Johansson only signed with Bayern's academy last summer, his inclusion in Niko Kovac's senior squad for their American summer tour was telling and a reflection of how highly-rated he is.
He made his debut in the 3-1 win over Paris Saint-Germain, coming on for Rafinha and getting the final 20 minutes. But against Juventus he was handed a start at right-back and, showing his versatility, he came off the bench against Manchester City and slotted into central midfield.
Hoeness was impressed but is quick to point out that Johansson has a battle on his hands to get more first-team chances in the short-term.
"For every young player it's a great experience," he says.
"I've talked to him and he was quite excited about it and I think it's important for Ryan and the others to see exactly what the senior players do in the first team and transfer those impressions to the youth team. And they need to understand what they need to do to become part of the senior side.
"We also have to consider that there were 12 or 13 players away because they were at the World Cup so they've been on holiday. That was a big opportunity for us as a youth department to bring in some players. They made a good impression and they showed what they can do. But now the players from the first team are back and it's important for the young guys to know where they are in the moment and to continue to learn everyday and take that experience from the first team and transfer it into this season.
Sometimes in football, going from the youth team to the senior side is a fast process but normally it's a long way and full of hard work. It will be the same for Ryan. So, right now, it's not the right moment to speculate if he'll get first-team experience this year. He has to train hard and he will. He did it last season and he will do it again this season."
The42 is on Instagram! Tap the button below on your phone to follow us!