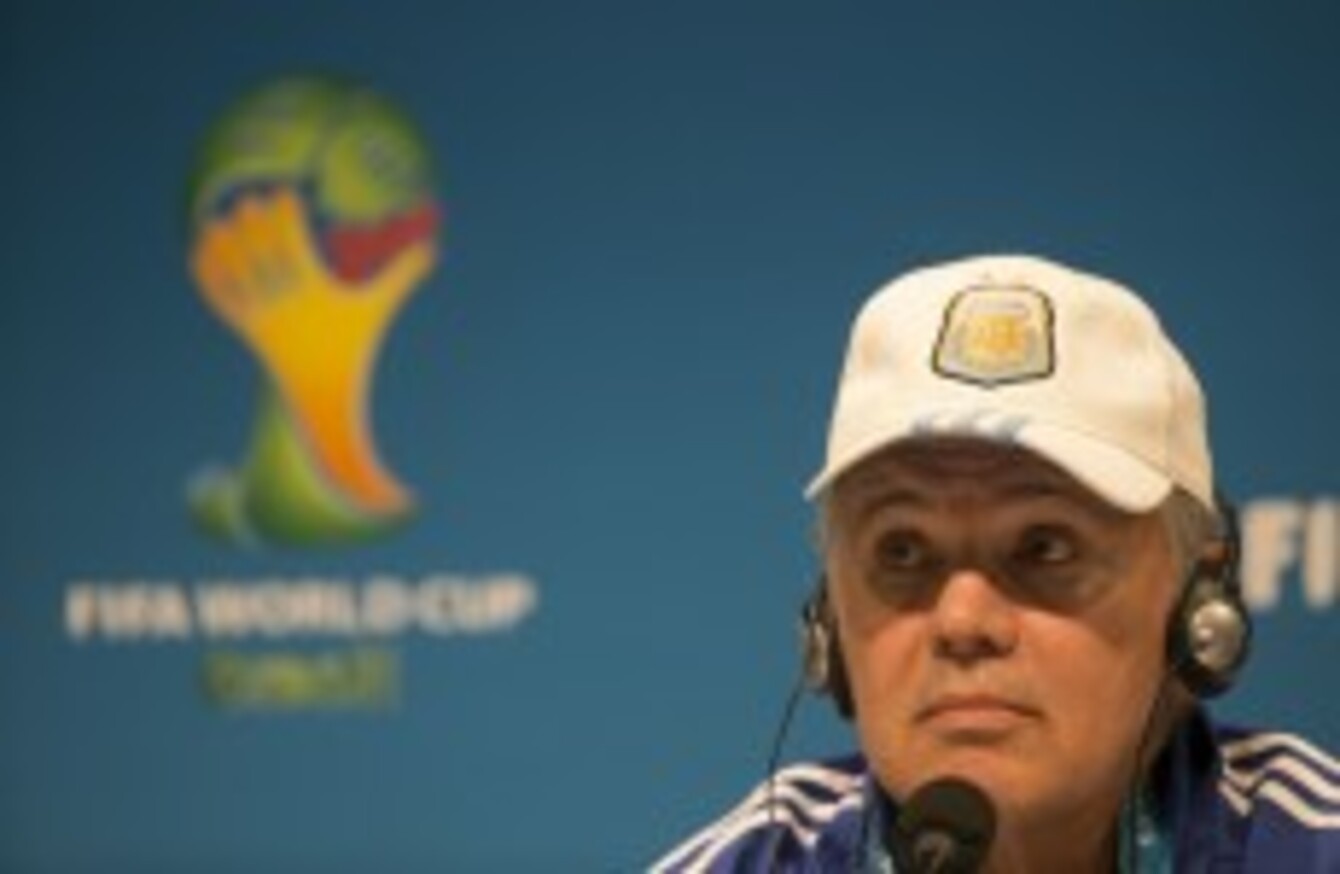 Argentina's head coach Alejandro Sabella listen to questions during a news conference.
Argentina's head coach Alejandro Sabella listen to questions during a news conference.
ARGENTINA COACH ALEJANDRO Sabella claims his side will need to play a perfect game to overcome favourites Germany and win the World Cup for a third time in Rio de Janeiro on Sunday.
"We have to remain very concentrated and close all the spaces open to them. Most importantly, we can't give the ball away cheaply," said the 59-year-old.
"Germany are always very strong physically and tactically. For that reason they are the team that has won most titles along with Brazil and Italy.
"They use the ball very well and play the ball between the lines. They also use the space behind full-backs very well, especially with (Philipp) Lahm. We have to play a perfect match."
Sunday's meeting will be the third time the two countries have met in a World Cup final with Argentina winning 3-2 in 1986 and West Germany gaining revenge 1-0 in 1990.
Argentina captain Lionel Messi is hoping to emulate Diego Maradona's feats in '86 to ensure his place amongst the greatest players of all time and Sabella hopes the omens are good for a repeat result.
"It is true there are certain parallels and we hope the situation repeats itself against a very strong opponent."
More recent precedents don't bode well for Argentina, though, as Germany eliminated them from the World Cup at the quarter-final stage in both 2006 and 2010.
A 4-0 thrashing four years ago was a particularly painful experience for many of the Argentine squad who will take the field on Sunday, but Sabella doesn't believe that defeat will make a big difference on the outcome of the final.
- Argentina more conservative -
"Argentina is a more conservative team than four years ago. We look for the victory in a different way.
"Then the players tried, but it wasn't to be. Germany scored a very early goal which changed the game.
"Hopefully it won't be the same tomorrow and if there is an early goal it is ours. The situation is different tomorrow although many players are the same."
Indeed, to the contrary of what was expected from Sabella's side before the tournament, Argentina have reached the final based on their strong defensive record having managed to not concede in 330 minutes of football in the knockout stage.
And he hailed the tactical discipline of his side, which has compensated for their lack of firepower due to injuries suffered by Angel di Maria and Sergio Aguero.
"It is to the great credit of the players who have worked very hard," he added.
"The formation has also changed which has allowed us to protect the full-backs more and close off the space. That has given us more balance."
Argentina remain hopeful that Di Maria could feature despite suffering a thigh injury that kept him out of the semi-final win on penalties over the Netherlands.
However, Sabella remained non-committal on whether the Real Madrid midfielder would feature.
"Today is a fundamental day to see," he said.
"He has improved, that is obvious. After training, we will know better. Just now I couldn't give you an answer.