THE SAMOAN RUGBY Union says it recorded a financial loss of more than €500,000 ($1.5 million Samoan tala) in order to host New Zealand for this month's historic Test match in Apia.
Photosport / Andrew Cornaga/INPHO Sonny Bill Williams carries the ball during New Zealand's win. Photosport / Andrew Cornaga/INPHO / Andrew Cornaga/INPHO
The All Blacks made their first ever visit to the Pacific Islands for a Test on 8 July, when Steve Hansen's men were made to work hard for a 25-16 victory.
The sense of occasion around the fixture was spectacular, with the Kiwis greeted in memorable fashion on their arrival in Samoa and treated with utter respect throughout their stay in the country.
Having fought persistently to have the All Blacks visit, the Samoan union was given widespread praise for its hosting of the game, although their accountants are unlikely to be overly pleased.
Samoa's Prime Minister, Tuilaepa Sa'ilele Malielegao, who is also the president of the SRU, told the Samoa Observer that it cost the union more than €1.1 million ($3.4m Samoan tala) in total to host the match.
With around €650,000 ($1.9m Samoan tala) collected in revenue, the union was left staring down the barrel of a hefty loss.
"$3.4m was spent to host the All Blacks," Tuilaepa told the Samoa Observer. "The money was spent on preparations, the cost of everything and allowances. The bulk of the money went towards the players' allowances."
"So there was a loss of $1.5m but that's the reality faced by the union. The truth is that the union needs at least $10m every year for its international fixtures."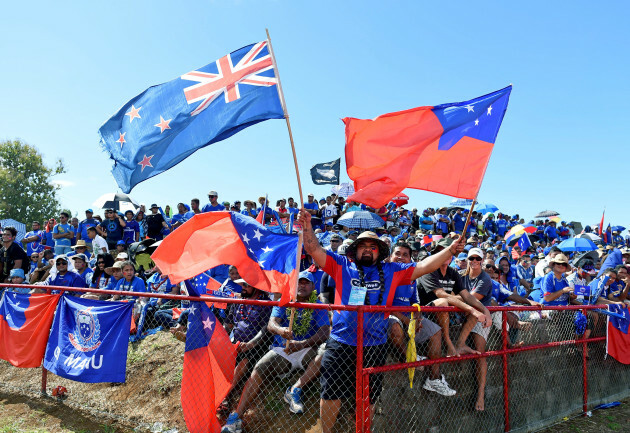 Photosport / Andrew Cornaga/INPHO Samoan fans in Apia for this month's Test match. Photosport / Andrew Cornaga/INPHO / Andrew Cornaga/INPHO
"It doesn't cover our expenses, especially the extended camp for the players. Food, allowances, transport: it's all money. That's why the union works hard to raise funds to offset the losses."
Whatever about the notable losses the SRU is claiming it incurred – the union has attracted the wrath of former lock Dan Leo for suggesting that player expenses were the "bulk" – it's difficult to estimate the true value to the nation.
The fact that the Test proceeded in such an ideal manner and the welcome the All Blacks received is likely to encourage other leading nations to visit the island.
Indeed, it would be a highly welcome development for Samoa and the nearby Fiji and Tonga to become viable destinations for the touring Tier 1 nations in the summer Test window.
Those who followed the Kiwis' visit to Samoa were left nothing other than impressed.