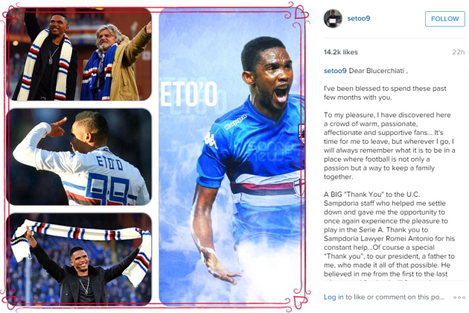 Source: Instagram/setoo9
IT'S COMMON THESE days for footballers to write open letters thanking the fans of the club they are leaving.
Former Barcelona, Chelsea and Cameroon star Samuel Eto'o has agreed to join Antalyaspor in Turkey and penned a heartfelt message to supporters of Sampdoria, where he spent the second half of last season.
Eto'o writes:
"Dear Blucerchiati, 
I've been blessed to spend these past few months with you. 
To my pleasure, I have discovered here a crowd of warm, passionate, affectionate and supportive fans… it's time for me to leave, but wherever I go, I will always remember wha it is to be in a place where football is not only a passion but a way to keep a family together. 
"A BIG 'Thank You' to the UC Sampdoria staff who helped me settle down and gave me the opportunity to once again experience the pleasure to place in the Serie A. Thank you Sampdoria Lawyer Romei Antonio for his constant help… Of course a special 'Thanks you' to our president, a father to me, who made all of it possible. He believed in me from the first to the last minute, and fro that I will forever be grateful to him. 
"It was an honour to be part of your army. You will always be in my heart."
Touching stuff… but we've seen something similar before. Back in January, the former African Player of the Year posted the very same message (barring a couple of words here and there) on Instagram after parting ways with Everton.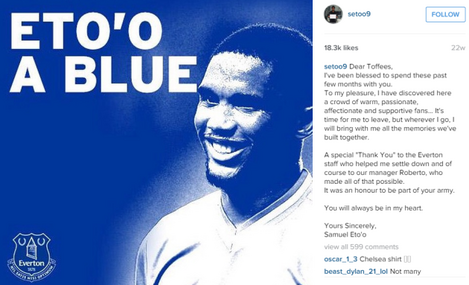 Source: Instagram/setoo9
That's just lazy, Sammy.