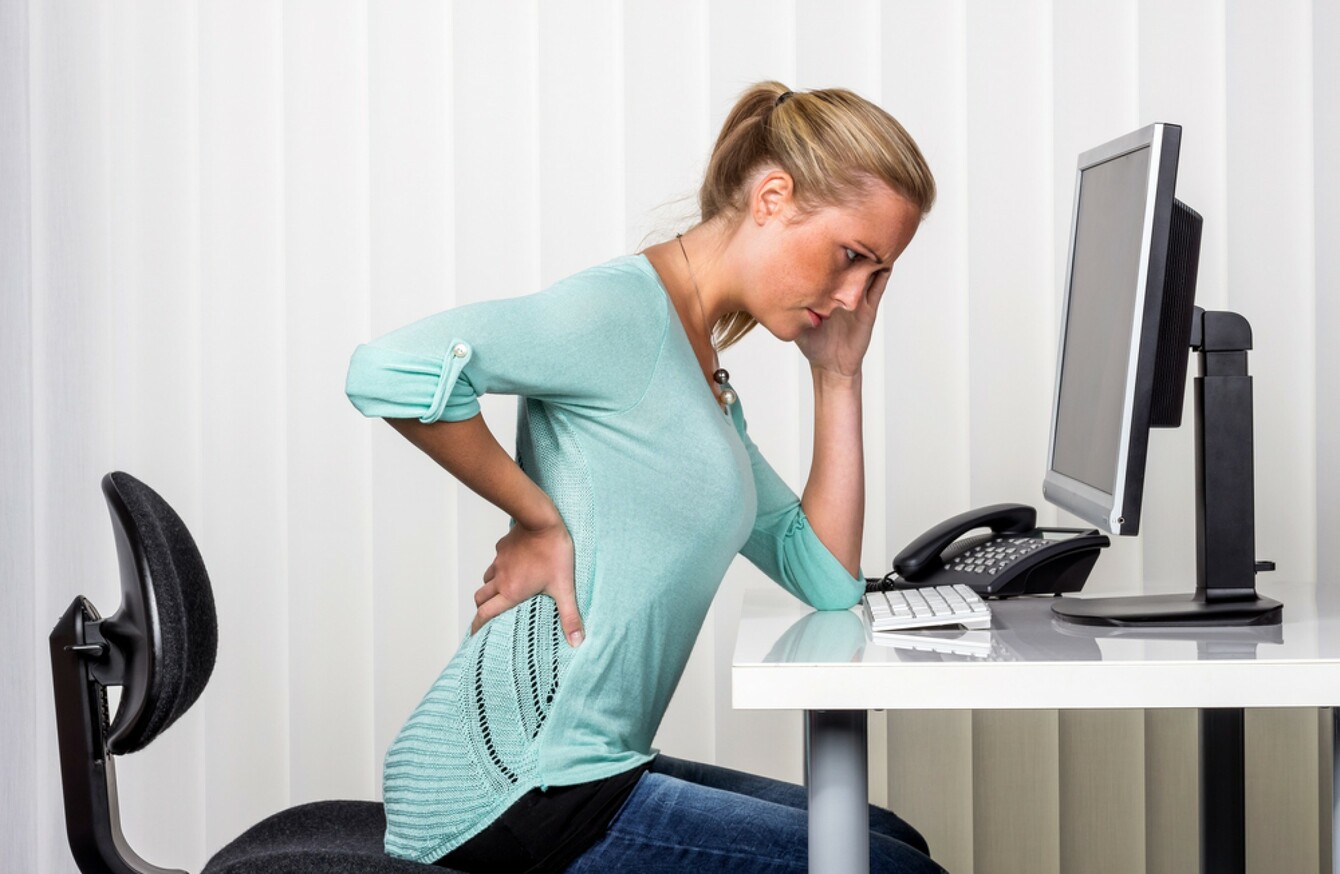 Image: Shutterstock/Lisa S.
Image: Shutterstock/Lisa S.
"Sitting is so incredibly prevalent that we don't even question how much we are doing it."
Sitting is the new smoking — it will kill you slowly.
Sitting at a desk all day wreaks havoc on your body and the effects of prolonged sitting go beyond a bit of neck stiffness and tight hamstrings; think chronic lower back pain, muscle degeneration and fatigue.
I see it every day: people eager to get in and out of the gym in the early morning, too busy and tight on time to stretch and mobilise.
This is followed by a stressful 30 minutes stuck in traffic, clenching the steering wheel, 8-10 hours at their desk squinting at a computer screen, followed by more traffic and maybe a spin class, clenching the handlebars this time, until they finally get home, get fed and flop on to the couch to chill out for an hour before bed.
You wake up, rinse and repeat and question why you feel stiff, immobile, old and tired. On average, people spend 9.3 hours per day sitting.
That's an awful lot of time to allow your neck, shoulders, hips and knees to settle into stiffness.
Being hunched over a computer screen is the opposite of what the body is designed to do, but it's now become the norm. Problematic areas become inactive, weak and tight which usually results in pain and discomfort.
Unfortunately, if you have an office job, prolonged sitting is often unavoidable.
While getting a stand-up desk or full ergonomic assessment is preferable, it may not be realistic for everyone.
So what can you do to counteract this constant forward flexion and optimise your work space?
Simple — do a desk audit.
1. Desk height
You should be able to sit with your shoulders relaxed and pulled back rather than slouching over the keyboard.
Keep your chest up, with your forearms resting parallel to the ground.
Higher than this and your shoulders will shrug forward. Sit up tall and get an adjustable chair with good back support if possible.
2. Decent chair
You can get some very good (and very pricey) chairs these days.
Consider the price and then consider your back — is it worth it?
If you deem it a worthwhile investment then happy days.
If not, get a chair with an adjustable height function. You want your feet on the floor, solid cushioning at the base and good lumbar support.
If your current chair is rubbish, ask management for a new one. Happy and healthy staff = good business.
3. Monitor and desk
Firstly, if you work on a laptop set it up as you would a monitor and do yourself a favour and buy a separate mouse and keyboard.
Monitor height should be at your eye-line and straight ahead of you.
Avoid craning your neck to see the monitor or rotating your neck to the right or left. If you use two screens, turn your entire body when looking at the other screen, not just your head and neck.
4. Move
The best action to avoid prolonged sitting is to just move. Stand up, walk around, stretch and get the blood flowing, which may even increase your concentration and productivity. Aim to do this twice an hour.
Check out some of my favourite stretches you can do at your desk in next week's article and this handy website for a free work space planner to determine the optimal set-up for you.
Sarah Cremen is a personal trainer and physiotherapist based in David Lloyd Riverview in Dublin. For more health and fitness advice and tips, you can follow her on Facebook, Instagram or Twitter. Alternatively, you can visit her website.
The42 is on Instagram! Tap the button below on your phone to follow us!