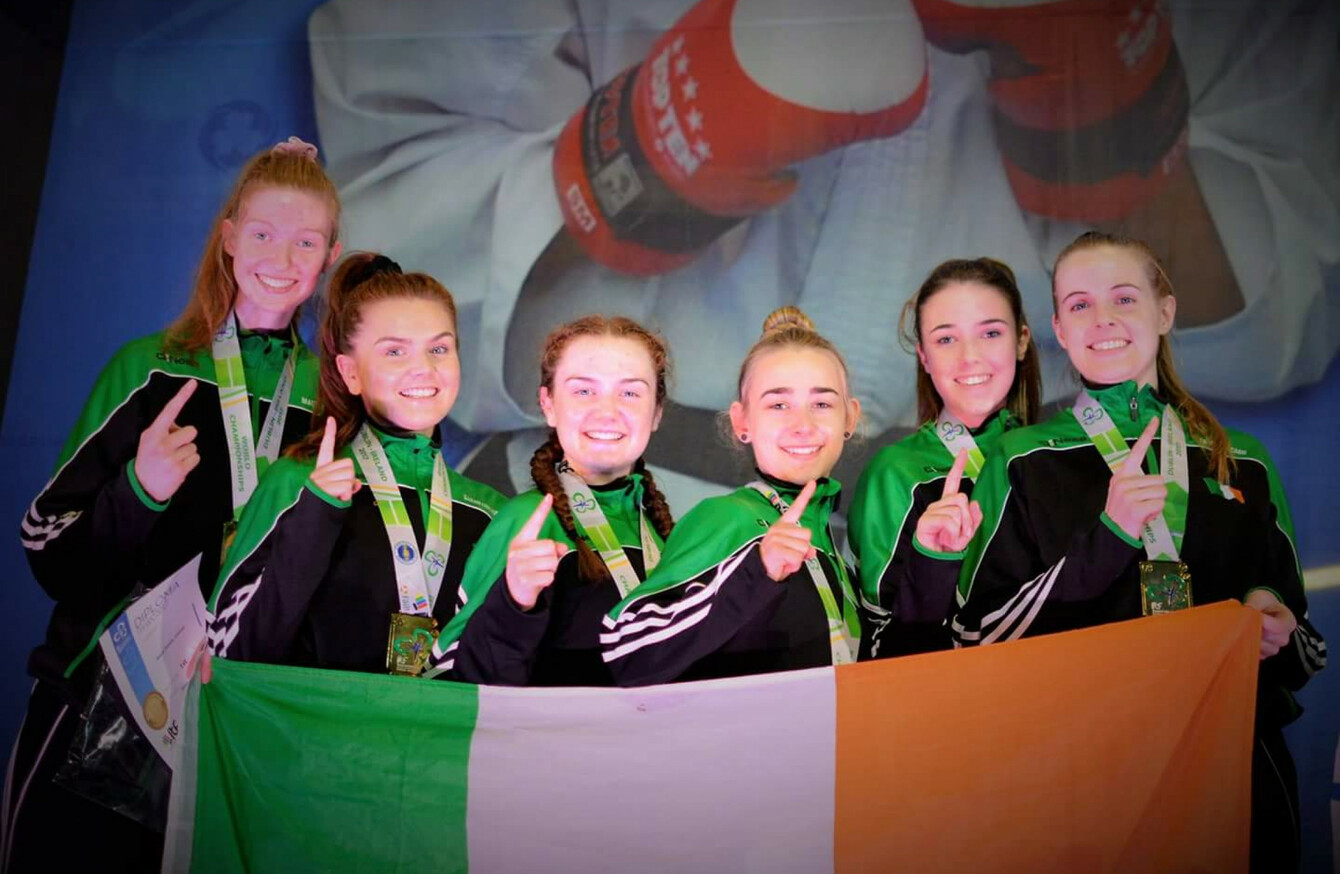 The Irish female taekwondo team celebrate their success.
The Irish female taekwondo team celebrate their success.
LAST WEEK WAS arguably the biggest in the history of Irish taekwondo.
Dublin and more specifically Citywest had been chosen to host the World Championships.
For so many dedicated athletes, endless hours of painstaking preparation all led to this moment.
60 countries and 1,150 international athletes descended upon the Irish capital amid a momentous few days for the sport.
The week was a particularly successful one from the hosts' perspective. Ireland won the best overall country award and emerged with 10 gold, eight silver and 10 bronze medals.
One of the standout performers at the event, which took place between 10-15 October, was Sarah Lehane.
With help from a number of coaches, including Stephen Cooley and Paul King, the Ashbourne native emerged as senior world champion in individual and team sparring, and even with a few days having now passed since her success, Lehane is still ecstatic at the thought of her achievements.
I've been dreaming of it for I don't know how long," she tells The42.
Lehane has been involved in big events before but the fact that she was competing in Dublin this time made it especially unique.
"Beforehand, I was thinking about seeing friends and people from my family, (wondering) would it add extra pressure for me.
But once I was in the zone, you block everything out. It's you, your competitor and the coach. So it didn't actually affect me, but having them all around me once I did win was just amazing.
"My mam and dad do try their best to be there for most of the competitions, so it wasn't strange having them there. But for my aunties and my friends, they'd never seen fights before. They were all there. It was extra special that they could see me winning and achieving my dreams.
(While competing) you have to pretend you're in another country. You're in a big arena. You can't be focused on other people, if they'll be there in time to watch me or 'I wonder what are they thinking?' You just have to stay focused, the goal is to win, that's what you're there for."
The 22-year-old is proud not just of her successes but those of her teammates, with the Irish athletes achieving unprecedented levels of success during the event's six days.
We had never ranked top before in any Europeans or Worlds," she explains. "So the fact that we did it this year, especially on home soil, it was just incredible, everyone was so happy. But it wasn't surprising, because everyone trained so hard, everyone was on fire, we just knew that this squad was going to do amazing things."
In the final of her individual category (-62kg), Lehane came up against fellow Irish athlete Ellen Ince, the similarly successful Trinity student who The42 spoke to earlier this year, with the former prevailing after a closely fought contest.
This year, we've been competing against each other (on a regular basis). We already know how each other fights and whatnot. It was great fight and it was amazing to have two Irish females (in the final)."
Lehane is hopeful the success of the event will help maintain the growth in popularity that taekwondo has enjoyed in recent years, with an estimate of between 7,000 and 8,000 athletes participating in Ireland as of last year.
Maybe not so much for the boys but for the girls when they get older, they tend to drop out of the sport," she explains.
"For lots of the kids watching, it will drive them to want to be at the same standard that we are all at. They're going to want to be world champions and they're going to want to keep being in the sport.
Other families and friends might want to get their children involved now as well because they can see that it's an amazing sport and they can go far."
In particular, female participation levels in the sport have surged in recent years, as Lehane can attest.
"I was the only female in my training group (when I started). The senior female team had never made it to a Championship final until this year.
It's just because we're all sticking in the sport together. We're not dropping out. We're all working together.
"Even with the younger kids that I teach — I teach four-to-six-year-olds and the class is definitely balanced. Years ago, it would have been mainly boys, you'd only have one or two girls. I think 22 females were on the Irish team this year and I think it was nine or 10 that were from my club.
In the last few years, females on the Irish team are getting better and we're coming home with more medals, which is inspiring the younger girls to be the same as us."
Another factor has surely been the growing prominence of female athletes in combat sports, most notably in Ireland with boxer Katie Taylor in addition to UFC stars Ronda Rousey and Holly Holm in the US.
Seeing Katie Taylor at the Olympics and on the screen would have a massive influence as well," Lehane says. "She'd be doing ads and stuff, which would make young girls want to compete."
The Meath-born athlete herself comes from a sports-mad family with a keen interest in taekwondo.
Each of her five siblings have competed in the sport at one stage or another. Her sister Isabel even recently starred in a recent Nissan ad, in which she stands up to bullies who are pestering her brother (see below).
Source: Nissan Ireland/YouTube
And for Lehane, last week was the culmination of 16 years of hard work.
I began when I was six years old but my eldest brother Seamus started before me," she recalls. "Him and a few friends joined together. And when I was the right age, my mam put me in as well. We just fell in love with the sport and that was it really, we just kept training hard.
"We did do other activities when I was younger — Irish dancing, ballet and GAA. But once you get to a certain age, if you want to be the best, you have to choose between certain sports. And taekwondo is definitely the one I wanted to do the best in."
Up until recently, Lehane was balancing her taekwondo commitments with college work. During the summer, she completed a degree — Nutraceuticals in Health & Nutrition in Dublin Institute of Technology.
Balancing sport and education could be challenging at times, with 6am starts and late nights commonplace, as a heavy workload was dealt with.
I haven't looked for a job yet," she says. "I kind of put my life on hold until the World Championships were over, so I could focus on it and give my best.
"I do teach taekwondo, I've been doing that for years. But now that the World Championships are over, I'm going to have to look for a job.
People kept asking: 'Are you going to get a job, or are you going to do this or that?' My main focus was the World Championships. They only come around every two years. I just wanted to do the best I could and give my all. I can work for the rest of my life.
"You don't become world champion without training hard, so I just said: 'I may as well put all my efforts into it and see what happens.'
There were so many assignments and exams. My main priority was always taekwondo — it came first above everything else. But obviously, you need to put in the work in college. There would be late nights staying up after training. I'd never miss training to do an assignment. That was always second priority. So it was kind of tough, but it worked out in the end… They're just the sacrifices you have to make."
Lehane says she can see herself competing "for the next few years," but concedes it is impossible to say for certain where life will take her.
Training in the coming weeks will not be as "intense" as it had been in the lead up to the Worlds, though it is not as if she can afford to get too lax with the Irish Cup in Limerick set for the weekend of 11-12 November.
The biggest event that Lehane has her eye on, however, is the European Championships in Maribor, Slovenia next April. For now though, she can reflect on some significant progress in the sport over the course of the last 12 months.
In the World Cup last year, my senior team won gold in team sparring. I won a silver in individual and then I won a silver in the European Championships as well in Finland. Last year was a great year but also a tough one because I was so close both times to achieving the gold, but it's made this year so much more special — the fact that I achieved gold in the European and World Championships all in the same year.
"You're always going to remember winning a World Championships, but the fact that it's at home makes it 10 times more special."
N.B. This article refers to the North Korean-originated ITF version of taekwondo, not to be confused with its South Korean and Olympics-affiliated WTF equivalent (a more general piece going into more detail on the differences between the two can be read here).
Subscribe to The42 podcasts here: