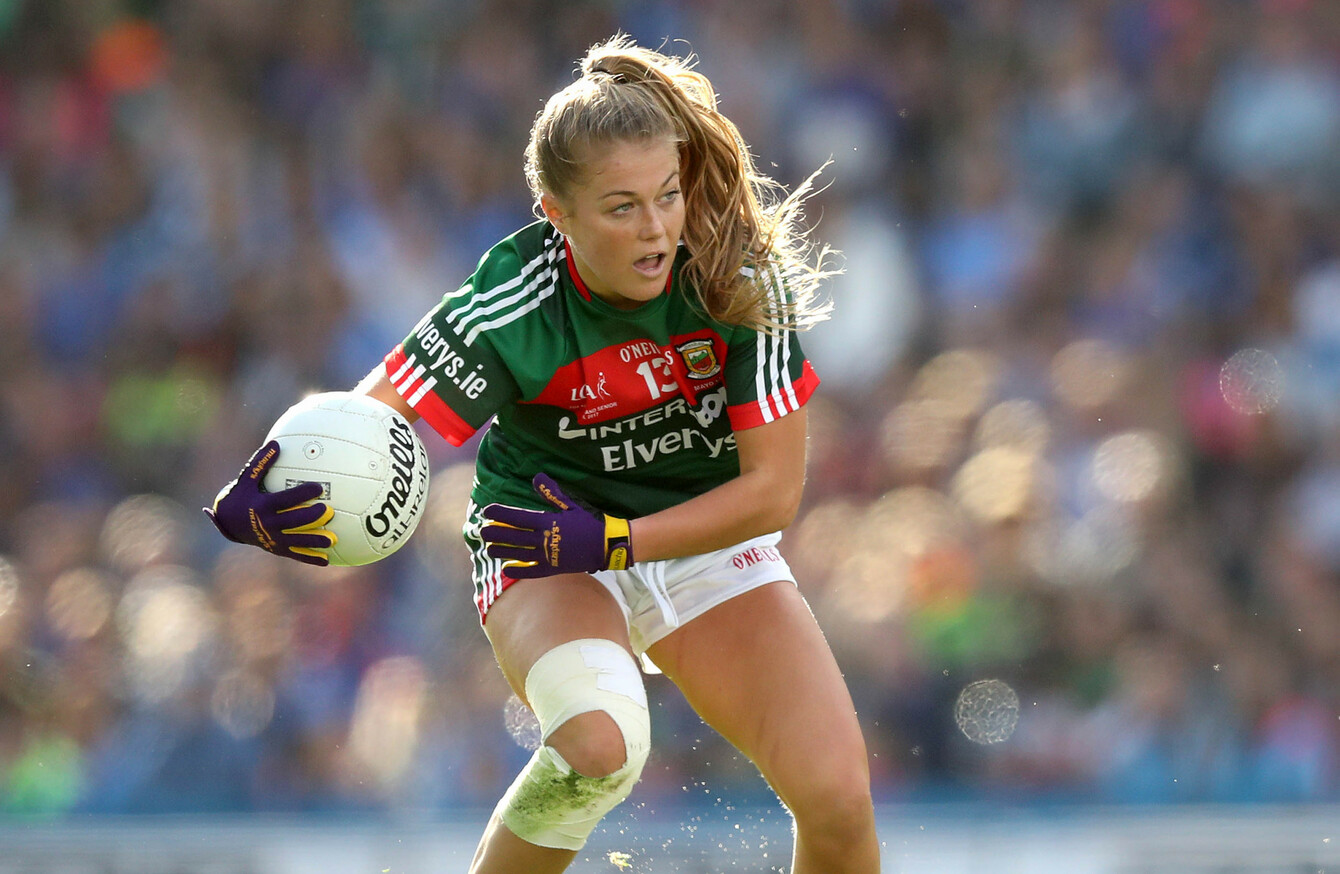 Image: Ryan Byrne/INPHO
Image: Ryan Byrne/INPHO
SARAH ROWE MIGHT be moving to Australia.
That's about the extent of it, for the moment. In a piece by Marie Crowe on RTÉ last week, it was reported that the young Mayo forward had turned the heads of prospective suitors from Aussie Rules – a plight once considered exclusive to the men's game, but one which Rowe herself believes will become more prevalent as the women's game continues to burgeon.
It's been a whirlwind month for the 22-year-old from Ballina: before she had so much as an opportunity to digest All-Ireland defeat with her county, Rowe opened her laptop to discover an inquisitive email from OZ, inquiring as to whether she may fancy upping shtick as well as sticks.
The prospect of becoming a professional athlete in the AFL Women's (AFLW) was such that Rowe recently spent three weeks training with a visiting men's underage team in order to get a taste for the sport and, most pertinently, the oval ball.
"Look, not every game of ladies football is televised", Rowe tells The42, "and you may not hear about every game, but with the All-Ireland final being televised and people watching all over the world, there was some keen interest from Australia.
"They kind of got onto me and asked would I be interested, and I was thinking, 'Jesus' – you know, I didn't even really know this existed, or at least I didn't know too much about it.
"I was at a launch in Croke Park during the year, all right, and there was a girl from Cavan that had went over already, but I hadn't heard anything about anyone else. I hadn't heard of them having any interest in GAA players, to be honest.
So when I got the email I was quite surprised, but I was like, 'Jesus, what an absolutely brilliant opportunity for anyone.' And I suppose for someone like me – I play soccer, I play football – to play professionally in a game that's the closest thing to GAA, really, would be massive. I'd absolutely love to do it.
"And I think it's going to keep getting bigger," adds Rowe. "They're going to approach more players. There's a keen interest there, and there's such a connection between Australia and Ireland as it is with the men's games. And that's the way I think it'll go with ladies football, too.
"Sure who knows, in a few years there could be a women's team going out to play against Australia like the men are doing in a couple of weeks, like."
Understandably, Rowe was taken aback by the impromptu email proposing that she flip her life on its head and move 15,000 kilometers away to take up a new sport.
Her unfamiliarity with women's Aussie Rules is scarcely shocking: the AFLW remains in its infancy, having formed as recently as last year. Its inaugural, eight-week season took place last February and March.
The league, then, is moving quickly, already casting its net to foreign lands. The stakes have escalated for Rowe now too.
"I was definitely very overwhelmed by the whole thing," she says. "I was like, 'Jeez, I've a lot of decisions to make, and I have to make them quickly' – at least that's what I thought.
"There was a club over from Australia – they were in Galway, they were in Cork and they were in Dublin for the last three weeks – and I trained with the lads' team a few times, just kind of getting used to the ball and getting to know a few people.
"I did really enjoy it. I enjoyed the professional setup, I enjoyed the culture. It was a lot to take on board. It was surreal, I suppose.
"Because I'm in my final year of college, I thought, 'God, I'm going to have to defer this year if I move over there'. I didn't want to do that, because I want to have my education out of the way, done and dusted – that's obviously important to me as well.
"But I think it's actually too late anyway for the player draft. It's something like you have to register with the club by June, or something along those lines. So it looks as though for me, the opportunity will be for after I finish college, which is great.
"I haven't made any decisions, but I would be definitely, really considering it, like."
And yet, as quickly as everything appears to be moving, Rowe's is a wise head on young shoulders. Though her excitement is near palpable, there remains an inherent pragmatism, a refusal to allow giddiness influence what might transpire to be a life-altering decision.
She's cognisant of what she'll be parting with if she emigrates, and so rather than risk diving in head-first, she intends to embark upon a personal scouting mission some time this winter.
"To play in Croke Park on All-Ireland final day this year was a dream of mine all my life, and it lived up to every expectation. We didn't get the result in the end but it was still a massive experience for me – playing in front of a crowd that you wouldn't normally have. I'd experience that every day of the week if I could.
"So a lot of this, I suppose, is weighing up your options and realising what you'll be leaving behind. You really do have to take all of that into account rather than making an impulse decision.
I'm going to go out to Australia in the coming weeks to suss the place out. I'll look at a few clubs, see what's the best offer and take it from there. Once I get over there, I think I'll have a better feel for it.
"With college, I'm just trying to find a gap of three or four weeks where I could afford to take time off and go over there and weigh up my options.
"The club that was over here was extremely helpful to me – just so accommodating – so when I go over I'll at least have those guys and their management on my side. They're looking out for my best interests as well, and they were quite genuine in saying, 'we'll show around to other clubs too, because we want the best for people that come over.'
"I'd love to go over before Christmas or just after Christmas to have a look. I won't be signing anything until I've had that look."
With the league still in its infancy, AFLW pay might be considered at best modest. From next season, the base wage will increase from $8500 to $9276 for tier three players, $12,000 to $12,846 for tier two players and from $17,000 to $17,946 for tier one players. A small group of 'marquee players' earn closer to $27,000, and most female players have day-jobs.
Money, however, would not be the driving force behind Rowe's move, if she does go. It's instead the other aspect of professionalism which she finds most enticing: the facility to cultivate a team culture and work in optimal conditions for personal improvement as an athlete – something which she feels the GAA's amateurism makes somewhat more difficult.
Be part
of the team
Access exclusive podcasts, interviews and analysis with a monthly or annual membership.
Become a Member
"The team I was training with – I loved the thought of them being on a training camp for three weeks over in Ireland, and being together every day of the week," says Rowe. "They're eating together, they're rooming together, they're going out together – doing everything together. And I love that whole team morale system. It's something I would have had when I was playing soccer for Ireland, and I just loved it: the trips away, the way you're looked after, and how it's all about you, your recovery, and the team being united.
With Mayo, it has become extremely professional – in the last three years especially, since Frank Browne took over the team. It's stepped up, and to miles above where it was before. But I'm based in Dublin, so I'm doing my gym programme in Dublin with the Dublin-based players. There's people doing the same in Galway. There's a Limerick group. There's a Mayo group. There's people all over the place doing the same thing, but not collectively.
"In terms of professionalism and what I learned training with the Australian lads that were over, there's not much of a difference apart from the fact that when you're a professional outfit, you do absolutely everything together.
"I think the most important thing is that you get to spend so much more time with your team-mates. Like, that time with team-mates is precious, and I don't think people realise it. With the Mayo girls, we're a very close team and we get on really well, and the more time we spent together collectively the better we are."
Given she's still just 22, it's not inconceivable that a move Down Under would signify the end of her Mayo career; you need look no further than her friend and team-mate Cora Staunton, whose performances in her 23rd inter-county season have warranted serious interest from Great Western Sydney, as confirmed by the club to The42 last week.
Rowe could spend seven or eight seasons in Australia and, should she so wish, return to Ireland while still in her athletic prime. The fact that a prospective farewell to Mayo GAA wouldn't necessarily be a definitive one, she admits, would make departing slightly more tolerable from her own perspective.
"I've time on my side, definitely, but at the same time you're worried that if the offer comes now and you don't take it, it might not come next year.
"I have time, but for me…" She pauses. "I'm like… Yeah, I definitely want to go. It's extremely appealing.
"When I get over there I'll know more, but I just think as well that you have to be careful not to just pick up your things and leave everything behind on a moment's notice. My values are all about Mayo at the moment – that is my priority. To get up and leave that, it sounds easy, and it's easy to say, but it's not easily done.
When you think about it, it's like, 'oh, Australia – great!' Bright lights is all you see. But you have to be realistic about it as well and realise what you're leaving behind. Mayo is very important to me, the GAA and its values are very important to me. So it would – it would be a massive decision for me to go.
"For now, there's definitely interest there, and I haven't made my decision yet. But it's no secret."
Subscribe to The42 podcasts here: