IRELAND WILL BE in pole position for the Six Nations Championship when they board their flight to Charles De Gaulle later this week.
But hopes of raising that all-too-elusive trophy are haunted by a lifetime of bad memories.
The city of lights means dark thoughts for Irish Rugby.
Brian O'Driscoll, the man responsible for that blip in the Paris form guide at the turn of the millennium, made some quick calculations on the subject. Even after one of the most emotional days of his career, these are numbers imprinted on his mind.
"Well, it was 28 back in 2000," said O'Driscoll, the gears turning in his head, "14 on top… that's 42 years: one win, one draw."
Refs, WAGs and blazers hang on BOD's every word at last night's IRFU dinner.
"I don't think we are under any illusions," added Paul O'Connell later.
"France in Paris is a very tough proposition for any Irish team but we are getting better all the time. Games like two weeks ago [against England] improve us dramatically."
O'Connell also said that his team had been confident of chiselling out a win in England and he had seen nothing in that defeat to make him think it was not possible to win in France. However, performing and winning in Twickenham is something Ireland have made a habit of in the past decade; the same cannot be said for Stade de France.
"Look, it's probably the last fixture you would want to have a shot of winning something. It is going to incredibly tough," admits the Munster lock.
"As Eoin Reddan said, there is a lot of guys who haven't won anything with Ireland –  a small few of us have won a few Triple Crowns and a Grand Slam.
"To put ourselves in this position it is brilliant. It is going to be incredibly tough, it is going to be incredibly physical and it is going to be very tight game."
'It sits in the ether'
"You know [that poor record] exists," says Joe Schmidt as he begins a week of fronting up to whatever scares Ireland about that place.
"It is a bit like the milestone that Brian O'Driscoll achieved today, you know it exists, it's there, it sits in the ether, but it is not the focus of what you do.
"The focus of what we do is trying to, step by step, build a gameplan; build a structure that we feel can be successful. We are pretty pragmatic and trying to stay pretty process focused. The history does sit there and we are conscious of it, but it wouldn't be a distraction."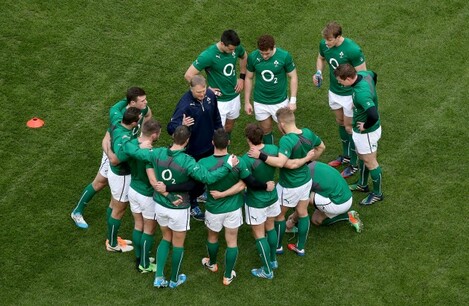 Source: Ryan Byrne/INPHO
France have, once again, been very poor in this season's Six Nations. And yet, despite all the (justifiable) criticism for Philippe Saint Andre, Les Bleus are still in the hunt for a title a year on from taking the wooden spoon.
These days Ireland are at the other end of the scale. It's not long ago that sublime performances were followed by the second-rate, but yesterday's seven-try, 46 – 7 win over Italy was the fifth game in a row where Ireland have hit their marks and have been able to walk away happy with their efforts.
Even when that consistency is not evident in 80 straight minutes, Schmidt is happy to see his side 'flatline', so long as that line traces a high bar.
"One of the frustrations in professional sport, is the line is never straight. There are dips and troughs. There are peaks and highs and it's about trying to flatline at a very high level. I do think we have been consistent. If you look back at the All Blacks game, we haven't always won, but the performance has been worthy of the jersey the lads have put on."
France's ECG, meanwhile, continues to blip away. They are a team that don't stand up to much logic; jam-packed with talent and bereft of ideas. Schmidt's task this week will be to devise a way through Les Bleus.
"There's lots of things we will look at about the French and we will have a good look at ourselves and try to come up with something that gives us a good chance in Paris," says the Kiwi before listing off the players he was familiar with while coaching Clermont.
"I believe in the team we have got. If you are a coach and you don't believe in your team, you are probably in the wrong place. We have got the hardest working group of guys that are around. They might not be thrill-seekers, or frill-seekers, but they are really hard workers.
"Some of the work across the board – there was a great clean-out from Dave Kearney where he went horizontal to smash a guy off the ball – that sort of commitment is the glue that holds us together."
If Ireland can hold it together next week, then a second Championship in 30 long years should be winging its way back to Dublin.