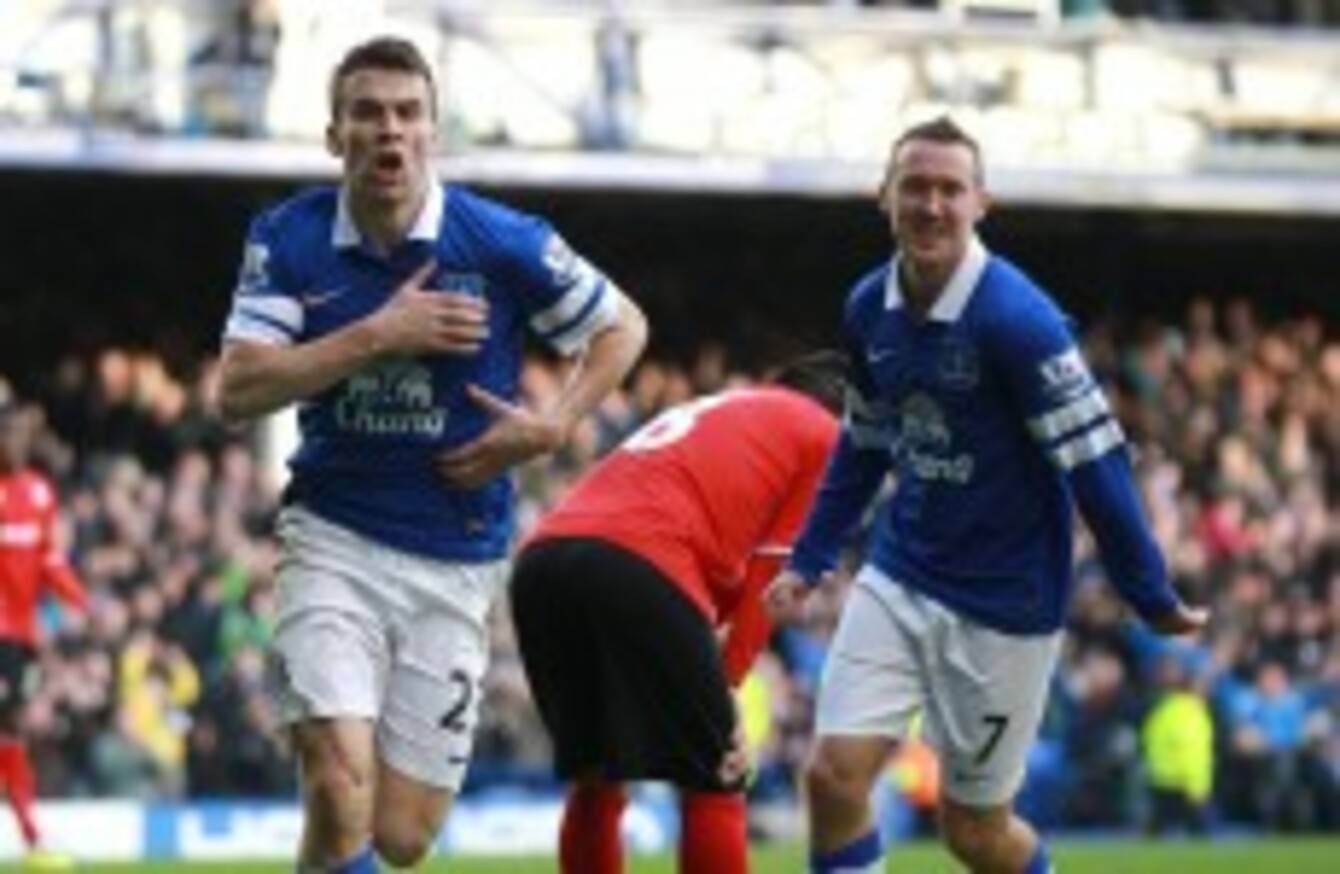 Image: EMPICS Sport
Image: EMPICS Sport
IF THERE WAS one moment on Sunday that captured Everton and Arsenal's differing fortunes as the season reaches its climax, it belonged to Seamus Coleman.
With a quick drag and flick of the boot he left Santi Cazorla for dead and, frankly, looking quite foolish.
The Spaniard threw his hands to skies, wondering where it had all gone wrong. By that stage Coleman had zipped away, brimming with belief and looking to turn his flash of inspiration into something even better.
The attack came to nothing, and the Match of the Day editors left the clip on the cutting room floor, but the result had a much more significant impact.
Everton's 3-0 win leaves them in fifth, just one point behind Arsenal with a game in hand, and very much in the hunt for a Champions League place.
http://vine.co/v/MiPOZXUuW3H
Tails are up around Goodison Park after their sixth straight win and now, a challenge that seemed to peter out with back-to-back defeats against Tottenham and Chelsea is very much alive.
Coleman told TheScore.ie: "A couple of weeks back we fell behind Tottenham and it kind of felt out of reach.
"We just kept getting on with it and kept winning games, and Arsenal kept slipping up, and as the games kept passing by it was clear we could catch them.
Sunday was a pivotal moment. If they had won, it would have been very difficult to claw it back.
"We have a game in hand and a difficult run-in, but the way we're playing we're going to finish strong and hopefully give the fans something to be happy about."
He added: "We've got a good bunch of players and our confidence is up. If teams come to Goodison, they won't find it easy.
"We're still fighting for something at this stage of the season which means it has been a successful season so far. We've a couple of tricky games to come, and everyone's looking for something at this stage of the season, so it's going to be difficult."
Coleman, who blossomed under David Moyes, has continued his rise under Roberto Martinez to the point where he is now widely regarded as one of the best right-backs in England.
Martinez has been quick to rebuff any and all speculation linking the Killybegs lad with a move away from Merseyside, and it will be music to the ears of Everton and Ireland fans alike that Coleman feels his best is yet to come.
I'm very fortunate. I'm one of those players who appreciates everything I get, and I obviously work very hard.
"Over the last 18 months since I've got the chance to play in my preferred position for club and country, it has gone very well and I've enjoyed it.
"Breaking into the national side and cementing my place was obviously a big honour as well.
"I don't think you can ever stop improving and that's something that I strive to do every day on the training ground, learning from different managers and different coaches, what positions to be in, what positions not to be in.
It's a game that you can never stop learning about, and I've got a lot to learn, but I've got the right people to learn from.
"Hopefully as the years go on I can learn more things and get more experience and become a better player."
Ireland duo Martin O'Neill and Roy Keane also play that mentor role in their own way and Coleman is ready for the challenge of the Euro 2016 campaign and the chance to play at a major tournament for the first time in his career.
His international maturity was acknowledged last October when he was asked to captain the side in their penultimate World Cup qualifier away to Germany.
Despite the circumstances — qualification was already out of reach and Giovanni Trapattoni had been sacked, leaving interim manager Noel King in charge — it was a "very special" night for a man who relishes every opportunity to line out in green.
He's come from being a fan favourite on the fringes to one of the first names on the teamsheet in the last two years.
And although O'Neill and Roy will inevitably size him up as an option to replace Robbie Keane as skipper down the line, Coleman knows his best bet is to bide his time and keep doing the things that have got him this far.
It's the management's decision. There are a lot of players who would be capable and I'd be happy to take the honour but for the time being, I'm just concentrating on the qualifiers coming up and doing the best I can for the country. We'll go from there.
Seamus Coleman is an ambassador for Special Olympics Ireland, whose annual collection day takes place this Friday, 11 April. You can donate any spare change at one of the 1000 collection points or by texting Special to 50300 to donate €2. The money raised will go towards helping to cover the cost of the Special Olympics Ireland Games which 1,500 athletes will attend in Limerick from 12-15 June.