NO FEAR IS not just a clothing company from the 90s responsible for faux-existential slogans such as "to live the ultimate dream you must face the ultimate nightmare" and "if you're not living on the edge you're taking up too much space".
The reality is that when you're driving a car at 290kph you simply can't afford to have an iota of fear, even a smidgen of doubt. If you do, you brake too early, take too conservative a line through a corner and before you know it you're half a lap down and out of the race.
That's the view of Sean Doyle, the 22-year-old from Wicklow who made his Le Man Prototype (LMP 2) debut earlier this year with the Irish motor-racing team Murphy Prototypes.
In the past few weeks he has raced their 500 horsepower Nissan VK-45 at both Silverstone and Imola and told The42 this week that there's just no room for fear in the sport.
"You can't have fear. When you're doing the speeds we do you can't have fear.
"You couldn't do it if you were afraid. It's hard to explain but fear just slows you down, it makes you question the decisions you take and just holds you back."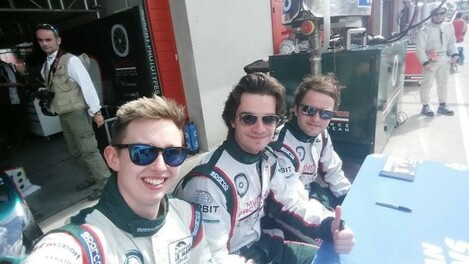 Doyle (left) with his team-mates. Source: Sean Doyle/Murphy Prototypes
Doyle began his racing career at the age of 10 when he represented Ireland six times in nitro remote controlled cars and now he finds himself hitting top speed around some of the world's most famous tracks in the tyre-tracks of his idols Michael Schumacher and Ayrton Senna.
"I raced Silverstone a couple of years ago in Formula Ford and so I had an idea of the track but when I raced it in the LMP2 car, it was just a totally different experience. It's a much faster, bigger car and the bigger brakes was a huge thing for me as you could leave braking so late compared to other grades.
"Imola too, that was special as it's such an iconic track. The TV doesn't do it any justice whatsoever.
"On my Thursday track walk,  you could see houses right around the outskirts of the corners, huge inclines and undulations which you can understand in person but you only really feel them in the car."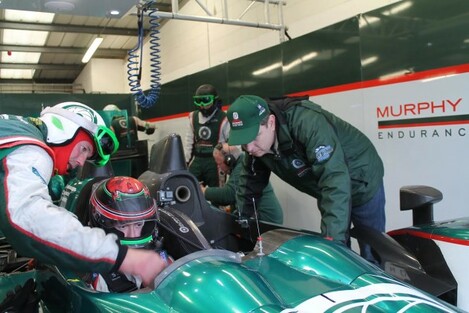 Doyle before going out on a lap. Source: Sean Doyle/Murphy Prototypes
But what type of person does it take to make a racing driver? Doyle, who also works as a trainer at the Mondello Park racing school, believes it's a mixture of things.
"It's mostly composure at speed, it's the ability to retain a tonne of information while you're driving and be able to listen to your engineer when you're going around.
"Conversely though you can't think too much either, you have to just go with it so focus and commitment are important also. And there's a lot of stuff behind the scenes too.
"It's almost like snooker in that, when you're planning an over-taking move, for example, you're nearly setting it up from a couple of corners or even a couple of laps back and you have to plan for every eventuality from the time you take the decision to make a move to the moment you execute."
Exclusive NZ - IRE
Rugby Analysis
Get Murray Kinsella's match analysis and Garry Doyle's updates from New Zealand exclusive to members
Become a Member
Doyle turns a corner in Murphy Prototype's Nissan. Source: Sean Doyle/Murphy Prototypes
Doyle admits that racing is not a cheap sport to take part in, but it is rewarding.
"My family and I have worked quite hard to work our way up through the formulas and the ultimate goal is to become a factory driver (a driver backed by one of the big car manufacturers) and continue my career from there.
"Greg Murphy and Murphy Prototypes have been very supportive of my career so far and they've done a good job in promoting young drivers before and will continue to do so.
"Nissan have also been very good to me, I'm a Nissan Generation Next ambassador and it's great to have that support."
LMP2 and Le Mans racing in general may not have a massive following in Ireland right now, but with young drivers like Doyle, the future's bright.
The42 is on Snapchat! Tap the button below on your phone to add!